Compact yet capable of extraordinary performance, the Caterpillar 248B Skid Steer Loader is known for delivering the best results, even in the most difficult scenarios. Caterpillar's pieces of equipment are known for their versatility and durability. A must-have in everyone's fleet of gear, the 248B CAT Skid Steer Loader is an exceptional machine.
Do you want to know more about this great machine? Continue reading below for our in-depth review and specifications (specs).
CAT 248B Skid Steer Loader Machine Specs (Overview)
Make: Caterpillar
Model: CAT 3044C DIT
Aspiration: Turbocharged
Max. Speed: 7.8 mph/ 13 kph
Operating Voltage: 12 V
Fuel Capacity: 23.80 gal/ 90 l
Hydraulic Tank: 9.2 gal
For Full Specs: Check Below
Need more work? Register your plant hire company on iSeekplant for free.
Our CAT 248B Skid Steer Loader Review
Superior design, excellent performance, and easy maintenance are what separates this exceptional CAT 248B Skid Steer Loader from the competition. It is designed in an innovative manner that not only makes operations simple but also enhances the level of productivity. You can easily work in low-light areas with its amazing forward lights. The machine has fantastic floor space, that allows the operator to easily get into or out of the machine.
From picking up heavy loads to blowing out the snow, and more, the cab can easily tilt, and various tools can be attached to it to make the job done easily. One of the best features is the hydraulic pumps that drive the engine directly for maximum hydraulic performance, and no belts are used in the process. Having a CAT 248B Skid Steer Loader as a part of your fleet is definitely going to be highly beneficial for you. Let's have a look at its key features.
Outstanding Engine
One of the most important parts of any equipment is its engine. The CAT 248B Skid Steer Loader's engine is CAT 3044C DIT - an absolute workhorse that allows for increased productivity rates on-site. It has 4 cylinders that offer excellent performance and a quick torque curve for instant response. The powerful working of the engine makes it easier to run the machine effortlessly and complete the job in a very short time.
The machine also features dual-engine throttle (hand and foot) controls, which is a bonus for the operator to perform the tasks quickly. Whether it is snow blowing, trenching, truck loading, or gazing, the hand and foot throttles are ideal for performing every task in a better way.
Quick Coupler and Several CAT Work Tools For Higher Productivity
Another fabulous feature of the CAT 248B Skid Steer Machine is the availability of versatile work tools.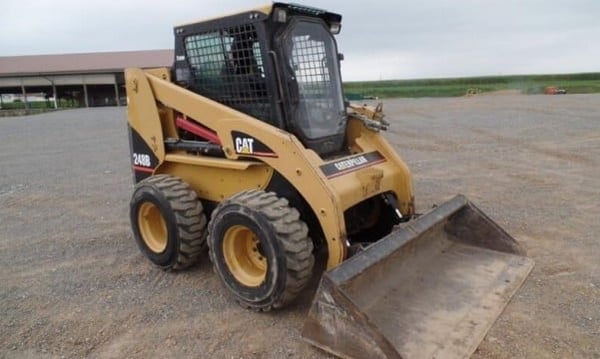 The quick coupler system in the machine allows users to easily change the work tools. It features a low profile side plate, opposing wedges ensuring a tight tool fit, a large contact area that has great space for large loads, and more. It also enables superb visibility of the work tools and easy entry & exit to the cab.
Using the two high-leverage handles, the operator has the option of engaging and disengaging the work tools. Also, there is an optional hydraulic quick coupler that enables the engaging or disengaging of the tools without having to exit the loader.
The variety of work tools aims to deliver better results, machine longevity, and exceptional value and services. The list of the various tools includes backhoes, augers, cold planers, wheel saws, trenchers pallet forks, hammers, and many more.
Need to hire a machine? iSeekplant will find you the best free competitive quotes.
Hi-Tech Hydraulic System
The CAT 248B has an amazing hydraulic system that provides incredible lift, and great power to work tools. Instead of multiple components, the machine features a single component that improves hydraulic system reliability and cleanliness. The operator station has a filter restriction indicator. Also, there's a screen in the hydraulic tank that keeps the huge debris to enter the machine and hence protects the hydraulic components from being damaged.
No matter how high the temperatures are, the hydraulic air cooler in CAT 248B Loader allows the machine to work longer and effortlessly, even when making use of powerful work tools. Moreover, the oil reservoir has a great capacity, which helps in keeping the temperature under control.
The efficiently working hydraulic system not only makes driving an easy process, but also helps in loader lift, tilting, driving engine cooling fan, plus more. Another plus of this machine is the hydraulic lines, as they improve reliability and make servicing a seamless process.
Great Customer Support
Purchasing CAT equipment means investing your money in a dependable machine. Their loader features not only the highest quality of tech, but their customer support is unparalleled too. Whether it is machine support, replacement, repair, operator training, maintenance services, or anything related, they're ready to help you and be your perfect guide.
Need more work? Register your plant hire company on iSeekplant for free.
CAT 248B Skid Steer Loader Specs
Dimensions
Ground Clearance: 9 in/ 228.6 mm
Width Over Tires: 5.5 ft in/ 1676 mm
Height to Top of Cab: 6.87 ft in/ 2092 mm
Length W/o Bucket: 9.19 ft in/ 2800 mm
Length With Bucket: 11.54 ft in/ 3515 mm
Wheel Base: 3.73 ft in/ 1134 mm
Clearance at Max Lift and Dump: 7.87 ft in/ 2398 mm
Reach At Max Lift And Dump: 21.3 in/ 541 mm
Maximum Overall Height: 156 in/ 3962.4 mm
Turn Radius From Center - Inc Bucket: 82.56 in/ 1625.6 mm
Turn Radius From Center - Machine Rear: 63.9 in/ 1623 mm
Turn Radius From Center - Coupler: 52 in/ 1320.8 mm
Turn Radius From Center - Bucket: 83 in/ 2108.2 mm
Engine Specifications
Make: Caterpillar
Model: CAT 3044C DIT
Aspiration: Turbocharged
Gross Power - Sae J1995: 82 hp/ 61 kw
Net Power - SAE 1349: 76 hp/ 57 kw
Net Power - ISO 9249 Eec: 77 hp/ 57 kw
Stroke: 4.70 in/ 12 cm
Net Flywheel Power: 76 hp/ 57 kw
Bore: 3.7 in/ 9 cm
Operational
Operational Weight: 7319.4 lb/ 3320 kg
Max. Speed: 7.8 mph/ 13 kph
Operating Voltage: 12 V
Fuel Capacity: 23.80 gal/ 90 l
Engine Oil Fluid Capacity: 2.70 gal/ 10 l
Alternator Supplied Amperage: 90 A
Hydraulic System Fluid Capacity: 13.80 gal/ 52 l
Chain Box Fluid Capacity - Each side: 1.90 gal/ 7 l
Tire Size: 12x16.5
Cooling System Fluid Capacity: 2.70 gal/ 10 l
Weights
Operating Weight: 7321 lb/ 3321 kg
Hydraulic System
Hydraulic Flow: High Flow XPS
Hydraulic Power: 78.20 hp/ 58 kw
Maximum Loader Hydraulic Pressure: 4060 psi
Maximum Loader Hydraulic Flow: 33 gal/min (125l/min)
Loader Hydraulic Flow: 33.02 gal/min
Loader Hydraulic Pressure: 4061.06 psi
Service Refill Capacities
Fuel Tank: 2.6 gal
Hydraulic Tank: 9.2 gal
Hydraulic System: 13.7 gal
Engine Crankcase: 2.6 gal
Chain Box - Each Side: 1.8 gal
Cooling System: 2.6 gal
Power Train
Travel Speed Reverse: 7.7 mph/ 12 kph
Travel Speed Reverse - 2-speed option: 11.8 mph/ 19 kph
Travel Speed Forward: 7.7 mph/ 12 kph
Travel Speed Forward - 2-speed option: 11.8 mph/ 19 kph
Need to Hire a Skid Steer Loader?
Weaving through Brisbane, Sydney, Melbourne, Canberra, Perth, Darwin, Adelaide and everywhere in between, we have a large network of skid steer loader suppliers here at iseekplant. If you are ready to make the next step use our get rates tool to get the ball rolling!
To keep up to date with all of the latest industry and project news, subscribe to iseekplant's Constructionsht blog today! We publish great content daily including reviews and hire rates guides. Trust me you do not want to miss out!