Part of the Compact Track Loader range from Bobcat, the T650 is a vertical-lift-path loader which excels in limited space, when stacking high is required (such as palletised material). Like all Bobcat products, however, it is also a highly versatile machine that can excavate for pools, reach and lift heavy loads and perform a broad range of other tasks required on site.
The Bobcat T650 was built with performance in mind
The T650 has been built with more surface area of the machine in contact with the ground, with the weight and horsepower finely balanced for performance. In conjunction with the direct-drive motor, these features best-in-class pushing force to increase productivity. The even distribution of the machine weight across the tracks also provides minimal terrain disturbance and the ability to lift heavier loads.
Need more work? Register your plant hire company on iseekplant for free
To improve cycle times, the hydraulic pumps in the T650 (like the other Bobcat M2-Series loaders), have been matched to the individual loader lift capacity and cylinder size for optimum output. These highly-efficient pumps match the power demanded for each operation to deliver powerful breakout forces, while the clever hydraulic bucket positioning maintains a level bucket when raising the lift arms, to reduce spillage and boost efficiency.
Innovative design enables on-site efficiency with the Bobcat T650
The cooling system in the T650 cools the machine more efficiently, while protecting the radiator and hydraulic oil cooler from job site hazards. As opposed to pulling dirty air from above the tyres, or the rear of the machine like in competitor products, the T650 pulls clean, cool air from above the machine and the SmartFAN spins only as quickly as is necessary to maximise efficiency. There is also an optional reversing fan for dirty work environments, which clears debris from the radiator screen during operation.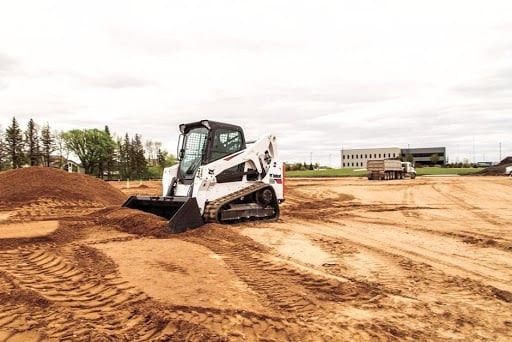 The Deluxe Instrumentation Panel onboard the T650 enables operators to set the guidelines of the grading system, such as distance-to-target for both slope and elevation, while receiving real-time information on progress. This removes the need for a separate control box in the cab. The cab design has seen it shifted forward, for closer proximity to the attachment and an improved vantage point, while visibility has been significantly improved in all directions. In fact, there is up to 50% more glass surfaces versus other manufacturer machines and new powerful lighting has been introduced for enhanced visibility during night-time operation.
The Bobcat T650 thrives in rough conditions
While battling the mud, debris and dust that is encountered on site, the class-leading enclosed, pressurised cab of the T650 will keep operators dry and comfortable. The adjustable suspension seat, sound-dampening features and ample head and legroom make for a pleasant and productive work environment, even during the toughest of jobs. Bobcat have also managed to reduce vibration and noise with the new Lift Cylinder Cushioning, which removes the need for manual arm slowing and makes typically harsh movements much smoother.
Need to hire a machine? Through iseekplant, you'll find the best free competitive quotes!
There are a number of impressive features on the T650 which are designed to maximise machine uptime. Automatic shutdown comes standard and monitors engine and hydraulic functioning, alerting the operator and performing a shutdown when an issue is detected. This reduces the chance of engine and hydraulic damage and unplanned maintenance or servicing. The on-board diagnostics system provides real-time information to enable problems to be addressed on site and even be prevented prior to occurring. There is also a battery run-down protection function which automatically shuts down the lighting circuit to prevent unintended battery discharge.
As you would expect from Bobcat, the T650 comes with a long list of compactible attachments, including buckets, saws, brooms, augers, breakers and mowers. If you need a versatile, powerful and reliable all-rounder for your job site, look no further!
How much can a Bobcat T650 lift?
The Bobcat T650 is rated with a tipping load of 3,331 kg and a rated operating capacity of 1,242 kg.
How much does a T650 Bobcat weight?
The operating weight of a Bobcat T650 is 4,445 kg.
How many HP is a Bobcat T650?
The Bobcat T650 is rated at 75.1 HP, or 56 kW.
Need more work? Register your plant hire company on iseekplant for free
Bobcat T650 Skid Steer Specs
Machine Rating
Rated operating capacity (ISO 14397–1): 1242 kg
Tipping load (ISO 14397-1): 3550 kg
Pump capacity: 87.10 L/min
Pump capacity (with high flow option): 126.90 L/min
System relief at quick couplers: 23.8-24.5 MPa
Max. travel speed: 10.6 km/h
Engine
Make/Model: Bobcat / D24
Compliancy: 97/68 EC Stage IIIB
Fuel: Diesel
Cooling: Liquid
Power (SAE J1995 ) at 2600 RPM: 56.0 kW
Torque at 1800 RPM (SAE J1995 Gross): 283.9 Nm
Number of cylinders: 4
Displacement: 2392 cm3
Fuel tank: 104.10 L
Weights
Operating weight: 4445 kg
Shipping weight: 4107 kg
Control
Vehicle steering: Direction and speed controlled by two hand levers or joysticks (optional)
Loader hydraulics tilt and lift: Separate foot pedals, optional Advanced Control System (ACS) or Selectable Joystick Controls (SJC)
Front auxiliary (standard): Electrical switch on right-hand steering lever
Drive System
Transmission Infinitely variable tandem hydrostatic piston pumps, driving two fully reversing hydrostatic motors.
Standard Features
Adjustable suspension seat
Automatically activated glow plugs
Auxiliary hydraulics: variable flow/maximum flow
Bob-Tach™ frame
Bobcat Interlock Control System (BICS)
Deluxe operator cab* - Includes interior cab foam, side, top and rear windows, cab door with windshield wiper and sensor, Deluxe wire harness, dome light, electrical power port, cup holder, storage compartment and horn 1
Electrically activated proportional front auxiliary hydraulics Engine/hydraulics system shutdown
Hydraulic bucket positioning (including ON/OFF switch)
Instrumentation
Lift arm support
Work lights, front and rear
Parking brake
Seat belt
Seat bar
Turbo-charger with approved spark arrestor
Tracks — rubber — 450 mm
CE certification
Warranty: 12 months or 2000 hours, whichever occurs first
1. * Roll Over Protective Structure (ROPS) – meets requirements of SAE-J1040 and ISO 3471; Falling Object Protective Structure (FOPS) - meets requirements of SAE-J1043 and ISO 3449, Level I
Options
Deluxe instrument panel
Power Bob-Tach™
Cab enclosure with heating
Air conditioning
Advanced Control System (ACS)
Selectable Joystick Controls (SJC)
Roller Suspension™
High flow hydraulics
Two speed
Air ride seat with 2 point seat belt
Air ride seat with 3 point seat belt
Back-up alarm
Beacon
Engine block heater
Fire extinguisher
Strobe
Environmental
Operator LpA (98/37 & 474-1): 85 dB(A)
Noise level LWA (EU Directive 2000/14/EC): 103 dB(A)
Whole body vibration (ISO 2631–1): 0.54 ms-2
Hand-arm vibration (ISO 5349–1): 1.61 ms-2
Need to Hire a Bobcat?
Whether you are in Brisbane, Sydney, Melbourne, Canberra, Perth, Darwin, Adelaide or anywhere else in the nation, iseekplant is here to help. Our extensive network of Bobcat suppliers have some of the most quality fleets in the country and eagerly await to service you. You can get rates today to bring the next stage of your project that much closer and its easy and simple!
To keep up to date with the latest machine reviews and construction news, subscribe to iseekplant's Constructionsht blog today! We publish great daily content including a dedicated section to Bobcat reviews. Trust me, you do not want to miss out.