Bobcat has a strong heritage in the compact loader segment, having invented the world's first back in 1958. In the decades that have followed, they have continued to hone their offering, while still remaining true to the original concepts of tough, agile and versatile machines that can tackle a wide range of projects. The T590 Skid Steer, part of the M2-series, is no exception.
The Bobcat T590 is exceptionally well-designed
Bobcat pride themselves on having achieved the perfect harmony of design, balance and weight distribution to deliver more usable horsepower and enhanced breakout forces. The endgame here is faster cycle times and ultimately better job site productivity. With a typical dig action including a push, lift and tilt motion simultaneously, the hydraulic system in the T590 is engineered to intelligently provide the right amount of power to each particular component. While competitors might perform one function well, the provision of consistent power across multiple at one time has presented a challenge – this is where the T590 excels. Bobcat loaders also achieve maximum torque at a lower rpm, which means stalling is kept to a minimum and a greater time and fuel efficiency is achieved.
Need more work? Register your plant hire company on iSeekplant for free: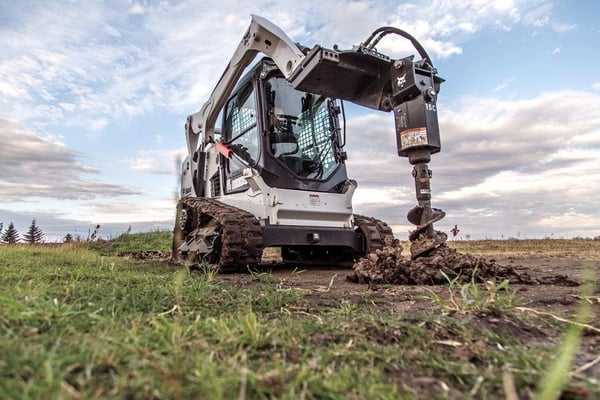 The durable undercarriage on the T590 has been designed to maximise uptime. The forged steel idlers and steel imbed tracks will withstand the toughest conditions are built for a long service time horizon with minimal maintenance. The hydraulic hoses and solid-mounted drive motors have been cleverly protected to negate damage from branches, vibrations and unpredictable terrain.
The cooling system in the T590 enables the machine to work in extreme conditions with minimal concern for overheating. The hydraulically powered smartFAN is up to 30% quieter than ordinary cooling fans and only turns as fast as the machine exertion requires it to. The efficient design sees cool air pulled from above (as opposed to most machines which draw dirty air from over the top of the tyres or from the rear of the loader). This in turn keeps the operator cooler, ensures engine components are kept clean and reduces wear and associated maintenance.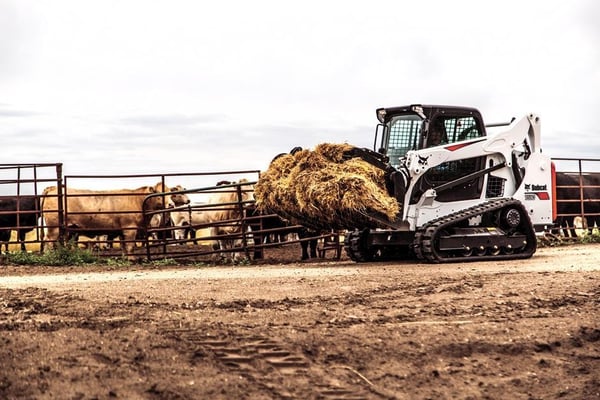 Operators are afforded a high level of comfort within the enclosed, pressurised cab. Visibility has been enhanced, with significantly larger front, rear and top windows compared to previous generation machines. The popular Bobcat Standard Controls are intuitive to use and feature dual steering levers to control the drive functions, while controlling the lift and tilt functions with dual foot pedals. The optional Selectable Joystick Control (SJC) also offers an additional four productivity functions all at thumbs-reach, which include horsepower management, speed management, drive response and steering drift compensation.
Need more work? Register your plant hire company on iSeekplant for free:
The T590 increases productivity across job sites
The optional two-speed travel function enables a higher top speed when in travel mode, which results in less time travel across the jobsite, or between different sites. With up to 57% top speed increase compared to previous models, the inconvenience of loading and unloading the machine onto a trailer can be avoided, as the T590 can simply drive to the next task. This allows you to get there faster and finish earlier. The operator can also engage Automatic Ride Control from within the cab, which minimises material spillage and allows faster travel speeds on uncertain terrain.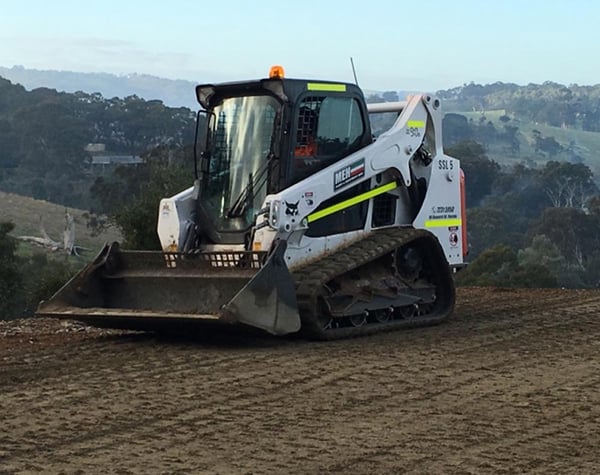 The broad array of attachment options for Bobcat products have long made them a highly valued jobsite asset. The T590 features Quick Couplers which release hydraulic oil through a return line back into the machine, which enables a clean and swift attachment change, every time you make one. The long list of compatible attachments includes augers, backhoes, bale forks, saws, a plethora of bucket types and even chippers and concrete mixers. Of course, the T590 is perfect for lifting and loading tasks and with the highest lift height in the Bobcat 500 series, the T590 is ideal for those tight-and-tall jobs, such as lifting palletised bricks and other materials.
How much horsepower does a Bobcat T590 have?
The Bobcat T590 is rated at 66 HP, or 49.2 kW.
How much fuel does a Bobcat T590 hold?
The Bobcat T590 has a fuel tank capacity of 138.2 litres.
Looking to hire a machine? iSeekplant will find you the best free competitive quotes:
Bobcat T590 Full Specs
Machine Rating
Rated operating capacity: (ISO 14397–1) 971 kg
Tipping load: (ISO 14397-1) 2774 kg
Pump capacity: 64.70 L/min
Pump capacity (with high flow option): 101.10 L/min
System relief at quick couplers: 23.8-24.5 MPa
Max. travel speed (high range – optional): 16.7 km/h
Engine
Make / Model: Bobcat / D24
Compliancy: 97/68 EC Stage IIIB
Fuel: Diesel
Cooling: Liquid
Power: 49.2 kW
Torque at 1500 RPM (SAE J1995 Gross): 245.0 Nm
Number of cylinders: 4
Displacement: 2392 cm3
Fuel tank: 138.20 L
Weights
Operating weight: 3548 kg
Shipping weight: 3187 kg
Controls
Vehicle steering: Direction and speed controlled by two hand levers or optional joysticks
Loader hydraulics tilt and lift: Separate foot pedals or optional Advanced Control System (ACS) or Selectable Joystick Control (SJC)
Front auxiliary (standard): Electrical switch on right-hand steering lever
Drive System
Transmission Infinitely variable tandem hydrostatic piston pumps, driving two fully reversing hydrostatic motors
Standard Features
Cushion suspension seat
Cushioned lift cylinders
Automatically activated intake air heater
Auxiliary hydraulics: variable flow/maximum flow
Bob-Tach™ frame
Bobcat Interlock Control System (BICS)
Deluxe operator cab* Includes interior cab foam, side, top and rear windows, Deluxe wire harness, dome light, electrical power port, cup holder, storage place and horn 1
Hydraulic bucket positioning (including ON/OFF switch)
Front door with windshield wiper
Instrumentation
Noise reduction kit
Lift arm support
Work lights, front and rear
Parking brake
Seat belt
Seat bar
Turbo-charger with approved spark arrestor
Tracks — rubber — 320 mm
CE certification
Warranty: 12 months or 2000 hours, whichever occurs first
1. Roll Over Protective Structure (ROPS) – meets requirements of SAE-J1040 and ISO 3471; Falling Object Protective Structure (FOPS) - meets requirements of SAE-J1043 and ISO 3449, Level I

Options
Deluxe instrument panel
Power Bob-Tach™
Cab enclosure with heating
Cab enclosure with HVAC
High-flow auxiliary hydraulics
Air conditioning
Advanced Control System (ACS)
Selectable Joystick Controls (SJC)
Radio
Air ride seat with 3 point seat belt
Back-up alarm
Beacon
Strobe
Radio
Tracks - rubber - 400 mm
Two speed with 3-point belt
Road option
Environmental
Operator LpA (98/37 & 474-1): 85 dB(A)
Noise level LWA (EU Directive 2000/14/EC): 101 dB(A)
Whole body vibration (ISO 2631–1): 0.54 ms-2
Hand-arm vibration (ISO 5349–1): 1.61 ms-2
How to Hire a Bobcat
So the T590 has taken your fancy to do some of the heavy lifting for your next project. Getting one on site and hassle free is easy with iSeekplant and our extensive network of Bobcat suppliers. You can be needing a machine in Brisbane, Sydney, Melbourne, Canberra, Perth, Darwin, Adelaide or indeed anywhere else in the country and this network should be able to meet your needs. You can start the process now by getting rates for a Bobcat near you!
To keep up to date with all of the latest machine reviews, subscribe to iSeekplant's Flapping Mouth blog today! We have a series dedicated just to Bobcat reviews amongst what is an enormous catalogue of the industry's best insight. Trust me you don't want to miss a thing.