The 330G John Deere skid steer packs a lot with its punch. With a high operating capacity and gross horsepower in this small sized machine, you get your money's worth and more.
If you are looking for a machine with a strong performance and the power to do many versatile operations, then the 330G John Deere bobcat loader is the machine for you.
John Deere is one of the most well-known names in the construction industry, and for good reason. A reliable brand, you only have to see the green and yellow label and you know you are in safe hands.

So is the new 330G John Deere skid steer loader as reliable as past models? Read on to find out all the details and make your mind up for yourself!
John Deere 330G skid steer specs (overview)
Rated operating capacity - 1,362 kg (3,000 lb.)

Gross Horsepower: 68.0 kW (91.2 hp)

Net Horsepower: 66 kW (88.5 hp)

Operating Weight: 4,495 kg (9,900 lb.)

For full specs - see below
Need more work? Register your plant hire company on iSeekplant for free: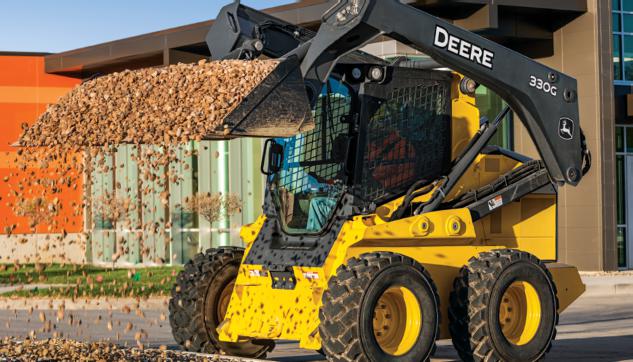 Drew's Review - John Deere 330G Skid Steer Key Features
Built for ultimate power
John Deere prides itself on having built one of its toughest machines to date with the 330G John Deere skid steer. With a superior power behind its bucket, the machine can handle heavier loads, carrying heavy piles with ease.

Not only is the 330G John Deere bobcat turbocharged, but it also meets tough emission standards, which is better for the environment but comes without a compromise on engine quality. The machine runs smoother than ever, while giving you the strong power and torque for you to do the job to the highest standard.
Machinery Owners Australia
Facebook group · 217 members
| | |
| --- | --- |
| | Join Group |
This group is for machinery owners across Australia to share news, advice and stories!
Faster speeds with ease
One of the great functions on the John Deere 330G skid steer is that it comes with a two-speed driving system which can function with high speeds going up to 12mph, meaning you can get the job done faster and more efficiently.

The fuel tank system has been revised, building in a larger tank to the 330G model, which means the skid steer loader can run for longer, giving you the chance to do more in between re-fuelling stops.

Better extensions to do the job right
The 330G John Deere skid steer has a longer extension which stretches further than past models. The compact design can reach higher and lets you load and unload faster and easier.

And with a strong boom breakout force, you don't have to worry about the manoeuvring becoming unsteady – the design means it stays strong during whatever awkward positions you need to work your way in to.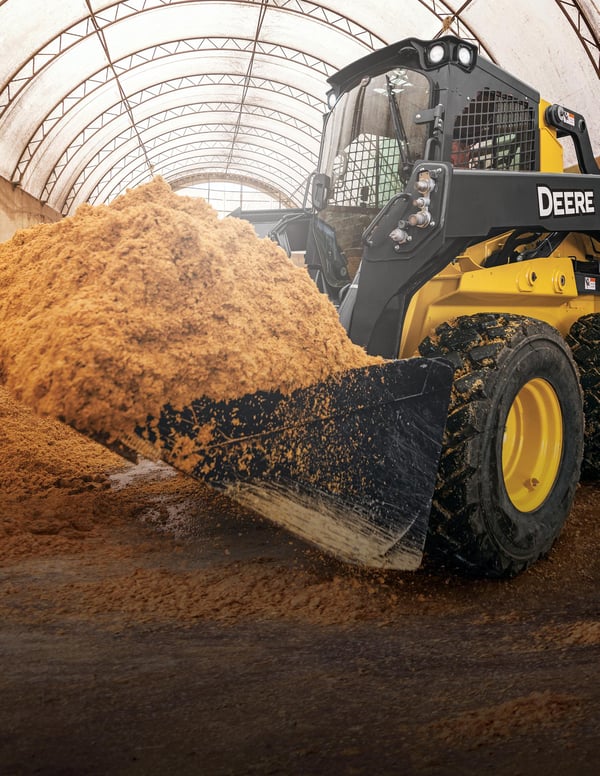 Built to carry more

The heavy-duty buckets on the new John Deere 330G skid steer are built to withstand heavier weights, letting you carry those bigger loads with ease. The low centre of gravity within the design means you can control the bucket without worrying about a tip over, no matter the heavy load. How heavy? The increased operating lift weight now stands at 3,600 lb, letting you carry more.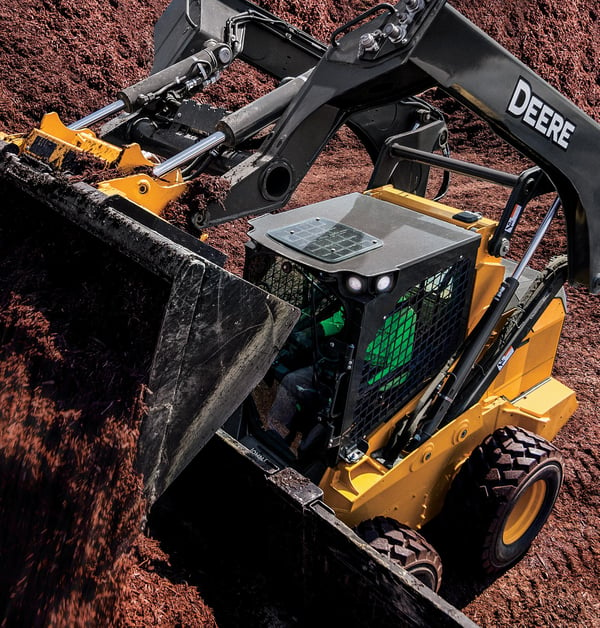 Load like there's no tomorrow
With the loading height able to extend to 11ft, you really will be able to do all the jobs you need to do and more with the new 330G John Deere skid steer.

The machine easily loads tandem-axle dump trucks, miners and fill hoppers. Shifting pallets or pavers is a breeze too.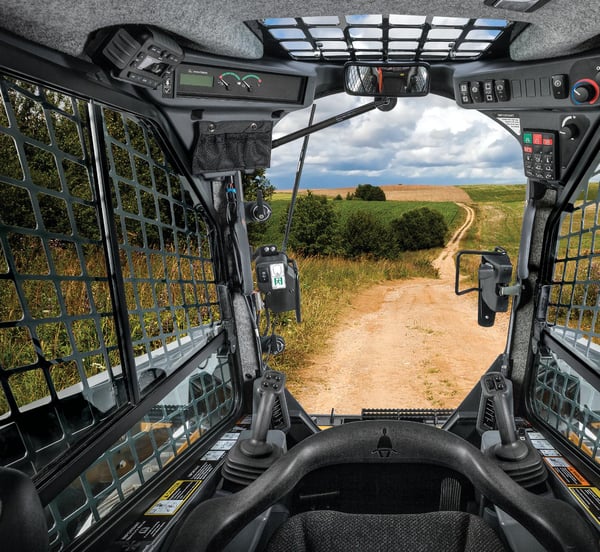 Work in comfort
John Deere hasn't forgotten about the need to be comfortable when sitting in the cab all day long. In fact, the company has made comfort a high priority.

Both heating and air conditioning is within the cab, meaning you can ride all day long without the weather effecting your ability.

All the controls are at your fingertips, meaning you can read what's going on with ease, adjusting and manoeuvring continuously to get the job done faster. The LED screens light up brightly, giving better visibility, and the rear-view camera option means you can always see what's going on behind you.

The 330G John Deere skid steer also comes with a long list of optional extras, including keyless starts, anti-theft settings and fingertip activation of a number of functions including ride control and self-levelling.

Need to hire a machine? iSeekplant will find you free competitive quotes!

Built to go and go
The 330G John Deere skid steer is tough and will go the distance. John Deere has put a lot of thought into the durability of the skid steer, meaning the heavy duty style of the machine will go across most terrains.

The boom hydraulics give the machine extra ease of operation, and John Deere has incorporated clever design which means the wiring of the machine is done through the boom to protect them from any breakages or damage.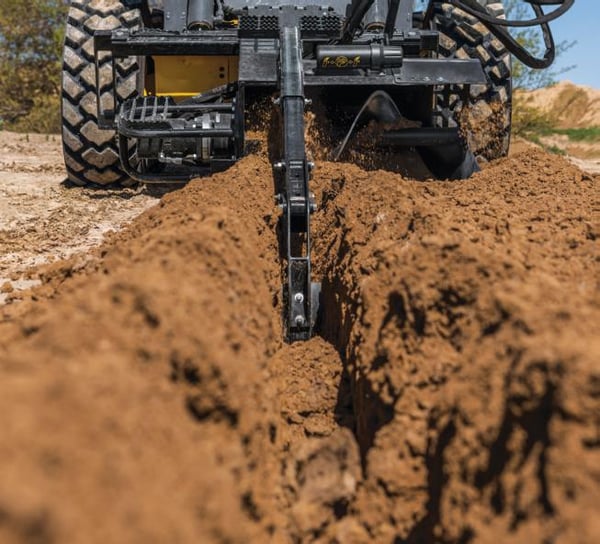 More attachments than you can think of
The 330G John Deere skid steer features endless attachment options, so you can configure your machine to exactly the way you need it.

For example, you can use bale huggers or spears if you are working on a farm; snow blades in wintery conditions; angle booms for civil work; or rotary cutters to quickly carry out land-clearing operations.

With the Universal Quik-Tatch function, the 330G Skid Steer can switch over from bucket to fork to whatever attachment you need in a matter of seconds. This really is an outstanding feature for those jobs that need to be done quickly without the stress.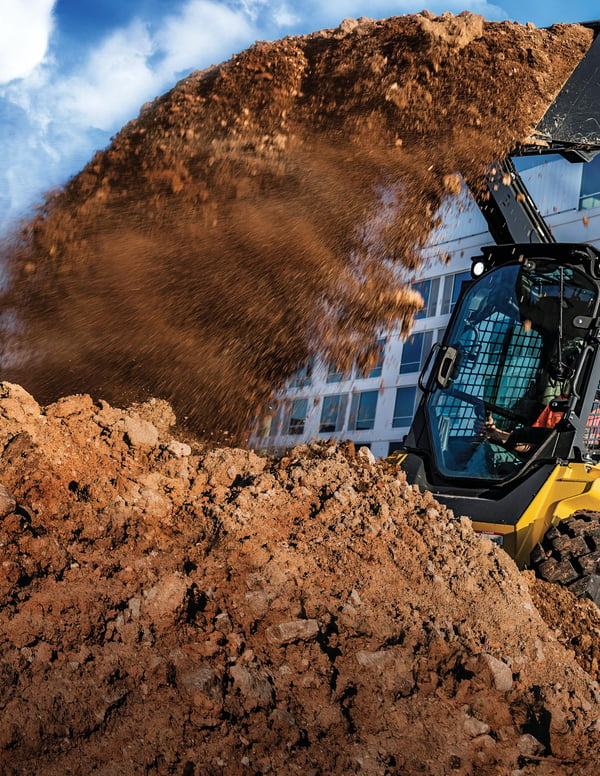 All the functions you'll ever need
The 330G John Deere skid steer comes with the latest advanced technology, providing all the tech detail you need to operate any job smoothly.

For example, the JDLink machine monitoring function means you can monitor data and health alerts to do the job in the most efficient way possible, reducing expensive downtime and maximising productivity.

The tilt hood is another extra function that brings a lot to this machine. The tilt hood allows for easier access to ground-level dipstick and other close ground operations, giving wide-open access in under five minutes.

The new cab footwell floor access also makes the cleaning of the cab quicker and easier than ever – perfect when you've worked a long day on a dusty job and want the cab to feel clean for the morning shift.

Core cleanout has been made easier too with a hinged hood and side shields that can be easily removed to access the coolers for a quick clean. No more downtime for cab and exterior maintenance with this new model.

The John Deere 330G skid steer is a world-class machine, built for any job and built to last. Try it for yourself and you'll soon realise why it's a machine worth having on site. Here at iSeekplant we have the largest network of plant hire suppliers in Australia with a plethora of skid steer loader hire. Our network includes Brisbane, Sydney, Melbourne, Canberra, Perth, Darwin, Adelaide and beyond, so you can be assured we will find a supplier fit for you. The process can be started in a few clicks by simply getting rates with us now!
Need more work? Register your plant hire company on iSeekplant for free:

John Deere 330G Skid Steer Specs
Engine
Engine Model: Yanmar 4TNV94FHT
Number of Cylinders: 4
Net Peak Power (SAE J1349 / ISO 9249): 66.0 kW (88.5 hp) at 2,500 rpm
Gross Rated Power (ISO 14396): 68.0 kW (91.2 hp) at 2,500 rpm
Peak Torque: 382 Nm (281.8 ft. – lb.) at 1,700 rpm
Displacement: 3.1 L (186.3 cu. In.)
Rated Engine Speed: 2,500 rpm
Torque Rise: 47% at 1,700 rpm
Aspiration: Turbocharged, intercooled
Air Cleaner: Dry dual element
Cooling
Fan Type: Variable-speed hydraulic drive standard/reversing fan drive optional
Powertrain
Type: Electrohydraulic (EH); 4 – 100 heavy-duty (HD) continuous-loop-chain
Travel Speeds – Low: 11.3 km/h (7 mph)
Travel Speeds – High: 19.3 km/h (12 mph)
Axels – Maximum Axle Torque: 8480 Nm
Axels – Tractive Effort: 3905 kpf
Final Drive: High-strength, adjustment-free chains
Hydraulics
Pump Flow - Standard: 80 L/m (23.5 gpm)
Pump Flow – Total with High-Flow Option: 138 L/m (36.5 gpm)
System Pressure at Couplers: 23 787 kPa (3,450 psi)
Hydraulic Horsepower Flow (calculated) – Standard: 35 kW (47 hp)
Hydraulic Horsepower Flow (calculated) – High Flow: 55 kW (74 hp)
Auxiliary Hydraulics: Connect under-pressure with flat-faced couplers
Cyliners
Type: John Deere heat-treated, chrome-plated polished cylinder rods, hardened steel (replaceable bushing) pivot pins
Electrical
Voltage: 12 volt
Battery Capacity: 925 CCA
Alternator Rating: 90amp
Lights: Halogen 2 front and 1 rear standard / deluxe LED (4 front and 1 rear) optional
Operator's Station
ROPS (ISO 3471)/ FOPS (ISO 3449): structure with quick-pivot standard
Tires/Wheels
Standard Tire Size: 14 x 175.12 PR Extra Wall
Serviceability
Refill Capacity – Fuel Tank: 96.5 L (25.5 gal)
Machine Dimensions
Length Without Bucket: 3.10m
Length with Foundry Bucket: 3.71m
Length with Heavy-Duty Construction Bucket: 3.96m
Width Without Bucket: 1.98m
Height to Top of ROPS: 2.19m
Height to Hinge Pin: 3.35m
Dump Height with Foundry Bucket: 2.69m
Dump Height with Heavy-Duty Construction Bucket: 2.50m
Dump Reach with Foundry Bucket: 0.71m
Dump Reach with Construction Bucket (no edge): 0.88m
Wheelbase: 1.27m
Ground Clearance: 0.25m
Angle of Departure: 29 deg
Front Turn Radius with Foundry Bucket: 2.18m
Dump Angle (full lift height): 48 deg
Bucket Rollback (ground level): 35 deg

Check out some more Skid Steer Loader reviews here:

Sources: Volvo, Construction Advisor, Equipment World