If you are seeking a do-it-all machine for your next job, you might want to consider the Bobcat S550 skid steer loader. With true 360-degree pivot capabilities, it is one of the most manoeuvrable pieces of equipment available and can turn its hand to an incredible number of varying tasks.
The Bobcat S550 excels in narrow working environments.
In addition to excelling at close-quarter operations, the S550 offers powerful breakout forces and faster cycle times, achieved through clever design, balance and weight distribution. This delivers the machine more usable horsepower for construction, landscaping, agriculture and grounds maintenance applications. The S550 can support constant hydraulic flow for simultaneous activity, such as pushing, lifting and tilting, without sacrificing the performance of any one motion. The operator is able to feel and control the loader's drive, tractive effort and engine torque and know they can push the machine to its limits, without an anti-stall mechanism interrupting the demands of the task.
Need more work? Register your plant hire company on iSeekplant for free:
By keeping every pin at each pivot point on the lift arms on the same plane, Bobcat have reduced the side-to-side motion and minimised the wear that heavy loads cause. Depending on the task at hand, there are two lift path options to choose from:
Vertical lift path: Provides higher lift capacity and more reach at full lift height, keeping the load closer to the machine during raising and lowering. Useful for clearing high-sided truck boxes and hoppers, or stacking heavy, palletised materials.
Radius lift path: Provides maximum reach at truck bed height. Useful for jobs conducted at mid-range height, such as backfilling, dumping over a wall or flatbed truck unloading.
The S550 can navigate tough job sites with ease.
To navigate uncertain terrain, the S550 benefits from the exclusive Bobcat keel-shaped undercarriage. Based on the principles of how a boat slices through water, the machine has a higher ground clearance and sheds debris that it comes in contact with, minimising the chance of becoming bogged. Most skid-steer loaders have a flat bottom, which can result in sinking or spinning in wet, muddy conditions. With other smart design features such as high-mounted radiator and hydraulic oil cooler and hoses that run through loader arms and frame uprights, snags and other job site hazards pose no problem.
As they say, knowledge is power and the optional deluxe instrumentation in the S550 includes a 5-inch, full colour LCD screen which monitors 14 major load functions and troubleshooting suggestions. With key diagnostics such as the job clock feature, you can check machine usage by operator and also apply functional lockouts on certain functions like high-flow hydraulics. You will also receive timely reminders about upcoming scheduled maintenance to ensure your S550 is performing at its optimal capacity.
Looking to hire a Skid Steer? Through iSeekplant, you'll find the best rates!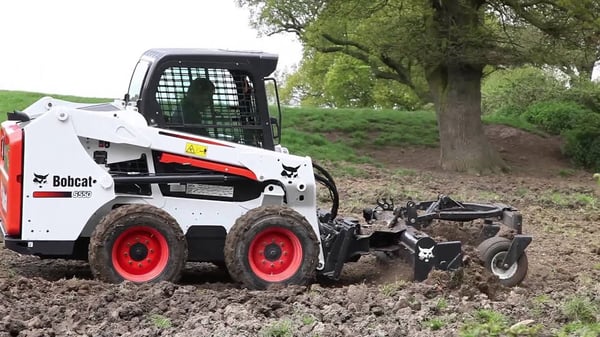 The cab-forward design means the operator is situated closer to the attachment and provides a superior vantage point during operation. The rear windows are 14% larger and the top window is a massive 43% larger than previous models, which is a huge benefit when using attachments or loading trucks. The large entry and 20% larger interior space are a welcome addition, while the Bobcat Standard Controls are still their most popular configuration of the available options. This utilises steering controls which drive each side independently, while dual foot pedals control the lift and tilt of the loader.
Bobcat proudly claim the fastest and easiest servicing of any loaders on the market. A large, swing-open tailgate provides convenient access to key routine maintenance points, without needing to move the radiator or raise the lift arms. For loaders that work in debris-filled environments, the hydraulic air cooler can be moved to easily perform a radiator clean. To perform less-routine servicing, simply remove two nuts and the cab tips back to allow access to hydraulic and hydrostatic components.
Difficult attachment changes are avoided with the Bobcat Quick Coupler mechanism which releases trapped line pressure. When the coupler is pressed inwards, hydraulic oil is released back into the machine via return line, resulting in a clean and quick change of attachments every time. This will be a welcome feature, as the list of compatible attachments is extensive and includes buckets, crushers, diggers, scrapers, graders, brooms and forks. The possibilities with the Bobcat S550 are literally endless.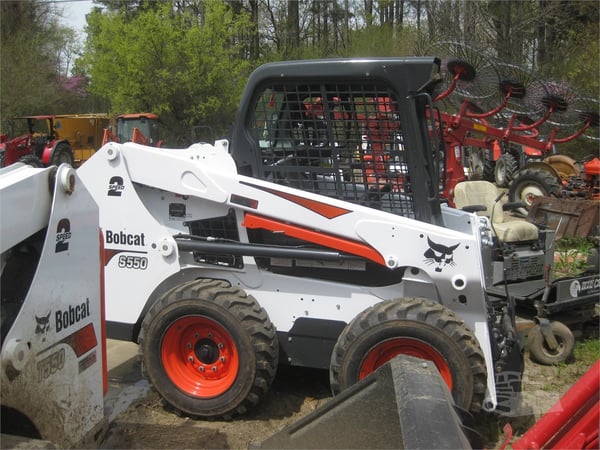 How many horsepower is a Bobcat S550?
The Bobcat S550 is rated at 61 HP, or 45.5 kW.
How much fuel does a Bobcat S550 hold?
The Bobcat T590 has a fuel tank capacity of 93.7 litres.
Need more work? Register your plant hire company on iSeekplant for free:
Bobcat S550 Skid Steer Specs
Machine Rating
Rated operating capacity (ISO 14397-1): 894 kg
Tipping load (ISO 14397-1): 1788 kg
Pump capacity: 64.70 L/min
Pump capacity (with high flow option): 101.10 L/min
System relief at quick couplers: 23.8-24.5 MPa
Max. travel speed (high range - option): 17.3 km/h
Max. travel speed (low range): 11.8 km/h
Engine
Make / Model: Kubota / V2607-DI-T-E3B-BC-2
Fuel: Diesel
Cooling: Liquid
Max. power at 2700 RPM (SAE J1995): 45.5 kW
Torque at 1425 RPM (SAE J1995 Gross): 201.0 Nm
Number of cylinders: 4
Displacement: 2600 cm3
Fuel tank: 93.70 L
Weights
Operating weight: 2841 kg
Shipping weight: 2503 kg
Controls
Vehicle steering: Direction and speed controlled by two hand levers or optional Advanced Control System (ACS), Advanced Hand Controls (AHC) or Selectable Joystick Controls (SJC)
Loader hydraulics tilt and lift: Separate foot pedals or optional Advanced Control System (ACS), Advanced Hand Controls (AHC) or Selectable Joystick Controls (SJC)
Front auxiliary (standard): Electrical switch on right-hand steering lever
Drive System
Transmission: Infinitely variable tandem hydrostatic piston pumps, driving two fully reversing hydrostatic motors
Standard Features
Cushion suspension seat
Automatically activated glow plugs
Auxiliary hydraulics: variable flow/maximum flow
Bob-Tach™ frame
Bobcat Interlock Control System (BICS)
Deluxe operator cab with windows 1
Electrically activated proportional front auxiliary hydraulics
Engine/hydraulics system shutdown
Hydraulic bucket positioning (including ON/OFF switch)
Instrumentation
Lift arm support
Noise reduction kit
Work lights, front and rear
Parking brake
Seat belt
Seat bar
Spark arrestor muffler
10 x 16.5, 10–ply, Heavy duty tyres
CE certification
Warranty: 12 months or 2000 hours (whichever occurs first)
1. Roll Over Protective Structure (ROPS) – meets requirements of SAE-J1040 and ISO 3471; Falling Object Protective Structure (FOPS) - meets requirements of SAE-J1043 and ISO 3449, Level I
Options
High-Flow hydraulics
Deluxe instrument panel
Power Bob-Tach™
Cab enclosure with heating
Cab enclosure with HVAC
10 x 16.5, 10–ply, Heavy duty tyres, offset rims
10 x 16.5, 10–ply, Severe duty tyres
12 x 16.5, 12–ply, Severe duty tyres, poly filled
12 x 16.5, Solid flex tyres
31 x 12-16.5, 10–ply, Superflotation tyres
Advanced Control System (ACS)
Advanced Hand Controls (AHC)
Selectable Joystick Controls (SJC)
Two speed
Air ride seat with 2 point seat belt
Back-up alarm
Beacon
Engine block heater
Fire extinguisher
Radio
Road kit
Strobe
Environmental
Fuel consumption at 100% engine load: 12.90 L/min
Fuel consumption at 70% engine load: 10.20 L/min
Fuel consumption at 50% engine load: 9.10 L/min
Fuel consumption at 30% engine load: 7.90 L/min
How to hire a Bobcat?
Think the S550 could be the fit for the loader that you have been looking for? Here at iSeekplant we have bobcat and skid steer loader suppliers across the country including in Brisbane, Sydney, Melbourne, Canberra, Perth, Darwin and Adelaide. Reach out today to get rates to get your earthmoving needs met with our extensive network of Bobcat suppliers.
Check out some more Skid Steer Loader reviews here:
To keep up to date with all of the latest industry and project news, subscribe to iSeekplant's Flapping Mouth blog today!