Coming in under-budget by $32 million, the first stage of the Canberra Light Rail project was delivered in April 2019, at a cost of $675 million. The scope of this initial stage involved a 12 km dual track running from the northerly region of Gungahlin through to Canberra's City Centre (Civic) and included the construction of 13 stations along the route.
The full project will delivered in a number of stages, as follows:
Stage 1: Gungahlin to Civic (completed)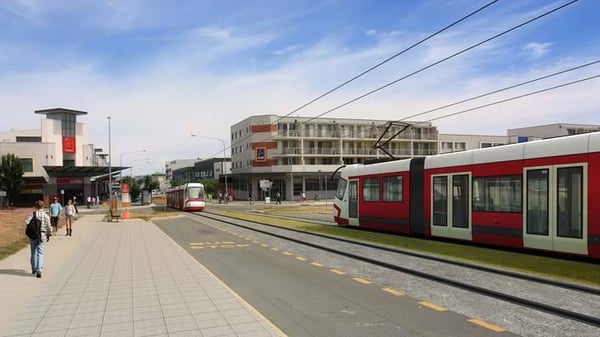 Stage 1 of the Canberra Light Rail was executed after three years, making it the city's biggest ever infrastructure project. Stage one, spanning from Gungahlin to Civic, was delivered under a Public Private Partnership between the Canberra Metro and the ACT Government consortium, which consists of CIMIC Group companies, Pacific Partnerships, CPB Contractors and UGL, with partners John Holland, Mitsubishi Corporation, Aberdeen Infrastructure Investments and CAF.
Stage 2A: Civic to Commonwealth Park.
This will be a 1.7 km section with three new stops, a new bridge over Parkes Way, raising London Circuit in line with Commonwealth Avenue and expansion of the Mitchel depot. Work on this stage has commenced and is earmarked for completion in 2024.
Stage 2B: Commonwealth Park to Woden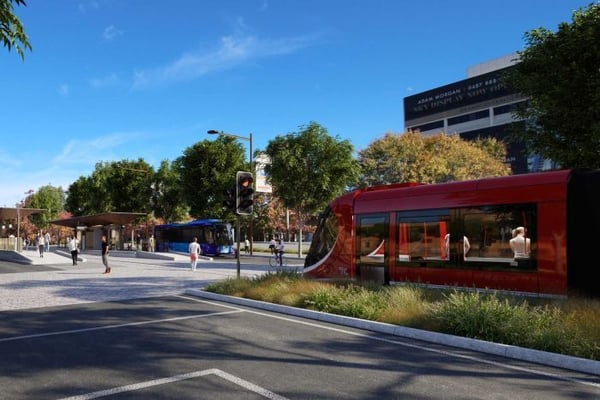 This phase of the Canberra Light Rail project will include the Parliamentary Triangle. This section will be a total of 9 kms long and includes nine stops, new bridges across Lake Burley Griffin and intersecting roadways and dedicated pedestrian bridges. This stage is currently in planning.
Minister for Transport, Chris Steel, said: "We are investing in infrastructure now to ensure Canberra doesn't end up congested like Sydney. We want to build on the success of the first stage of light rail, and this is the next step in the process to take those benefits to Woden."
Canberra is projected to experience population growth from 396,000 to 500,000 residents by 2030 (an increase of over 25%) and has the highest car dependency of all capital cities in Australia. There appears to be a strong appetite for the light rail, with over one million passengers utilising the Gungahlin to Civic route in the first 3 months of operation. Stage one also delivered jobs to 5,000 construction workers.
Upon completion of Stage 2B, it is anticipated that there will be approximately 39,000 daily passengers across the Canberra Light Rail network, with a service every six minutes during peak hour. It is anticipated that the light rail will be transport mode to underpin a holistic and integrated network which also includes bus services and "active" transport options, such as cycling and walking.
Who are the Canberra Light Rail project contractors?
A public private partnership (PPP) is responsible for delivering the Canberra Light Rail project. A PPS is defined as a long-term agreement between the private sector and the government to deliver public infrastructure. The PPP is a joint initiative between the ACT Government and the Canberra Metro consortium, consisting of CPB Contractors, Pacific Partnerships, John Holland, Aberdeen Infrastructure Investments, Mitsubishi Corporation, CAF and Deutsche Bahn International. The PPP for Stage One is for 20 years of project operation and maintenance.
When will the full Canberra Light Rail be delivered?
The ACT Government claims to be on-track with its ambition is to deliver a stage of light rail every decade. With Stage 1 completed and Stage 2A slated to be operational by 2024, there is no defined date for the completion of Stage 2B.
When does the Canberra Light Rail open?
Services commenced on 20 April 2019.
Is the Canberra Light Rail free to ride?
There is a cost associated with riding on the Canberra Light Rail. Utilising the MyWay system, passengers can travel across both bus and light rail with a free 90-minute transfer period from the time of ticket purchase.
How much does the Canberra Light Rail Cost to ride?
Prices for an adult fare range between $2.55 (off-peak) and $3.22 (peak) with a weekday capped price of $9.60.
Canberra Light Rail Map
Don't get left behind! Stay across the latest industry and project news by subscribing to iSeekplant's Flapping Mouth blog below!