Coloured Concrete comes in a myriad of colours, designs, and is very durable. Some of the most popular stained concrete colours are tan, brown, and terra cotta. These colours, either penetrate deeply to the surface of the concrete or are added to the mix during the batching process, producing a beautiful finish which can completely blend with the surroundings.
Apart from providing a beautiful and permanent finish to surfaces, this type of concrete is also cost-effective, long-lasting, and highly applicable to a wide range of structures. So whether you're laying house foundations and want to try something different, or resurfacing existing concrete slabs, coloured concrete is a great choice.
Applications of Coloured Concrete
Coloured concrete is used for a number of applications including residential and commercial projects. Whether it is a brand new concrete driveway, concrete slab, or other decorative concrete, coloured concrete becomes a great choice. Coloured concrete is used for:
Domestic uses such as

concrete driveways

, patios, and concrete slabs
Flooring for commercial and industrial projects
Public buildings like showrooms, shires, schools, airports, sporting surfaces, museums
Cycle Paths
Parking Spaces
Sea defences
Architectural designs
Benefits of laying coloured concrete
There are many benefits to laying coloured concrete as it provides great versatility across a project. You can also implement concrete stamping, polished concrete finishes, and concrete stencilling to elevate your coloured concrete project. Other benefits include:
Huge range and available in different colours
Applicable to a wide range of surfaces
Long-lasting and easily-maintained
Can resist harsh weather and heavy foot traffic
Cost-effective and next to no maintenance
Can easily match your surroundings due to its colour consistency

Factors that impact coloured concrete costs
Amount of concrete needed & area to be concreted
You can expect to pay $75 to $90 per square metre for coloured concrete, or up to $150 if you choose a decorative option like stamps or stencils. You will use a concrete calculator to estimate how much concrete you need for a specific are.
New vs existing concrete
Coloured concrete driveways are delightfully easy to maintain, but cracks will eventually appear on the surface because the ground will naturally shift. You can simply use a cheap concrete patcher which you can find at most hardware stores to do the job. Or if it s a larger job that needs fixing you can find a concrete repairman with competitive pricing to get the job done for you.
You only need to do resealing work every five years and the cost is lower if covering existing coloured concrete. Depending on the extent of the damage, a fresh layer will be applied over existing cracks or damaged areas. This involves mixing slurry with cement powder and sand until they form a thick paste-like material that can bond with the old concrete. Once set, workers may need to smooth it out using trowels before letting it dry overnight.
Another cheap way to fix concrete is by injecting polyurethane into holes or stains in order to seal them from exposure which works especially well for small surfaces like walls or patio tiles. Once any damage is fixed, coloured spray on concrete could also be used for a clean, new look.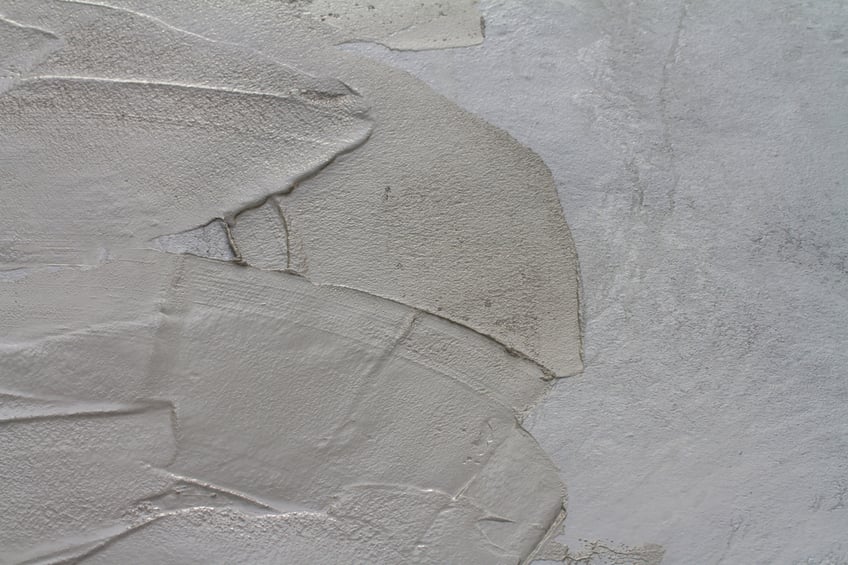 Access to your site
Another variable on price can be based on the site condition of your project, for example, a site with a large slope or lots of vegetation. If you are putting a new walkway in and there needs to be clearing of trees or shrubs, then this will be added into the total cost, including if you need to hire excavation equipment.
Amount of drainage needed on site
A job site may need additional drainage or plumbing in order to use coloured concrete. If the concrete being laid is on a site where there has recently had earthmoving completed, the soil may need to be compacted to guarantee that the concrete has a solid foundation structure.

Choosing concrete colours
To colour a concrete properly, it's important to start by choosing the right colour. For example, if you want to colour a concrete driveway, there are some things you should consider:
Matching the colour scheme of your house
Your driveway will look like a natural fit when it to complement the existing colours of your house, so choosing a plain concrete works, but if you're looking to lay concrete that stands out choosing a coloured concrete or stencil can do the trick.
Light colours reflect heat, dark absorbs it
Colours affect your surface's ability to handle the heat. This could determine whether you can walk barefoot on it. So choosing a lighter concrete around the pool for example, would be a good choice. Exposed aggregate concrete is very durable and great for around pool decks.
Match the colouring of any existing stamped patterns
Use the pattern of natural stones or bricks to help determine what colours make that pattern look better. Larger, more natural stamped concrete shapes may suit a concrete patio, while a smaller more detailed pattern may suit a footpath. Alternatively, a polished concrete finish may be a great choice for indoor settings and some concrete patio areas.
How can I find the best coloured concrete cost possible?
When you need coloured concrete services for your next project, iseekplant is the place to go. With listings of reputable coloured concrete suppliers throughout Australia, you can get a quick and competitive quote today with our Get a Quote Tool, or call our experts on 1300 691 912 or email projects@iseekplant.com.au if you need help finding the right coloured concrete designs for the project.
Download our seeker app today and find suppliers in your pocket. From anywhere in Australia, you have suppliers and machinery at your fingertips.