Concrete recycling is the process or breaking down demolished pieces of concrete to be used as aggregate on a new project. There are many benefits to using recycled concrete, particularly the cost. Using recycled materials can significantly decrease the cost of a project while also helping the environment. Recycled concrete is often crushed into a dust or aggregate and can be used for driveways or road base.

Why choose concrete recycling for construction materials?
There are plenty of benefits in using recycled concrete in your construction project including:
Cost: Using recycled concrete significantly decreases the price of your project as opposed to using virgin materials.
Environmental: Using any recycled material creates less impact on the environment and can help save waste.
Competitive advantage: Companies that use recycled products can have a more competitive advantage than other companies due to their positive environmental choices moving forward.

What can recycled concrete be used for?
Recycled concrete can be used for a number of purposes in construction. Once recycled, it becomes a versatile material that can be used across road works and other areas of the industry.
Once free of contaminants, recycled concrete can be used as the dry aggregate for new concrete. It can be used for gutters, footpaths, driveways, and other applications of concrete.
Road construction
Recycled concrete can be crushed into a road base and used for road construction. It can also be used as gravel on new road construction projects or poured over as the concrete road surface.
Gabion and retaining wall construction
In the construction of concrete retaining walls, gabions can be constructed from recycled concrete and stacked to build a retaining wall structure. Recycled concrete can be poured into concrete slabs for standard concrete retaining wall construction also.
Landscape supplies
Recycled concrete can be used as a replacement for stone or aggregate for landscaping purposes. It's a great way to fill space in a garden in a sustainable way and the material can be crushed in a certain way to suit your personal aesthetic.


How much does recycled concrete cost?
The cost of recycled concrete varies depending on the type of material it is turned into, for example aggregate or crusher dust. There are factors that can increase the cost of recycled concrete materials; however, these prices serve as a guide for cost per tonne. There are different types of road bases that can be used as well as different kind of trade and premium soil.
| | | |
| --- | --- | --- |
| Type | Description | Cost per Tonne |
| Crusher Dust | Under slab and paver bedding | $17-$19 |
| 5mm | Sewer and pipe bedding | $35-$36 |
| 10mm | Sewer and pipe bedding | $34-$35 |
| 20mm | Backfill sleeper walls, retaining walls, drainage layer | $25-$27 |
| 40mm | Backfill sleeper walls, retaining walls, drainage layer | $25-$27 |
| 75mm/ 100mm | Backfill sleeper walls, retaining walls, drainage layer | $25-$27 |
| Road Bases | Site fill, car parks, house block stabilization | $19-$28 |
| Trade soil and Premium soil | Suitable for garden beds or under turf | $25-$30 |
*These prices may vary from state to state and there may be additional cost for bin prices dependent on the supplier.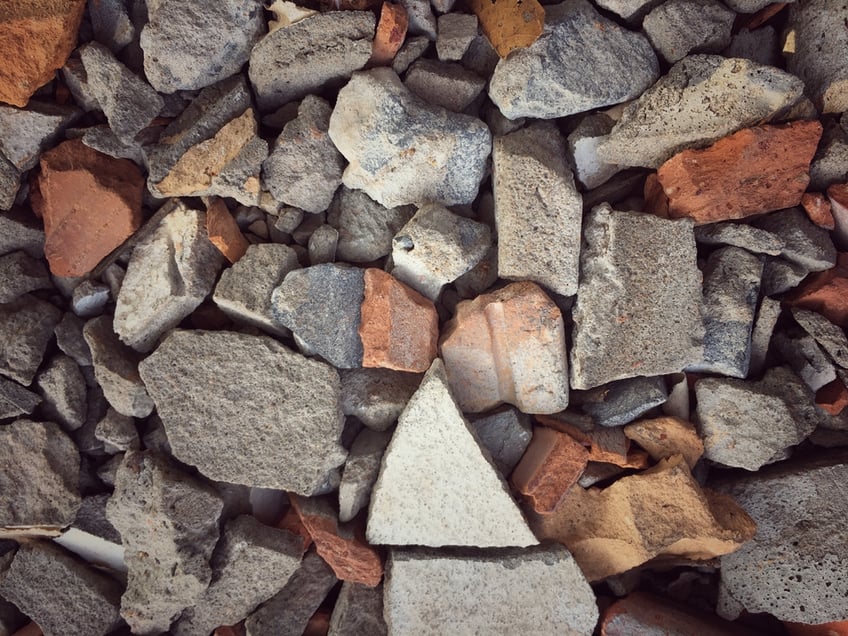 Factors that increase recycled concrete price
Delivery costs: if you choose to hire transportation, this can increase the cost depending on how far the material needs to be transported.
Product testing: if the product requires testing, you may need to hire professionals to do so.
Consumer pricing: if you choose to purchase a smaller amount of the materials, they may be sold at a higher price and not at wholesale price.
Find the best recycled concrete suppliers with iseekplant
As Australia's largest online construction marketplace, we have the industry's best recycled concrete suppliers available. Simply search for recycled concrete near you and browse through our suppliers to find the best choice for you. If you're looking for quick quotes use our Get a Quote Tool or email our projects team to find out more information.
Download our seeker app today and have hundreds of suppliers at your fingertips. With the touch of a button, you can find recycled concrete suppliers and more.