It's simple enough to unclog drains with household objects like baking soda and vinegar, boiling water, or even a drain plunger. However, there will be times when you need a professional to take care of more severe obstructions.

Because if left unattended, a clogged drain can lead to other issues such as damaged pipes. Worse, you might have to deal with rank odours or bacteria, which may result in disease. But before you call a tradie to unblock your drain, you need to find out the associated expenses. To help you make a more informed decision, we've put together this drain cleaning cost guide. Let's get started.
Who can unblock drains?
First things first: what kind of tradie should you call? You need either a licenced drainer or plumber. What's the difference between them?
If the plumbing issue involves water going into or inside a property, you need a plumber.
If the plumbing issue involves wastewater going out of a property, you need a drainer.

Important: Only a licenced drainer or plumber can legally perform any work on your drainage system.
How much does it cost to clean a drain?
So how much does a plumber cost to unclog a drain?

The average cost to unblock a drain is about $80 to $130 per hour. Note that this rate applies only to basic blockages in kitchen or toilet drains, which can be fixed quickly.

Expect drain repair cost to go up as more serious issues arise. You may end up paying as much as:
$200 to $500 to clean a small stretch of clogged drain.
$500 and up to clean severe blockages.
$5,000 to $20,000 to replace your entire plumbing system.
Factors that influence drain cleaning cost
The average cost to unblock a drain varies, however, depending on several variables, which include – but are not limited to – the following:
Time of day
If your kitchen sink gets clogged at 9:30 pm and you seriously need to get it cleared right at that moment, then expect your drain repair cost to go up. Why? Because the work will require a plumber to visit your home outside regular business hours.
Call-out fee
More often than not, plumbers charge a call-out fee (a set amount charged by a tradie to come to your home or establishment). It's added on top of labour costs to account for the effort to visit you.
Blockage cause
The cause of your drain's blockage will affect how much a plumber or drainer charges as it affects the job's complexity. Tradies, for instance, will have a harder time unblocking drains caused by hard debris like tree roots or broken branches. Likewise, clogging caused by hygienic products (e.g. toilet paper) or food residue will be relatively easier and will likely not cost as much.
Method used
Different blockages require different approaches to unclogging. A plumber or drainer may use tools such as:
A drain plunger used to loosen or break up blockages.
A hydro jet to remove hard clogs in various types of sewer drains.
A cable auger or drain snake to dislodge blockages located farther down drain pipes.
An electric power auger for large blockages located far from the drain.
Note that while some tradies have fixed rates, others may charge you more for using special equipment. To avoid payment disputes, make sure you clarify payment terms beforehand.
Materials cost
Repairs may sometimes be necessary if a plumber works on your drain – like if they find damaged fittings or pipes while dislodging blockages.

As a result, you will have to pay for the materials that your tradie uses (e.g. replacing damaged pipes, resin for pipe relining) to fix your damaged plumbing.
Nature of the job
Not all plumbing work can be carried out by all plumbers; some may require specialised skills and credentials.

For example, if your roof gutter and eaves need repair, you need to hire a roof plumber, which requires a specific type of certification. In such cases, you will likely be charged extra to get them fixed.
Extra charges
Here's another factor that affects the cost of a plumber to unblock a toilet.

In addition to extra charges for plumbing services done outside business hours (see "Time of day"), you will also spend more if you ask your plumber for a DVD or USB copy of the drain inspection and unclogging process on video.

This video will be useful in case you have a dispute regarding who is liable for the clogging or pipe damage.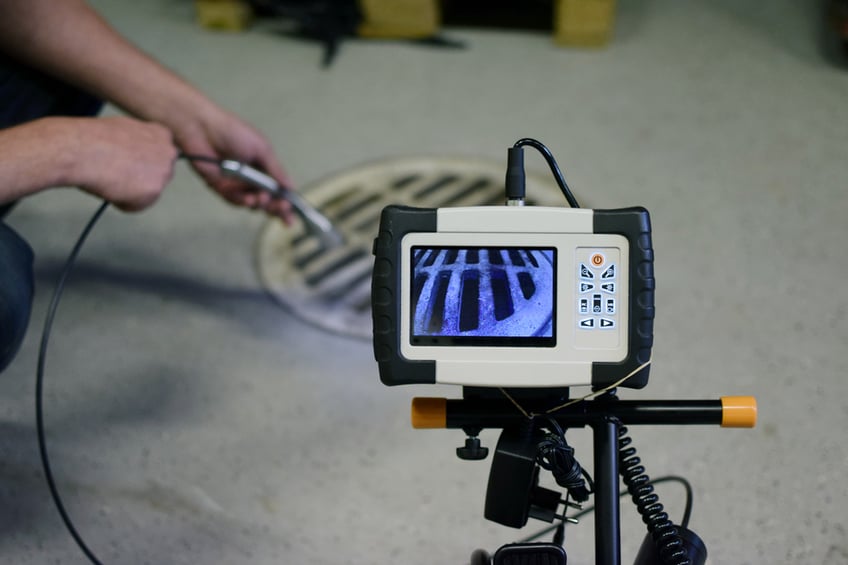 Location
Is the plumber or drainer you wish to hire near you? Can they service your area? Know that most plumbers service only a specific area. If they need to travel, expect to spend more.

In addition, the hourly rate of plumbers varies depending on where you are. Below is the average charge out rate in various cities:
Adelaide: $81 to $89
Brisbane: $88 to $92
Melbourne: $80 to $87
Perth: $95 to $100
Sydney: $99 to $135

How often should drains be cleaned?
For best results, have your pipes and drains checked and cleaned at least once a year. This will enable you to prevent clogs from accumulating and damaging your plumbing.
How much does it cost to unblock a sewage drain?
Expect to spend up to $500 to clear a blocked sewage drain.
How can I find the best drain cleaning cost possible?
That's simple: Visit iseekplant, Australia's largest online construction hire marketplace. You can find and compare several plumbers in just a few clicks through our website's large database.

Bonus tips:
When you carry out your search, make sure that you get quotes from at least three plumbers – although it would be better if you get more, compare their rates to get competitive drain cleaning cost estimates.
Because there are many different types of plumbing, not all plumbers or drainers can take on all types of plumbing systems. When you look for a plumber, make sure you specify in your search the exact type of work you need done (e.g. drain cleaning, pipe inspection).
All plumbing work in the country is regulated, which means you need to find tradies with a current licence. See to it that you ask to see your chosen plumber's licence card.
It's not enough to know how to contact your prospects; research their previous work. Since their websites will likely have positive comments, search through Google or Facebook to find out what people are saying about them.
It's important that the plumber you wish to hire is insured. This is to protect you and your property from liabilities if an accident occurs when the job is being carried out.


If you don't have the time to do the legwork and find a licenced plumber or drainer yourself, simply contact the team at iseekplant! We do all the heavy lifting for you; give us a call on 1300 691 912 or email your job specifications to us at projects@iseekplant.com.au, and we'll find licenced plumbers near you that are ready to meet your needs.