A dump truck also called a dumping truck, dump trailer, dumping trailer, or dumping lorry is machinery that is used to transport materials such as sand, dirt, and gravel or demolition waste for construction purposes.
A dump truck is designed to have an open-box bed hinged at the rear of the heavy-duty vehicle with hydraulic arms that lifts the front when they want to perform a dumping action. The contents of the truck are then dumped once the front of the dump truck bed has been lifted. A dump truck can usually carry about 10 to 14 cubic yards of dirt, however there are a number of factors that may affect the amount of dirt or other materials that can be carried in a dump truck.
What are dump trucks used for?
In Australia, the dump truck is also called a tipper and is used for off-road constructions across the civil, mining, and commercial construction sectors. Dump trucks are used in transporting sand, gravel, dirt, coal, and other rock materials from one place to another for construction and other purposes. In most cases, dump trucks are utilised for logistic purposes as they can carry enough materials to service an entire project in one trip in some cases. Dump trucks are ideal for gravel and dirt transportation due to their specific dumping method of moving materials, but can be used for other materials like site waste and coal.
Construction
Labourers and project managers use dump trucks to move materials like sand, gravel, aggregates, and more to and from sites. Dump trucks are easily filled with said materials using an excavator and make light work of dumping the materials at the appropriate site using their tipping feature.
Quarrying and mining
Dump trucks are also used to carry heavier materials that vary in size and load which is often applicable in mining sites. They will often be used to transport coal or other mined minerals across large mine sites or to or from the site from external locations.
Infrastructural development
Certain developments such as the construction of bridges, roads, and other structures use dump trucks allowing them the required versatility of moving material from one construction site to the other. Dump trucks can also be used for waste disposal if any demolition is required or land clearing.
Landscaping and ground maintenance
During construction, materials such as gravel, dirt, and soil may need to be transferred from one site to another during a landscaping project. A dump truck can do this perfectly by moving the materials to and from where needed. They will often be hired to pick up particular materials from a landscape material supply company and be transported to the site.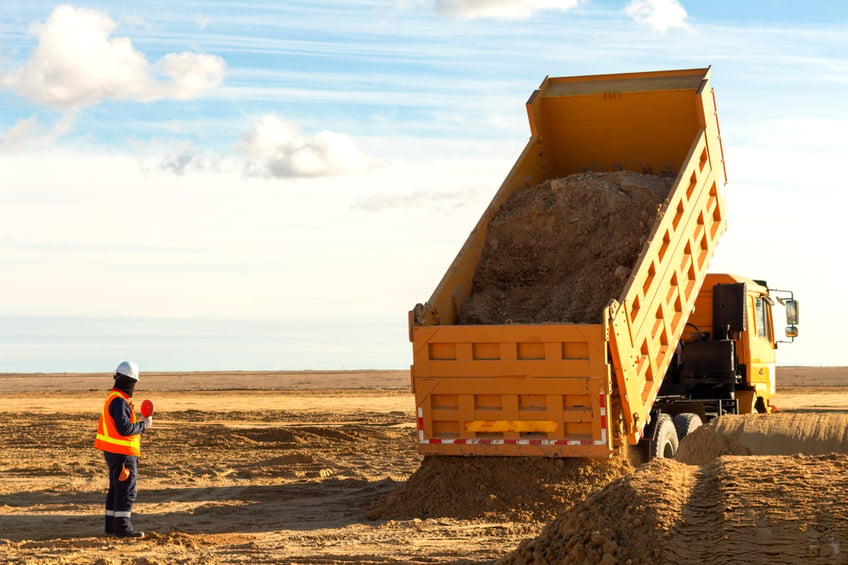 Does dump truck capacity vary by brand or dump truck type?
Dump truck capacity is measured in cubic yards and is majorly determined by the type of dump truck used for the job.
There are specific purposes by which dump trucks are designed and most of them have to do with the capacity of material they can hold at a go. Dump truck manufacturers design their capacities according to the nature of the work that they are able to execute. The ones with more capacity have been designed to carry a heavier load and carry more materials over any distance.
Despite differences in the manufacturing brands of most dump trucks, there are standard sizes that any dump truck brand is expected to maintain during their design. This ensures that there is a uniform amount of weight capacity that any standard dump truck is expected to have and this is vital to their capacity.
Factors that influence how much dirt a dump truck can hold
An average commercial dump truck can hold as much as 10 to 4 cubic yards of material but other factors are considered when looking at the amount of dirt that a dump truck can carry. Some of these factors include:
Weight Capacity
Weight capacity is a function of the amount of load that can be loaded on a typical dump truck as long as the truck bed has not been properly filled to the brim. Design specifications for most dump trucks have ensured that there is a standard amount of weight carrying capacity they can carry and this often includes the weight of the truck bed as well. Big dump trucks can carry as much as 28,000 pounds/ 14 tons of weight while smaller ones can carry an average of 13000 to 15000/ 6.5 to 7.5 tons of weight.
Dump Truck Bed Capacity
The dump truck bed is the part of the truck where the dirt that can be transported by the vehicle is deposited. Usually, dump trucks are mostly designed according to the capacity of the dump truck bed to carry dirt and other materials comfortably. The implication is that a dump truck can carry as much dirt as possible as long as the bed has not been filled up.
How much does it cost to hire a dump truck?
Hiring a dump truck in Australia depends on its size and type. From articulated dump trucks to hi rail dump trucks you can pay from $95 to $150 per hour. There are a number of factors that can affect the cost of dump truck hire like the distance to travel, site access, and the size of the load necessary to remove or transport.
How many tonnes of dirt can a dump truck hold?
Standard big dump trucks can carry an average of 15 tons (30,000 pounds) of dirt while smaller dump trucks can carry between 6.5 to 7.5 tons of dirt. Therefore, a standard-sized dump truck can carry as much as 10 to 14 cubic yards of dirt. A cubic yard of dirt is weighed at 2200 pounds and that makes the standard weight capacity between 22000 pounds (11 tons) to 30,800 (15.4 tons).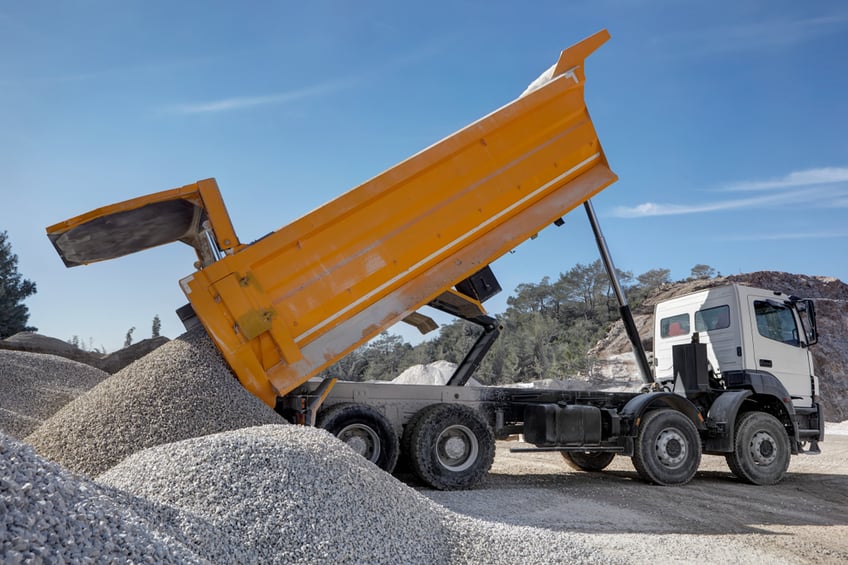 Tips for transporting dirt with a dump truck
It is always advisable to be safe when transporting a load-carrying vehicle such as a dump truck. Let's look at some tips for a successful transport.
Move Only on Solid, Level Ground: Uneven road surfaces can easily tip over a load-carrying dump truck due to the dirt it carries. Always ensure you travel on solid and level ground.
Travel With A Partner: Move with a partner that can be able to spot the surfaces that you cannot see. They will help you to maneuver different work sites.
Remember the Bed Liner: The bed liner must be added to the truck so that you can ensure that the loads are smoothly tipped over from the bed.
Do Not Ever Overload the Dump Truck: The load ratings of dump trucks are provided for a reason and that is to ensure that there is no reason for anyone to overload the truck. Do not overload the truck for any reason to avoid damage to the frame, hydraulics, and other parts of the truck.
Always Inspect the Truck Every Morning: The dump truck must not be put to use without first inspecting its ability to function each day in the morning. This will help with maintenance. Check the lights, tire pressure, hydraulics, and other parts before using the truck.
Find dump truck hire with iseekplant
Dump trucks are standard vehicles for moving dirt and other construction materials. Depending on the weight capacity and dump truck bed capacity, the dump truck holds several tonnes of weight. However, it is important to understand their basics before proceeding with getting one for personal usage.
Iseekplant is Australia's largest online construction marketplace with suppliers servicing across Australia. If you're looking for dump truck hire, our extensive marketplace can help. Search today, and compare quotes using our Get a Quote Tool, or if you need more information contact our projects team today.