In the heavy construction and labour industry, it can be difficult to keep up to date with machinery developments and determine just what machines are right for your jobs. The varied tasks on each project call for a range of different equipment, and you might find yourself wondering how you can determine the pros and cons of each machine.
What are the key specs of the John Deere 770G Grader?
A grader is a vital piece of the puzzle because it is used to lay and trim expensive gravel products or level and trim important pads. Sourcing the right grader can set you up for success across the rest of your job, and John Deere are a known name in the grader game for a reason.
Reliable, durable and functional, these machines are easy to use and built to last. If you are wondering if the John Deere 770G/GP grader is a good fit for you, we are here to help. Check out our review of the 770G grader below.
Drew's Review
The John Deere 770G/GP is an expressive machine packed with features, building on previous models. The standard blade is heavy-duty and the fuel-efficient engine means you get more bang for your buck. All in all, I was very happy with how the 770G performed, and have highlighted some of the key features you should consider before your purchase:
Engine and specs
The engine in the John Deere 770G grader is a lofty 6-cylinder that can deliver up to 243 horsepower while keeping its cool, thanks to the air-to-air intercooler feature. But the machine isn't just a powerhouse: it is also ecologically responsible, with its diesel intake complying with Environmental Protection Agency requirements. The machine runs well on fuel and is cost-efficient compared to some of the competitors on the market. All in all, the John Deere Grader 770 is a smooth and powerful ride.
Visibility and Comfort
On top of feeling good to drive, the 770gp grader is also extremely comfortable for the user. It has a large floor-to-ceiling tinted glass front window, a narrow front console, and a streamlined saddle arm. By making the front windows bigger and the stationary console smaller, John Deere has vastly improved visibility.
All this means that when you are sitting in the driver's seat you have a full view of the work before you. The spacious cabin has a load of amenities, which means the risk of driver fatigue is much lower, allowing for greater overall productivity. The wider backrest gives better lumbar support, while the optional LCD rearview camera lets you see what's happening behind the machine. Operators will be very happy with the comfort of the 770 grader.
Efficient controls and operation
The industry-standard levers and controls of John Deere graders mean that you get a smooth and predictable response from the control panel. The auxiliary functions of the machine are controlled by a set of small levers located to the right of the armrest in an easy-to-reach location. The push button start eliminates the need for a key, but a security feature prevents unauthorised engine ignition until a code is entered.
The auto-shutdown feature means reduced fuel consumption and engine noise while idle. The 770g incorporates EBS transmission, which gives smooth shifting and ultimately improves the material flow across the blade. What's more, who doesn't love cruise control? Operators will be happy to see this feature, which will no doubt reduce stress and fatigue across any job.
Easy serviceability
The John Deere Grader 770 is built to last, but when it comes to servicing, John Deere has also made the job as easy as possible. The fuel tank is at the rear of the machine so that it can easily be filled at ground level. Not to mention, it comes completely protected by a steel guard at the bottom to prevent damage and reduce wear and tear over time. The oil filters for the hydraulic, axle, and transmission are all easy to access in a convenient service bank on the right of the machine.
John Deere has even colour-coded the fluid sampling valves and fluid reservoir caps for simplicity and has made the fluid bank easy to get to for fast refills and evacuations. All machines need regular upkeep to maintain functionality across their lifespan, but the 770G lessens the burden by making the job quicker and easier than ever before.
John Deere 770G Summary
All in all, I think that the John Deere 770G/GP graders are a great improvement on their predecessors, continuing the John Deere tradition of providing solid and sturdy machinery for a range of jobs in the construction and labour industry.
If you decide to go with the John Deere 770, you'll get plenty of grunt out of the powerful engine, without the price tag of hefty fuel consumption and frequent upkeep. If you look after this machine properly, it will certainly go the distance. Your operators will be happy with the comfort and ease of use, and at the end of the day, happy drivers are productive drivers. As with any machine, the 770G is a big investment, but the price tag is fair and relatively affordable for what you are getting.
If you're still not 100% sure that the John Deere 770 is the right piece of equipment for you, why not have a chat with some others who have used this machine and compare it to the demands of your work? Or, if you aren't quite ready to make a purchase or would prefer to save on costs, you can consider hiring the machine and taking it for a test run.
Machinery Owners Australia
Closed group · 1,088 members
This group is for machinery owners across Australia to share news, advice and stories!
Contact us
Our team at iseekplant is here to help you source, compare and evaluate a range of plant-hire equipment suppliers. Our extensive database lets us help you source the best rates and machines on the market. Why not give our friendly team a call today or use our get a quote tool so that we can help you find your next machine? Otherwise, check out our range of grader hire available across Australia in Darwin, Brisbane, Melbourne, Canberra, Sydney, Adelaide, Perth and other regional areas.
Need to hire a machine? iseekplant will find you free competitive quotes!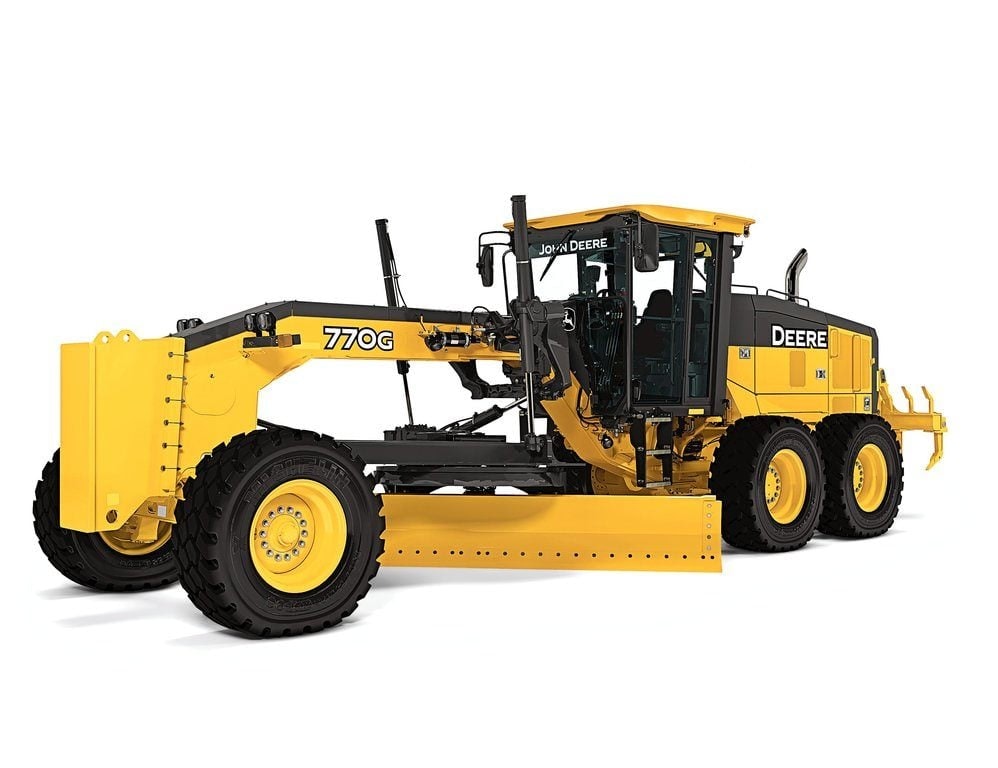 John Deere 770G Grader Specs
Net Engine Power: 123–181 kW (165–243 hp)
Net Peak Torque: 1227 Nm (905 lb.-ft.)
Blade Pull: 13 150 kg (28,990 lb.)
Net Torque Rise: 63%
Driveline
Engine Manufacturer: John Deere
Engine Model:PowerTech PSS 9.0L
Displacement, ltr (Inches): 9 (548)
Engine Output - Net, kW (hp): 190 (255)
Torque Rise, %: 64
Transmission Manufacturer: John Deere
Number Of Speeds - Forward: 8
Number Of Speeds - Reverse: 8
Tire size - Standard: 14.00 - 24
Service Brake Type: Disc
Service Brake Actuation: Hydraulic
Need more work? Register your plant hire company on iseekplant for free.
Dimensions:
Overall Length, mm (ft/in): 8890 (29 ft 2 in)
Height Over ROPS, mm (ft/in): 3180 (10 ft 5 in)
Wheelbase, mm (ft/in): 6160 (20 ft 3 in)
Bladebase, mm (ft/in): 2570 (8 ft 5 in)
Moldboard Height, mm (inches): 610 (24)
Width - Moldboard, mm (ft/in): 3660 (12 ft )
Frame Circle Diameter, mm (inches): 1524 (60)
Thickness - Moldboard, mm (inches): 22 (0.88)
Moldboard Sideshift - Right, mm (inches): 683 (26.9)
Moldboard Sideshift - Left, mm (inches): 683 (26.9)
Shoulder Reach - Right, mm (ft/in): 2083 (6 ft 10 in)
Shoulder Reach - Left, mm (ft/in): 2083 (6 ft 10 in)
Circle Rotation: 360
Bank Angle: 90
Hydraulic Blade Tip - Forward: 42
Hydraulic Blade Tip - Rearward: 5
Moldboard - Lift Above Ground, mm (inches): 490 (19.3)
Turning Radius - Minimum, m (ft/in): 7.21 (23 ft 8 in)
Frame Articulation: 22
Capacities
Fuel Tank, ltr (gallons (US)) 416.5 (110)
Hydraulic Tank, ltr (gallons (US)) 60.5 (16)
Performance
Loading - Front Axle, kg (lbs): 4305 (9490)
Loading - Rear Axle / Tandem, kg (lbs): 12084 (26640)
Speed 8 - fwd, kph (mph): 45.5 (28.3)
Speed 8 - rev, kph (mph): 46.5 (28.3)
System Voltage, V: 24
Pump Flow, lt/min (gallons (US) / min): 212 (56)
Relief Pressure, kPa (PSI): 18961 (2750)
Weights
Weight With Push Block & Ripper, kg (lbs): 19396 (42760)
Check out some other Grader machine reviews here:
Sources: John Deere