It's not enough to cut down an unwanted tree on your property and just leave the stump. If the stump is left, you may encounter problems such as:
Disease – Rotting stumps bring fungi and health concerns. They can affect the local ecosystem as well.
A tripping hazard – A stump can be an accident risk, especially for people with disabilities, the elderly, and children.
Infestations – Various pests like termites, ants, or beetles are attracted to rotting stumps.
Poor aesthetics – Face it, tree stumps are ugly. So much so that it might even affect your property's curb appeal (if it can be viewed from the street).
Stump grinding is the safe and efficient process of removing tree stumps so that an area can be used for a different purpose like construction, infrastructure development etc. Stump grinding is carried out with the help of a stump grinder. A stump grinder is a powerful machinery which consists of a hydraulic arm and a steel cutting wheel. The cutting wheel, located at the end of the arm, has sharp teeth and rotates at a very high velocity, allowing it to cut through and grind the tree stump. This piece of machinery can be very dangerous; hence it should only be operated by trained and experienced professionals.
How to calculate the cost of tree stump grinding
The cost of stump grinding ranges from $60 to $900. The national average is $95 a stump. The price difference mainly depends on the diameter and number of stumps, but other factors such as access and root spread also play a role. To calculate the cost of stump grinding take the diameter in centimetres and multiply it by three. That will give you a starting price.
Formula: Cost = Diameter x 3
Example: 85cm x 3 = $225
As mentioned above, everyone seems to be charging different prices for the same service. If you go with the wrong service you can wind up paying 300% more for the same job. The above is a starting price for an easy to get to stump in the front yard of a property, but there are other factors that will increase the cost. So to include them, you will need to multiply your diameter x 4.5.
Formula 2: Diameter x 3 – 4.5
Example: 85cm x 3 – 4.5 = $255 – $380
Factors that influence tree stump grinding costs
Type of tree
The stump is one of the most important part of your stump grinding project. Hardwoods will add to the cost, such as oak, maple, cherry, and sycamore.
Diameter of tree stump
As can be assumed, the larger the stump, the higher the price. This occurs due to larger stumps simply taking more time to grind.
Ease of access
The ease of access to the tree in question can also be a determining factor for the overall price of the service. If the trees are positioned in hard to reach areas as follows, the stump grinding will generally take longer, as the stump grinding machine is large and heavy.
Steps
Proximity to windows or other breakables
Narrow access
Underground services
Raised garden bed
Underground Conditions
Apart from the factors that are obvious, underground conditions should be considered while estimating the cost of stump grinding.
Soil density
Nearby underground cables or pipes
The extent of the root system
Clean up after stump grinding
Lastly, whether you are happy to keep the remaining stump grindings on site after the work is complete, or whether you want them removed completely from site will influence the price. If you do want the site clean after grinding a small charge for removal of the grindings will be quoted, otherwise if you are willing to keep the grindings they will be left in a neat pile in place of where the stump was.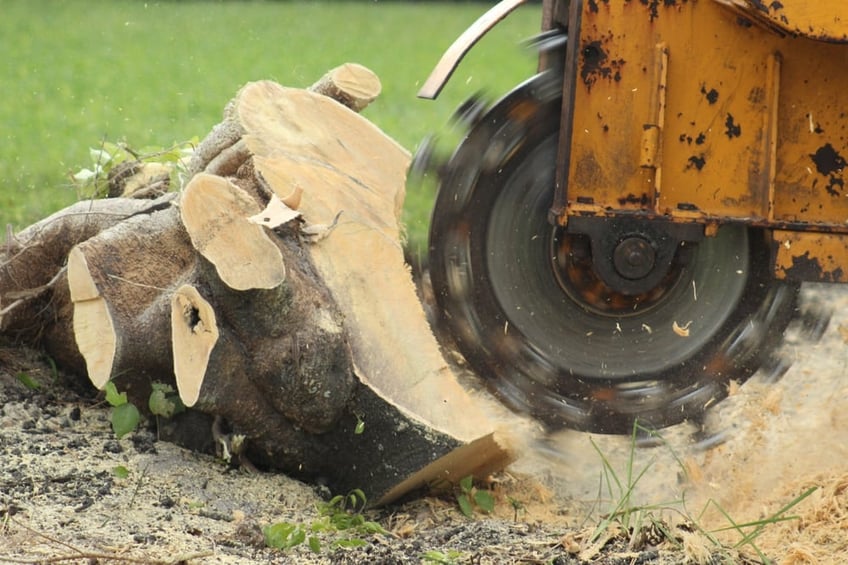 Tips for hiring a stump grinding service
Do not remove a tree stump by yourself. It takes the right knowledge, experience, and equipment to safely remove a tree stump. For best results, hire a professional.
When carrying out your search, get quotations from at least three stump removal specialists, then compare their rates to get competitive stump removal cost estimates.
Stump removal services do not require a license but make sure they have insurance. This is to protect you and your property from liability in case an accident occurs while you're having a tree stump taken out.
If you want to design your private backyard clearing project , access our DIY land clearing guide which contains few tips and tricks to help you visualise, plan, and tackle a DIY yard clearing job.
Find the best stump grinding supplier and the best hire rates
If you are looking for a stump grinding supplier then look no further than iseekplant. We are Australia's largest online construction hire marketplace, with over 8,000 suppliers in our database which you can visit online or through our app. You can simply search for stump grinding and you would immediately get the top suppliers for stump grinding near you. You can look at their services and reviews and then decide on which supplier to contact. You can contact them directly through the number on our marketplace. If you're too busy then simply post your requirements using our Get a Quote tool . If you are not able to find any supplier, contact one of our stump grinding experts at 1300 691 912 or email us at projects@iseekplant.com.au . They will help you find the best stump grinding contractor who will meet your needs.