Have you ever wondered how large structures or long distances are measured? In the past, it was challenging to do so accurately. Ancient Egypt used rope stretchers to establish property boundaries after the Nile flooded every year. In medieval Europe, groups of residents walked around a village to set a communal memory of the boundaries. Today, we use land surveying to precisely measure sprawling distances like bridges, dams, pipelines, roads, agricultural lands, and more.
What is surveying?
Land surveying is the technique, art, profession, and science of determining certain points' positions on the earth's surface and calculating the distances, angles, directions, and elevations between them. Pretty much all civil engineering projects begin with a land survey to establish:
The legal boundaries between tracts of land.
A property's topography
The location of existing structures within the said property.
Surveying, however, has applications beyond civil engineering. Property owners can get a land survey to:
Know more about a piece of land you're purchasing.
Get a mortgage.
Locate easements (e.g. right of way) and utilities (e.g. pipes, cables) on their land.
Land surveying is used to determine where a tract of land ends, and the adjacent one begins. As such, land surveys can be used to resolve boundary disputes with between property owners.
What does a surveyor do?
Surveyors are professionals tasked with establishing private and public property boundaries. To carry this out, they:
Measure a property's distances, directions, and angles.
Use theodolites, GPS equipment, retroreflectors, 3D scanners, inclinometers, subsurface locators, digital levels, and surveying software.
Gather, analyse, and manage geographic data.
Create maps, models, plans, and charts to present their data to private clients and government agencies.
What are the different types of surveying?
Land surveying has different disciplines. These include – but are not limited to – the following:
As-built survey – This type of surveying shows a project in its current state - specifically whether it's during or after construction.
Boundary surveying – This survey determines the legal boundaries of a tract of land described in a deed. It also specifies limitations on the property and if there are any easements.
Control surveying – This survey establishes reference points to use as starting positions for future surveys.
Construction surveying – Establishes reference points and markers that will guide the construction of new structures like roads and buildings.
Deformation survey – A survey to measure and monitor the changes in a structure's shape or dimensions, which can be caused by stresses from applied loads.
Dimensional control survey – A survey to measure 3D spaces. This results in the creation of digitally mapped distances and angles.
Foundation survey – A survey to measure the location, dimensions, and elevation of a structure's foundations after it has been poured and cured.
Geological survey – A thorough study of the topography, geology, and mineral resources of an area.
Hydrographic survey – A survey to plot a body of water's bed, shoreline, surroundings, and other features.
Measured survey – The measurement of standing structures in order to produce accurate drawings to scale.
Mortgage survey – This survey is a means for a lender to verify that the property they're lending money to buy is suitable as collateral for a mortgage.
Mining surveying – The measurement and recording of mine workings, specifically areas in a mine where miners work or travel.
Photographic control survey – A type of survey where the measurements are made from photographs.
Re-establishment survey – A survey to reinstate a previously surveyed boundary in the same location as when it was made, considering human-made features like fences and structure corners.
Site planning survey – A survey that uses a combination of boundary and topographic surveys to create a site plan for designing building or land improvements.
Structural survey – A detailed inspection to provide a report on its condition and stability.
Subdivision survey – A boundary survey that divides a tract of land into smaller properties.
Topographic survey – A survey that measures the elevation points on a tract of land and displays them as contour lines on a plot.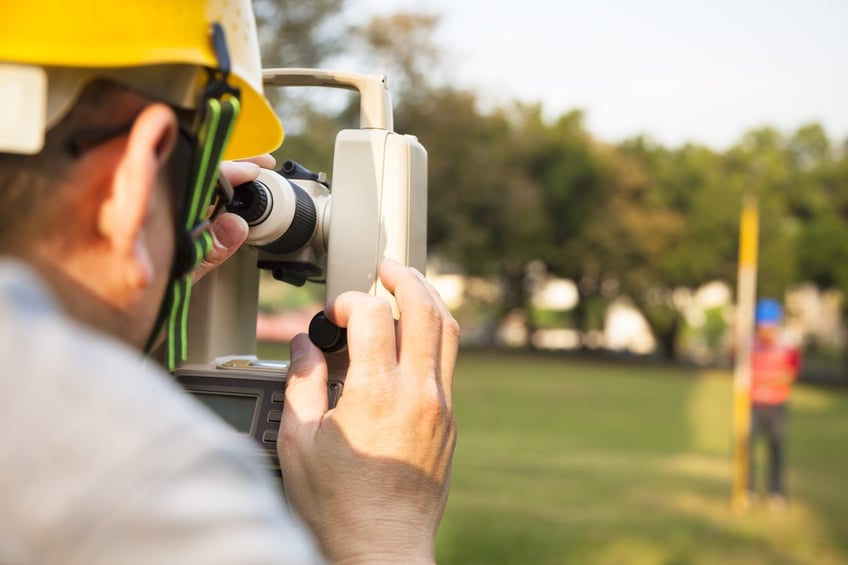 How much does surveying cost?
In Australia, surveying can cost about $500 to $1,000 – or about $165 per hour. Here are price estimates for different types of surveying.
| | |
| --- | --- |
| Survey Type | Estimated Price Range |
| Boundary survey | $155 per hour |
| Construction survey | $1,000 to $1,500 |
| Geological survey | $450 |
| Location survey | $300 to $950 |
| Mortgage survey | $100 to $600 |
| Re-establishment survey | $340 to $670 |
| Site planning survey | $365 to $500 per hour |
| Subdivision survey | $2,000 to $10,000 |
| Topographic survey | $400 to $1,500 for land smaller than 10,000 square feet |
However, several different factors can affect your expenses:
Accessibility – A land survey will cost more if a property is difficult to get to (e.g. inaccessible by vehicle, isolated area).
Location – Surveying costs can vary depending on your location. For example, the average land surveying rate in New South Wales is around $140 per hour. In Queensland, it's only $95 per hour.
Physical features – Properties with hills, slopes, and thick foliage are more complicated and take more time to survey. Thus, they will likely cost more.
Property shape – Square- or rectangle-shaped properties are simpler and cheaper to survey. Tracts of land with irregular-shaped borders are more expensive.
Property size – Larger properties usually take longer to survey. Because surveying services are typically per hour, the price will likely go up as well.
What is the best surveying method?
It depends on your budget, requirements, and the size of the property. You have three general options:
Option 1 – Conventional surveying If you want the most accurate way to measure geographic details like ditches or streams, go conventional. Through this method, surveyors will measure your property through theodolites. The problem with this method is that it takes more time and is more expensive.
Option 2 – Photographic surveying This method is best for larger properties where you use aerial photography. It's fast, generally accurate, and less labour-intensive. Some limitations to note, however: it's not as accurate with vegetation and geographic details.
Option 3 – 3D scanning and LIDAR This option uses cutting-edge technology like 3D and laser scanning. It saves time and is cost-effective – especially for large projects. Best of all, it can measure through vegetation. However, it's not as accurate with certain geographic details (e.g. ditches) or hard surfaces (e.g. pavement).
Here's the thing: there is no singular best method among the options here. Each has its pros and cons, but you can combine them to suit your needs.
How can I find the best surveying service possible?
Simply go to iseekplant.com.au, Australia's largest online construction hire marketplace. Compared to other construction industry marketplaces in the country, we have:
The most suppliers listed with 10,605 small businesses listed.
The most assets available for hire with 370,936 unique machines.
The most users, with several hundred thousand of them.
We can connect you to professional surveying services in just a few clicks through our website's massive database.
Tip: When you do your search, get quotes from at least three surveyors, then compare their rates to get competitive estimates.
However, suppose you don't have the time to find a qualified surveyor yourself. In that case, you still have a couple of options that you can pursue - get in touch with our expert team at 1300 691 912 or projects@iseekplant.com.au with your specifications - they will then find you surveyors who will meet your needs.