The 303.5 from CAT is part of their range of mini excavators which are engineered for high performance output in confined work spaces. At an operating weight of 3.5 tonne and with zero swing radius, it is the ideal all-rounder mini excavator for any number of applications.
The CAT 303.5's engine delivers incredible results.
Featuring a 23.6 kW engine, the 303.5 delivers high digging forces and fast cycle times to increase jobsite productivity. Impressive fuel efficiency is achieved through technologies such as load sensing hydraulics to optimise flow while maintaining performance and automatic engine idle which lowers engine revs when not in use. The automatic two speed feature comes as standard and assesses the conditions to provide the ideal balance between high speed and torque travel requirements.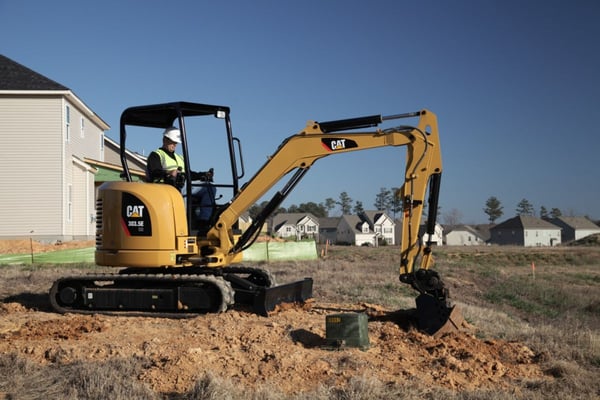 CAT have been able to achieve a superior level of stability within a compact radius machine. The radius of the upper body remains within the width of the undercarriage at all times, offering genuine zero tail swing and operator peace of mind in tight working environs. The large, integrated counterweight enables the 303.5 to punch above its weight by using heavier work tools and optional long stick. As you would expect, the list of compatible work tools is extensive and includes augers, buckets and hydraulic hammers. The result is simple - you can get more out of a single machine on site. The machine comes with the option of a mechanical or hydraulic pin-grabber quick coupler which utilise a wedge design for a more secure tool-fit and a reduction of wear. The hydraulic coupler even enables the operator to change tools without leaving the cab.
CAT'S COMPASS paves the way for operators.
The COMPASS Control Panel from CAT (which stands for Complete, Operational, Maintenance, Performance and Security System) is proprietary technology developed by Caterpillar specifically for the compact excavator range. While feature-heavy, the system is designed to simplify operation, maximise fuel-efficient performance, provide enhanced visibility to key machine diagnostics and increase machine security. Operators will love the Continuous Flow feature, which enables hydraulic flow to their tools to be maintained at a desired rate and in any direction with the simple push of a button.
On the 303.5, the dozer blade can be positioned straight ahead, or with a tilt of up to 25 degrees to the left or right. This reduces the need to continually back up and reposition during backfilling, which in turn shortens the time taken to complete the task. The dozer function is pilot controlled from inside the cab, delivering consistent and smooth operation, while blade visibility is excellent in all positions. A single joystick controls all functions of the blade and it features a proportional roller switch to control the blade angle. CAT can boast of industry-leading bucket rotation, which offers over 200 degrees and enhanced material retention for operators to work with during loading. This functionality offers the added benefit of easier vertical wall digging, as the operator is not required to reposition the machine.
The 303.5 mini excavator is built for tough sites.
The CAT 303.5 comes with a rubber track to enable you to work on a variety of surfaces (such as grass, stone or pavement) without damaging the surface or the machine. An optional steel track is available for more unforgiving conditions (such as demolition) and optional rubber pads can be applied to minimise noise and damage to paved surfaces during travel. The steel tracks may be a consideration if you require additional stability for digging over the side of the machine.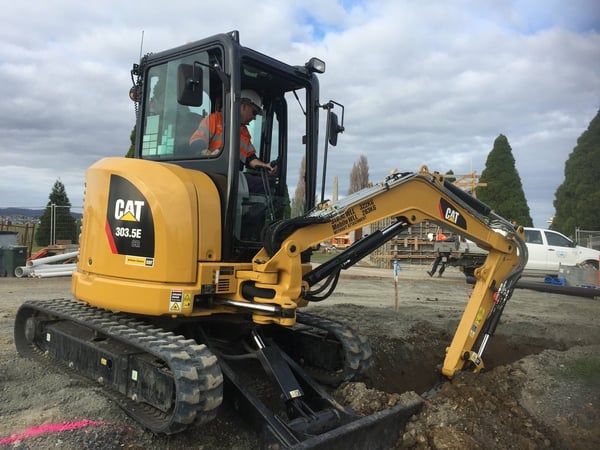 Inside the cab, operators can enjoy a range of features to minimise fatigue enhance their productivity. Alongside superior visibility and ample legroom, there is a reclining suspension seat with arm rests, an intuitive COMPASS display panel and joysticks which control boom swing and auxiliary functions and negate the need for foot pedals. There is also the option of an enclosed cab for the 303.5E.
Maintenance of the 303.5 has been made simple to reduce the machine's downtime. Major components and service points such as the starter motor, alternator and engine oil check / fill are accessible via the swing door at the rear, while other key filters and hydraulic components are accessed through a side hood. This means the cab does not need to be lifted when performing maintenance and servicing. The engine oil and filter change periods are rated at 500 hours, which further reduces downtime and operating costs.
CAT 303.5E CR Mini Excavator Specs
ENGINE
Engine Model: Cat® C1.8
Net Power: 23.6 kW
Gross Power: 24.8 kW
WEIGHTS
Operating Weight: 3508 kg
Operating Weight - With Cab: 3692 kg
DIMENSIONS
Max Digging Depth - Standard Stick: 2880 mm
Max Reach - Ground - Standard Stick: 5060 mm
Height - Over Cab: 2500 mm
Max Horizontal Reach - Standard Stick: 5200 mm
Shipping Length: 4730 mm
Max Vertical Dig Depth - Long Stick: 2470 mm
Max Dump Height - Long Stick: 3640 mm
Max Horizontal Reach - Long Stick: 5440 mm
Transport Width: 1780 mm
Max Dump Height - Standard Stick: 3520 mm
Max Cutting Height - Long Stick: 5030 mm
Track Shoe Width: 300 mm
Max Cutting Height - Standard Stick: 4920 mm
Max Vertical Dig Depth - Standard Stick: 2320 mm
Shipping Height: 2500 mm
ENGINE DIMENSIONS
Bore: 87 mm
Stroke: 102.4 mm
Displacement: 1.8 l
TRAVEL SYSTEM
Travel Speed – High: 4.6 km/h
Maximum Traction Force - Low Speed: 31 kN
Maximum Traction Force - High Speed: 16.9 kN
Travel Speed – Low: 2.6 km/h
HYDRAULIC SYSTEM
Operating Pressure – Equipment: 245 bar
Digging Force - Stick – Standard: 18.9 kN
Digging Force - Stick – Long: 16.9 kN
Digging Force – Bucket: 33 kN
Operating Pressure – Travel: 245 bar
Operating Pressure – Swing: 181 bar
Auxiliary Circuit – Primary: 60 l/min
Auxiliary Circuit – Secondary: 27 l/min
SWING SYSTEM
Machine Swing Speed: 9 r/min
Boom Swing - Left - Without Stop: 80 °
Boom Swing - Left - With Stop: 55 °
Boom Swing – Right: 50 °
BLADE
Width: 1780 mm
Height: 325 mm
Dig Depth: 470 mm
Lift Height: 400 mm
SERVICE REFILL CAPACITIES
Cooling System: 5.5 l
Engine Oil: 7 l
Hydraulic Tank: 42.3 l
Fuel Tank: 46 l
Hydraulic System: 65 l
Check out some more excavator reviews here:
Looking to hire a Cat 303.5 Mini Excavator?
Here at iSeekplant, we have a nationwide network of mini excavator hire suppliers ranging from Brisbane, Sydney and Melbourne to Canberra, Adelaide, Darwin and Perth. Check out our Mini Excavator Hire Rates Guide and get in touch with us through our Get Rates tool for the most competitive quotes for your job, completely free of charge!
To keep up to date with all of the latest industry news, subscribe to iSeekplant's Flapping Mouth blog today!