The Cat 308e2 Mini Hydraulic excavator provides a mix of performance, durability and versatility wrapped up into a compact package.
Caterpillar has long been an industry favourite when it comes to heavy machines, go to any work site and it won't be long until you hear the phrase "If it's not yellow and black, send it back." But does the Cat 308E2 mini excavator live up to the company's reputation? Check out our review and the machines specs to find out!
What are the key specs of the Cat 308 excavator?
Engine Model:

Cat C3.3B

Engine Net Power:

48.5 KW

Digging Force- Stick (long):

35.1 kN

Digging Force- Bucket:

60.2 kN

Digging Force – Stick (standard):

40.1 kN

Blade Width:

2320.0 mm

Blade Height:

450.0 mm

Operating Weight:

8400.0 kg
Drew's Machine Review
You can't go wrong with late model Cat's (check out my interview with Ezyquip about that here) and if you are wanting to expand your fleet and wanting to buy new it would be hard to go wrong with these machines.
If you're looking to purchase your first machine, a Cat 308E2 excavator could be overkill for what you need. You might be better off looking for a pre-owned machine that's still in good knick.
But Cat has managed to make some fantastic additions to this machine, I especially like the Automatic Engine Idle Selection which will hopefully save you a buck when it comes to operating cost.
Caterpillar has always been the standout out brand for larger earthmoving gear over 30ft. But the emergence of the plethora of small excavator manufacturers have seen them really struggle to dominate the small digger markets as well as they do in the bigger machine markets. Their latest offering in the 8ft range should really tweak the interest of excavator owners who are looking for a highly practical machine with the very latest tech and functionality.
Here are the features I really like for rental companies specifically:
1. Knuckle Booms: Love em or hate em, they do expand the capabilities of the machine in tight spaces and jobs that require delicate or detailed earthworks. The way I see it, all excavators under the 10ft mark are more often used in tight spaces and delicate digging scenarios- so why not have a knuckle that allows you to perform more detailed digging functions?
2. Options counterweight attachment: These machines have an optional 1t counterweight attachment. So if you need a little extra break out force at full stick you can bolt on some additional "ass fat."
3. Short Over Hang: The demand of tight radius or zero swing diggers is through the roof in all metro areas. The current construction market includes loads of road projects with tight space turning lanes, shoulder upgrades and plenty of residential/commercial building jobs. All of these jobs have limited space to dig. I don't see these market conditions slowing down in the next 3 years. So for my money, excavators in the sub 20t range with zero swing or tight radius swing is where the rental demand and the good profit margins will be in the next couple of years.
But, before you do anything I would recommend speaking to someone has used this machine extensively in a real world application. See what they like and dislike about the machine.
Key Features in the Caterpillar 308 SB Excavator
COMPASS Control Panel (Security & Efficiency)
The COMPASS control panel is a new feature which has been made available for this E2 series of excavator, and it includes some very beneficial security upgrades. COMPASS, standing for Complete Operation, Maintenance, Performance and Security System, has been designed by Caterpillar for its compact excavators. The new COMPASS control panel includes the following;
Anti-Theft System- Requires the operator to enter a five-digit alphanumeric password to start the machine
Automatic Engine Idle Selection- Drops engine RPM to idle after four seconds of inactivity
Hydraulic System Control- Both main-line and optional secondary auxiliary-hydraulic systems can be adjusted on a scale of 1-15 through the monitor
High Definition Hydraulic (HD) System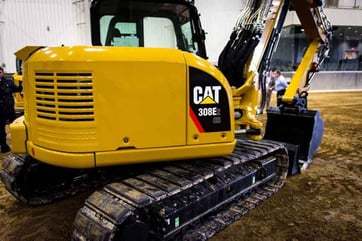 The new High Definition Hydraulic system on the Caterpillar E2 series of excavators provides a load sensing and flow sharing capability. These features new features will translate to increased operational precision, efficient performance and greater controllability. Furthermore, a simple valve architecture reduces heat, leading to a reduction in hydraulic instability and improved overall efficiency
Redesigned Cab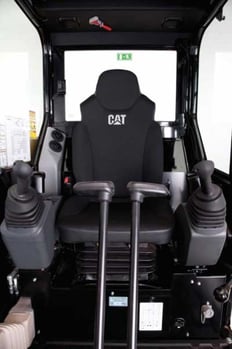 Caterpillar's new E2 series of excavators will have a redesigned cab which features;
Wider opening
Suspension seat
Adjustable arm-rests
Ergonomic control layout
Interlocking front window system
Updated machine control interface
Cat 308E2 Specifications (Specs)
Engine
Engine Model:

Cat C3.3B

Net Power:

48.5 KW

Bore:

94.0mm

Displacement:

3.33L

Gross Power (ISO 14396):

49.7 kW

Net Power (ISO 9249):

48.5 kW

Rated Net Power @ 2,400 rpm (ISO 9249):

48.5 kW

Stroke:

120.0 mm
Weights
Operating Weight:

8400.0 kg

Operating Weight with Cabin:

8400.0 kg
Travel System
Ground Pressure:

36.3 kPa

Gradeability (maximum):

30°

Maximum Traction Force- High Speed:

37.4 kN

Maximum Traction Force- Low Speed:

64.5 kN

Travel Speed- High:

5.1 km/h

Travel Speed- Low:

2.8 km/h
Hydraulic System
Digging Force- Stick (long):

35.1 kN

Digging Force- Bucket:

60.2 kN

Digging Force – Stick (standard):

40.1 kN

Auxiliary Circuit – Primary (280 bar/4,061 psi):

128.0 L/min

Auxiliary Circuit – Secondary (280 bar/4,061 psi):

64.0 L/min

Operating Pressure – Equipment:

28000.0 kPa

Operating Pressure – Swing:

24000.0 kPa

Operating Pressure – Travel:

28000.0 kPa

Pump Flow at 2,000 rpm:

150.0 L/min
Swing System
Machine Swing Speed:

11.0 rpm

Boom Swing – Right:

50°

Boom Swing – Left:

60°
Blade
Width:

2320.0 mm

Height:

450.0 mm

Dig Depth:

360.0 mm

Lift Height:

380.0 mm
Service Refill Capacities
Cooling System:

14.0 L

Engine Oil:

11.2 L

Hydraulic Tank:

82.0 L

Fuel Tank:

125.0 L

Hydraulic System:

94.0 L
Operating Specifications
Counterweight:

251.0 kg

Machine Overhang:

279.4 mm

Machine Overhang with Counterweight:

406.0 mm

Maximum Dig Depth:

4150.0 mm

Stick Length – Long:

2210.0 mm

Stick Length – Standard:

1670.0 mm
Cab
Average Exterior Sound Pressure:

99 dB(A) ISO 6395 – Dynamic Test

Dynamic Operator Sound Pressure:

70 dB(A) ISO 6396
Engine
Emissions:

Meets U.S. EPA Tier 4 Final and EU Stage IIIB emission standards.
Weights
Note:

Weight with rubber tracks, bucket, operator (75 kg/165 lb), full fuel and auxiliary lines.

Note:

Weight varies depending on machine configuration.
Swing System
Note:

Automatic swing break, spring applied, hydraulic release.
Travel System
Note:

Each track is driven by one independent 2-speed motor.

Note:

Drive modules are integrated into the roller frame for total protection.

Note:

Straight line travel when tracking and operating the front linkage simultaneously.
Hydraulic System
Note:

Load sensing hydraulics with variable displacement piston pump.
Air Conditioning System
Air Conditioning: The air conditioning system on this machine contains the fluorinated greenhouse gas refrigerant R134a (Global Warming Potential = 1430). The system contains 1.3 kg (2.9 lb) of refrigerant which has a CO2 equivalent of 1.9 metric tonnes (4,189 lb).
Check out some more excavator reviews here:
Looking to hire a Cat 308e2 Mini Excavator?
Here at iSeekplant, we have a nationwide network of mini excavator hire suppliers ranging from Brisbane, Sydney and Melbourne to Canberra, Adelaide, Darwin and Perth. Get in touch with us through our get a quote tool and we will get you the best quote for your job, completely free of charge!
Sources: Caterpillar, Dirt Ninja, Equipment World, For Construction Pros