Hitachi are a leading name in the excavator game because they have been around for a long time and understand the complex demands of the building and construction industry.
The company has worldwide acclaim and has been delivering high-performance products since 1949. Now, they are using the most advanced technology and data analysis to churn out highly competitive products with minimal lead time. Competing strongly with brands like Caterpillar, Hitachi have a good reputation for building machines that are up to heavy tasks and can last the distance.

Recently, Hitachi updated the smallest compact excavators in its fleet and brought out the new ZX17U-5 that has a Tier 4 Final engine, requiring no diesel exhaust fluid. This Hitachi mini excavator might be small, but one of the first things we noticed is it still has a fair bit of grunt.
Whether you are working on major projects or conducting small backyard operations, a mini excavator is a great piece of equipment to have on hand, perfect for those smaller tasks, and for getting into hard to reach places. Maybe you've had a Hitachi excavator before, and are thinking of upgrading or adding to your fleet, or this might be your first time considering this brand. Whatever the case, we have put together a review outlining the pros and cons of Hitachi ZX17U-5 to help you decide if this is the right machine for you.
Need more work? Register your plant hire company on iSeekplant for free: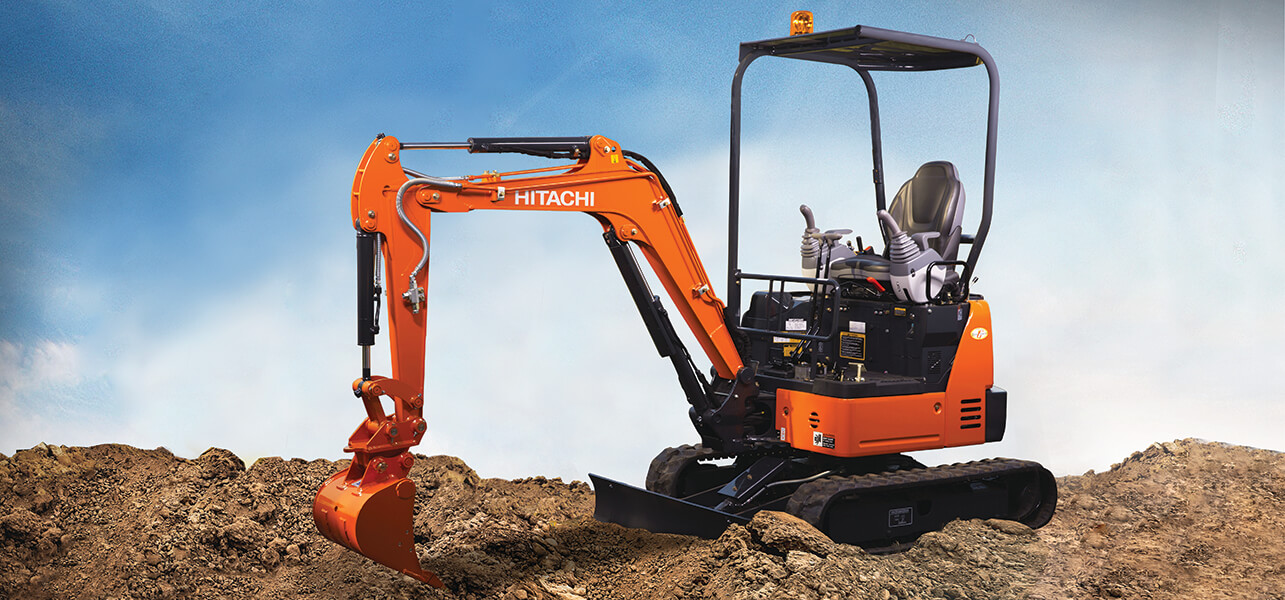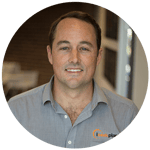 Drew's Review
The first thing to think about when considering the purchase or hire of a mini excavator is what exactly you're going to be using this machine for. Whether you are working on commercial building sites or residential sites, this mini excavator is designed to suit a range of tasks. It's just important to remember that it does have its limitations when it comes to top end heavy tasks, which might be better suited to a larger excavator. However, that being said, we were pleased with the performance of this Hitachi mini excavator and can recommend it as a great accompaniment on small-medium sized projects, and for the smaller loads and tighter spaces of large projects.
Key features of the ZX17U-5 Hitachi Mini Excavator
Small but mighty
The ZX17U-5 weighs only 3,790 pounds but boasts 14.5 horsepower, which is quite impressive in this size range of machinery. Additionally, the ZX17U-5 is perfectly designed for getting into hard to reach places. It features an independent swing boom and is able to complete 360-degree rotation, which means it is great to manoeuvre.

Operators will be very happy with the responsiveness of the machine and will be able to simplify loading and unloading processes, as well as transporting between jobs. In addition, the ZX17U-5 has had its blade extension pins redesigned and now sports an easy blade-width expansion and a variable-width undercarriage with a foldable blade, which further assists with navigating around tight job sites.
Durable and stable attachments
Attachment changes have never been easier than with the Hitachi ZX17U-5. Gone are the days of wasting time wrestling with attachments. This machine has manual wedge style couplers and a standard backfill blade, which means it can easily be used for both grading and backfilling, with the added benefit of adding additional stability.

The front attachment has been tightened from previous models to reduce jolt and noise and to increase the machine's durability over the long term. In addition, the bushings and pins are updated to allow for 500-hour lubricating intervals. The flat bottom bucket is also designed with durability in mind, protecting the welds on the bottom of the bucket from wearing. The wide wearing weld plates on the bottom of the bucket also seem to be capable of lasting a long time.

All in all, we liked what we saw when it comes to the ZX17U-5 attachments.
Need more work? Register your plant hire company on iSeekplant for free: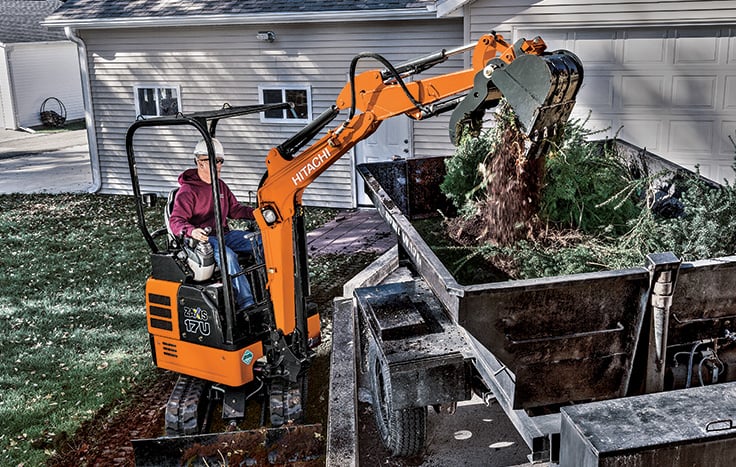 Simplified serviceability
When it comes the time to service your mini-excavator, the servicing has been simplified via a steel service door that gives ease of access to all components. The wide-open covers also give quick access to the main components which means you can easily perform daily inspections and simple services, such as filter replacements. All this means a saving on maintenance long term, in terms of both time and money.

Another design plus, the radiator and oil cooler are side-by-side for easy cleaning at the same time. With enlarged ventilation ports on the radiator cover, the machine cools more efficiently to prevent overheating and damage. As we already mentioned, the bushings have a great 500-hour greasing interval and the spin-off filters and sight gauges mean further reductions in maintenance time.
Safety first
A key priority when it comes to your machinery is safety for you and your crew, and the Hitachi ZX17U-5 shares your concerns in this department. Safety is improved via the ROPS-certified canopy. The improved cab has heating and a large front window for improved operator visibility. When testing the ZX17U-5, it certainly felt like a solid piece of equipment. The heavy-duty shields provide protection for the propel motors, the boom and the blade cylinders, while the X-frame gives the mini excavator a solid and stable platform that resists the build-up of material which can cause safety and maintenance issues down the track.
Hire a Mini Excavator today
In short, the Hitachi ZX17U-5 Mini Excavator offers a great addition to the small class excavator range and continues to deliver on Hitachi's quality promises. In our experience with the ZX17U-5, we were impressed with the performance of this mini excavator in comparison to others of its range on the market. It might be the smallest in Hitachi's range, but its agility, efficiency, power and durability make it perform beyond its class.

When you are looking for a Hitachi mini excavator for sale, be sure to have a chat with others who have used this machine before and ask them what they think. Compare their feedback with the work you are doing, and decide for yourself whether the features stack up to the jobs. At the end of the day, you need to find the machine that is right for you. At iSeekplant, we have a nationwide network of mini excavator hire suppliers ranging from Brisbane, Sydney and Melbourne to Canberra, Adelaide, Darwin and Perth. Get in touch with iSeekplant and we will get you the best free-of-charge quote for your project, or run a search for a mini digger to hire.
Hitachi ZX17U-5 Mini Excavator Full Specifications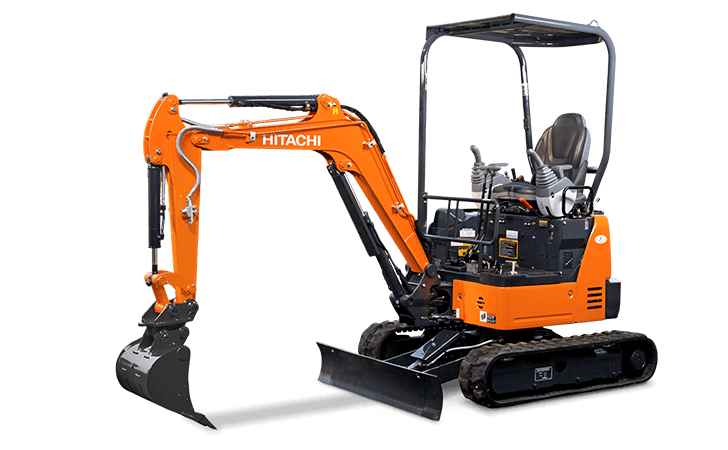 Engine
Number of Cylinders: 3
Engine Make and Model:

3TNV70

Type: Water-cooled, 4-cycle, swirl combustion
chamber injection type diesel engine
Maximum Torque: 48.8 Nm (49.8 kgfm) at 1 800 min-1 (rpm)
Piston Displacement: 0.854 L
Bore and Stroke: 70 mm x 74 mm
Batteries: 1 × 12 V / 36 Ah
Emission Tier Level: EPA Final Tier 4
Net Power: 14.5 hp
Power Measured @: 2400 rpm
Displacement: 60.5 cu in
Alternator: 40 amps
Dimensions
Overall height:

7.9 ft in
Track shoe width:

0.8 ft in
Ground Clearance:

0.6 ft in
Tail Swing Radius:

2.3 ft in
Blade Width:

4.2 ft in
Counterweight Clearance:

1.5 ft in
Max Cutting Height: 11.62 ft in
Max Digging Depth: 7.19 ft in
Ground Clearance: 0.55 ft in
Tail Swing Radius: 2.24 ft in
Counterweight Clearance: 1.48 ft in
Capacities
Engine oil with filter: 0.9 gal
Fuel Tank: 5.3 gal
Hydraulic Tank: 3.7 gal
Cooling system: 0.8 gal

Operational
Performance
Travel speed low: 1.5 mph
Travel speed high: 2.7 mph
Swing Mechanism
Swing brake: Spring applied, hydraulically released, automatic
Swing Speed: 9.4 rpm
Undercarriage
Rear Overhang: 1.6 in
Tracks, Rubber: 9.1 in
Counterweight, Standard: 264.6 lb
Ground Pressure: 3.9 psi
Buckets
Bucket digging Force - SAE: 3597 lb
Arm digging Force: 1933.4 lb
Hydraulic
Pump Piston: 10.2 gal/min
Gear pump: 3 gal/min
Hydraulic System
Auxiliary hydraulic flow: 7.9 gal/min
Boom/Stick Option (HEX) 1
Boom/Stick Option (HEX) 1: 0.93-m (3 ft. 1 in.) Standard Arm
Minimum swing radius: 60.3 in
Max Digging Depth: 7.2 ft in
Max Cutting Height: 11.7 ft in
Max Digging Reach: 12.5 ft in
Max.Dumping Height: 8.3 ft in
Boom
Boom swing left: 70 degrees
Boom swing right: 50 degrees
Check out some more excavator reviews here:
Sources: Hitachi