The Hitachi EX1200-6 excavator is a revolutionary hydraulic excavator, which takes advantage of the latest developments in heavy machinery technology. The EX1200-6 is designed and built to handle major applications, such as mines and civil engineering projects.
Just some of the Hitachi excavator's high-tech features include advanced hydraulics, a powerful undercarriage and a strong engine. There's also an array of safety mechanisms, as well as components designed to minimise environmental impact.
What are the key features of the Hitachi EX1200-6 Excavator?
Model: EX1200-6
Engine Rated Power (kW): 567.0 kW (760 HP)
Operating weight (kg): 111,000 kg
Backhoe Bucket ISO Heaped: 5.20 - 6.70 m³
Max. digging depth (mm): 8 050 - 9 380 mm
Bucket digging force (kN) ISO: 569.0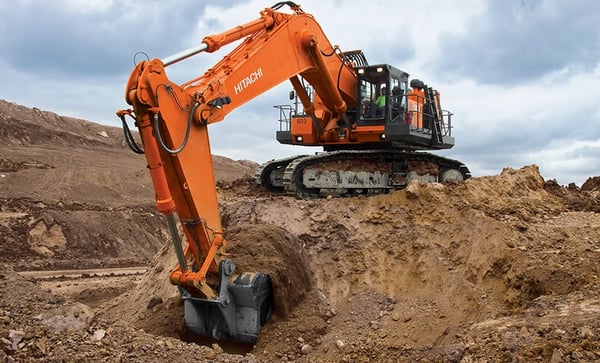 Advanced hydraulic system
The boom circuit, assisted by the boom's weight when it lowers, recirculates pressurised oil. Consequently, the arm receives extra oil and, when the boom and the arm work together, the arm gains speed. It's possible to control this oil flow via a variable throttle located in the arm circuit.

The EX1200-6 offers three work modes, which can be changed via a switch. These are normal, boom-priority and swing-priority. Boom-priority is ideal when the Hitachi Excavator is functioning within a small cycle of digging, swinging and dumping because it increases the boom's raise speed. Meanwhile, swing-priority is better for big cycles because it boosts the speed of the swing.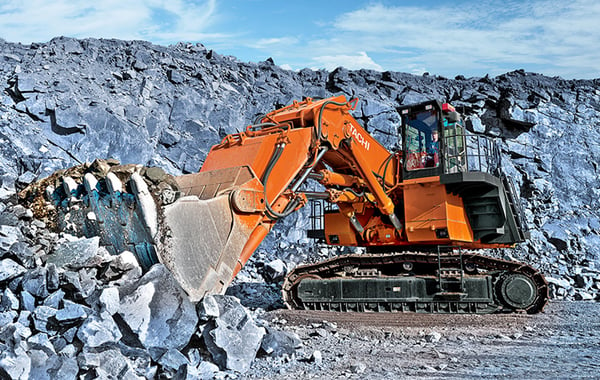 Powerful undercarriage
The EX1200-6's powerful undercarriage increases its durability, even in difficult conditions. Large track links ensure optimal performance on tough, uneven ground, while the idler pedestal has gained 90% in contact length (in comparison with the previous model), maximising its longevity. In addition, the idlers, rollers and sprocket teeth are all wider.

Ergonomically designed cab
An ergonomically designed cab promotes the operator's comfort, boosting productivity and reducing fatigue. The cab offers plenty of space, an extra-wide seat and short-stroke levers supported by arm rests. Visibility is exceptional, thanks to expansive glass windows, and pressurisation wards off dust and debris. There's also insulation to keep out vibration and sound, plus an overhead LED light, which enables night operation.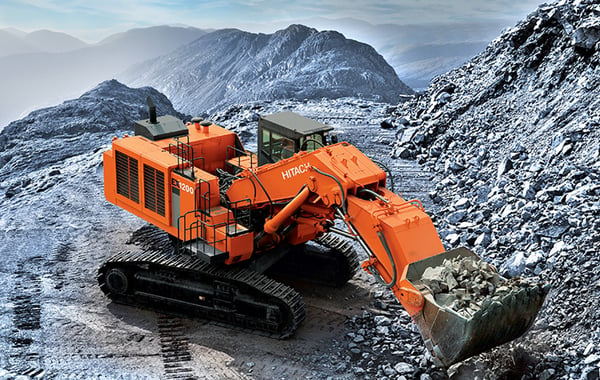 Safety features
Safety is central to the Hitachi EX1200-6 Excavator. This starts with the cab, which features an integrated headguard, to provide protection from falling objects. Moreover, the cab can be accessed safely via extra-wide sidewalks and big handrails, which meet the European Norm (EN). At night, angle-adjusted headlights provide excellent visibility and a step light switches on after key-off, helping the operator to alight easily. There's also a shut-off lever, to prevent unwanted movement of the EX1200-6, plus an evacuation hammer, an engine stop switch and a recoiled seat belt, among many other safety features.
Environmentally aware
The designers of the Hitachi Excavator included numerous components intended to minimise the impact of the EX1200-6 on the environment. The brand new engine aims to decrease emissions of particle matter and NOx, plus a variable-speed fan is attached to the oil cooler. Rather than operating at a consistent rate, this fan adjusts according to conditions, so that energy isn't wasted.

The Hitachi Excavator also contains many recyclable parts, such as an aluminium radiator, an oil cooler condenser and resin elements. Lead is absent from many components, including the wire harness covering and the control unit, and there is no asbestos whatsoever.
Need more work? Register your plant hire company on iSeekplant for free: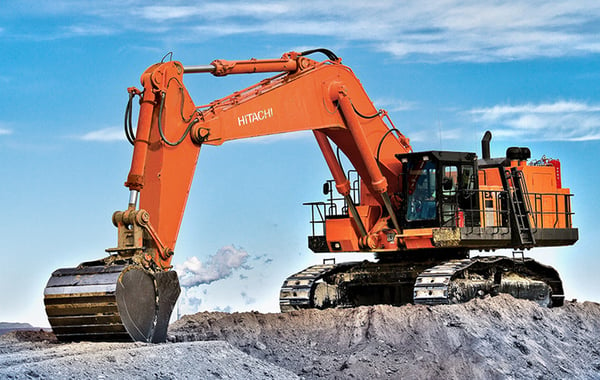 Straightforward maintenance
As with any heavy machinery, consistent maintenance of the Hitachi 1200 Excavator is vital for optimum performance and long life span. Fortunately, its design allows for a simplified maintenance process. Central to this is the EX1200-6's layout, which provides easy access to every device via wide walkways. There's also a handy optional side ladder.

The radiator and oil cooler are positioned next to one another, boosting the efficiency of the cooling process and reducing the amount of time needed for cleaning. Meanwhile, the SC paint that covers the EX1200-6 can be washed with water, while an auto dust ejector keeps dust and particles out of filters. Consequently, the hydraulic oil filters can be expected to last for 1,000 hours, rather than 500.

Among the Hitachi EX1200-6 Excavator's many other maintenance-friendly features are an electric grease gun for lubricating the swing circle and bucket pin, an easy-to-replace air conditioner filter and a switchboard located in the rear of the cab. In addition, the Hitachi MIC Mining System keeps an accurate record of operating conditions and warnings.
Drew's Review
When it comes to hydraulic excavators, the Hitachi EX1200-6 Excavator is seriously impressive. Packed with killer features, it takes the excavating process to a whole new level. If you're looking for an excavator that's safe, efficient, productive and environmentally-friendly, then it's pretty hard to beat. That said, the EX1200-6 is a bit of a giant, best suited to major construction, quarrying and mining projects.

Hitachi has redesigned several of the excavator's components and made some cracking additions. I'm especially impressed with the advanced hydraulic system, which is so efficient. You get to choose between three work modes, so the EX1200-6 always works in the best way for the job at hand, without wasting precious time and energy.

But that's just the tip of the iceberg. If you're thinking of renting the Hitachi Excavator, then it's worth knowing about these features, too:

1) The undercarriage is unbelievably strong. Hitachi has put a lot of thought and resources into revamping the EX1200-6's undercarriage. In fact, the EX1200 specs will blow you away. Think huge track links, idlers, rollers and sprocket teeth. Even when you're working in tough conditions, this Hitachi Excavator has the size and ruggedness to handle them.

2) The ultra-comfy cab. If you've ever sat in a cab for a few hours, you'll know how important comfort is. The Hitachi EX1200-6 Excavator's cab is really spacious, plus it comes with all sorts of comfort-adding elements, such as huge windows, pressurisation and excellent insulation.

3) Safety features. The designers of the EX1200-6 were definitely thinking about safety. There's an integrated headguard in the cab, angle-adjusted headlights, a shut-off lever, an evacuation hammer and loads more features.

The EX1200-6 is a winner, for sure, but that doesn't mean you should go jumping into a big decision. Getting the right machine is important when you're working on a large-scale job. So, before buying the EX1200-6, have a chat with someone who knows all about it – someone who's had actual experience.
What are the specifications of the Hitachi EX1200-6 Excavator?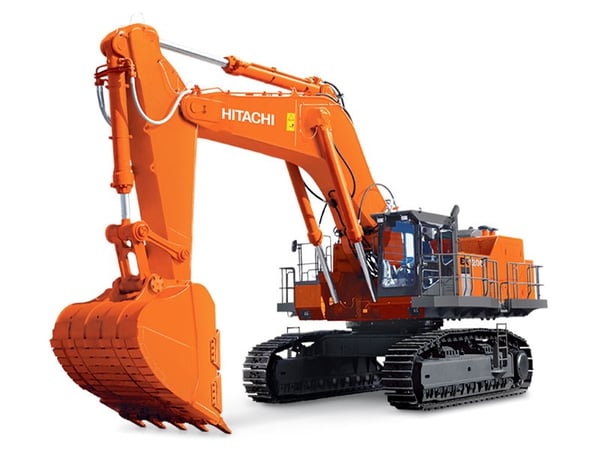 Hitachi EX1200-6 Excavator Engine Specifications:
Engine: EX1200-6
Manufacturer and Model: Cummins QSK23-C
Type: 4 cycle
Aspiration: Water-cooled, 6-cylinder in line, turbocharged direct injection chamber-type diesel engine
Emission Certification: U.S.EPA Tier2
Rated Power
Gross power (SAE J1995): 567 kW (760 hp) at 1800 min-1 (rpm)
Net power: 552 kW (740 hp) at 1800 min-1 (rpm)
Maximum torque 3468 Nm (354 kgf-m) at 1350 min-1 (rpm)
Piston displacement: 23.15L (1,413 cu. in.
Bore and stroke: 170 mm x 170 mm (6.7 in. x 6.7 in.)
Starting system: 24 V electric motor
Batteries: 2 x 12 V, 2 x 220 AH
Hitachi EX1200-6 Excavator Dimensions:
Transport Length: 15970 mm 52 ft 5 in ft/in
Transport Height - Maximum: 6860 mm 22 ft 6 in ft/in
Overall Width: 5380 mm 17 ft 8 in ft/in
Track Length On Ground: 5090 mm 16 ft 8 in ft/in
Undercarriage Overall Length: 6500 mm 21 ft 4 in ft/in
Tailswing Radius: 4850 mm 15 ft 11 in ft/in
Ground Clearance: 1020 mm 40 inches
Width over standard tracks: 4600 mm 15 ft 1 in ft/in
Track Gauge: 3900 mm 12 ft 10 in ft/in
Dig height (mono): 13460 mm 44 ft 2 in ft/in
Dump Height (Mono): 9080 mm 29 ft 10 in ft/in
Max Digging Reach (Mono): 15350 mm 50 ft 4 in ft/in
Ground level reach (mono): 15010 mm 49 ft 3 in ft/in
Dig depth - 2.44m / 8'ft flat bottom: 9260 mm 30 ft 4 in ft/in
Dig depth (mono): 9380 mm 30 ft 9 in ft/in
Hitachi EX1200-6 Excavator Capacities:
Fuel Tank: 1470 litres
Hydraulic Tank: 610 litres
Hitachi EX1200-6 Excavator Undercarriage:
Tractor-Type Undercarriage

Shoe width: 700 mm (28 in.) standard
900 mm (35 in.) optional (for Backhoe attachment only)
Number of Rollers and Shoes (each side)

Upper rollers Standard Side Frames: 3
Lower rollers Standard Side Frames: 6
Track shoes Standard Side Frames: 49
Upper rollers LC-Type Side Frames: 3
Lower rollers LC-Type Side Frames: 9
Track shoes LC-Type Side Frames: 53
Check out some more excavator reviews here:
How to Hire and Excavator
From Brisbane to Sydney, Melbourne to Darwin, Perth to Adelaide, Canberra and everywhere in between, iSeekplant is here to help. We have hundreds of excavator hire suppliers across the nation eagerly awaiting to serve your project needs. There is no need to hesitate, if your project is big, small, requires attachments or an additional operator, get in touch with us today! Subscribe to our Flapping Mouth Blog if you enjoyed this article and want to stay up to date with the latest and greatest tips, tricks and industry news.
Sources: Hitachi Construction Machinery Australia Pty Ltd
Video Sources: HitachiConstruction, BuildWitt, Pushysix®, Awesome Earthmovers