Got an excavating project? Wondering what the difference is between an excavator or a backhoe? We've got you covered. Understanding the differences between each machine and knowing which one to use for your project is vital to completing the job on time and on budget. Keep reading to find out which earthmoving machine is best for your project.
What is a Backhoe?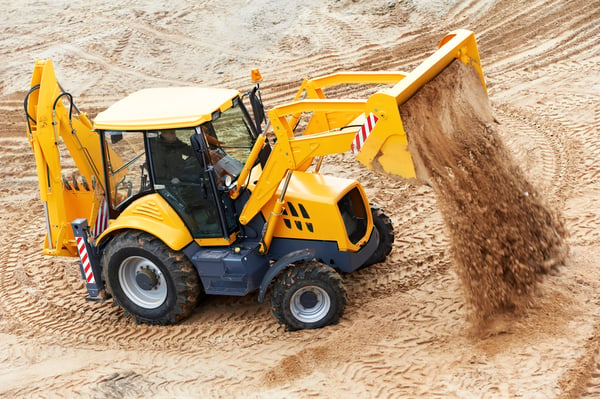 Backhoes are popular due to their ability to complete a variety of jobs on their own. With a two-part articulated arm at the back and a loader-style bucket at the front, the backhoe is particularly useful for projects on farms and are good for light to medium construction work.

Backhoes are particularly popular due to their ability to effectively combine three different machine capabilities into one. They're able to take the place of a small excavator, skid steer loader and a loader in one machine. As a result, less machinery needs to be hired, meaning that project managers are able to save money and time. Backhoes can complete jobs such as:
Excavation
Drilling holes
Digging trenches and ditches
Material transport
Landscaping
Demolition
Paving roads
Breaking asphalt
What is an Excavator?

As one of the most popular earthmoving machines in the construction industry, an excavator is commonly seen on infrastructure and commercial project sites. This equipment has a boom, stick and bucket and has the ability to rotate the chassis and boom 360 degrees as one unit despite weighing anywhere from 1.5t to 90 tonnes.

Excavators can come as either a standard excavator or a mini excavator. The mini excavator is a popular hire machine for urban construction sites, as it is able to access awkward and tight spaces other large excavators can't. Despite the variety of sizes, excavators are able to complete a wide range of tasks, such as:
Digging holes, ditches, foundations and ponds
Creating trenches for utilities and drainage
Flattening landscapes and removal of bushland
Demolition of small structures, concrete, asphalt or steel
Drilling and backfilling
Repairing sewer lines
Snow ploughing
What are the 4 main differences between an excavator and a backhoe loader?
There are many things to consider when deciding between a backhoe and an excavator. It can be difficult to tell a backhoe or excavator apart at first, but they differ in four main ways: size, rotation, versatility and environment.
Size
The main and most obvious difference between the excavator and backhoe is their size. Excavators are larger and heavier, often weighing around to 15 tonnes, in comparison to the backhoe, which only goes up to 7.5 tonnes. Depending on the environment of the project, the size and weight difference can be a major influence when choosing what machine to use for your excavation job.
Environment
When it comes to the environment and working conditions, the excavator is heavier and generally a better fit for demolition projects, mining, and overall large-scale industrial projects. Whereas the backhoe is smaller and more adaptable, making it a better choice when it comes to farming, snow removal and medium-scale construction and excavation projects.
Rotation
Excavators and backhoes each have different rotation ranges, making them each very different from an operator standpoint. Excavators are able to rotate their chassis a full 360 degrees, whereas the backhoe is only able to rotate 200 degrees. Types of tasks the excavator or backhoe is expected to complete should take into account its ability to rotate, or whether the project requires it to rotate at all.
Versatility
Both the excavator and backhoe feature a boom, stick and bucket as part of the machine. Whilst both can achieve similar tasks, they have their own individual advantages and differ in terms of attachment availability. In terms of selection, the backhoe has more attachments available to it compared to the excavator, giving it a wider range of tasks it can complete. Projects located in urban environments should also take into account that backhoes and mini excavators are able to be driven on roads, making them both better options for projects with spread out worksites.
Hire a backhoe or excavator today
When it comes to choosing whether an excavator or backhoe is right for your project, iSeekplant has a wide variety of both backhoe suppliers and excavator suppliers ready for both wet or dry hire. Whether you are in capital cities such as Brisbane, Sydney, Melbourne, Canberra, Perth, Darwin, Adelaide or rural areas, our suppliers will have the perfect excavator for you at a range of hire rates. If you are still unsure about which machine to use for your excavating project, iSeekplant can help resolve your decision with our get a quote tool or you can get in touch with us on 1300 691 912.
Subscribe to iSeekplant's Flapping Mouth Blog below to keep up to date with the latest industry news and projects!