The Case CX210 excavator offers versatility, power and fuel-efficiency.
A mid-range masterpiece from Case, the Case CX210C excavator is a compact digger that provides an enormous amount of bang for your buck! Punching above its weight when it comes to versatility, power and fuel-efficiency, this handy Case excavator is widely used in construction, agriculture, earthwork projects and any other work where an excavator that can multi-task is a plus! If you're looking to buy an excavator that can do anything from pull up trees to transporting buckets of rubble or similar substances from one place to another, the flexible, adaptable and highly dependable Case 210 excavator could be the perfect option for your needs.
Case CX210C Digger Key Features
Amazing performance from an excavator that means business
One of the features that make this handy Case excavator stand out from the crowd for all the right reasons is its significant level of power. Delivering an impressive 157bhp, the Tier IV common rail engine incorporates a boost feature which can enhance the power even more when a particularly tough job requires completion. Other benefits of the Case CX 210 C include advanced hydraulic controls which give you the precision results you need for complex actions, as well as the power required for larger, heavier jobs. This machine is also designed to be fast! Quicker swings, more rapid turns and powerful torque allows operators to complete more manoeuvres in a given period of time - a major advantage if you're eager to pack in as much productivity as you can during every shift. If you want to enjoy an excavator that's light enough and small enough to work in more compact spaces, but which has the power you need to tackle formidable jobs, this is the one for you!

Ergonomic design for the cab and controls
If you're spending eight hours plus at the controls of a digger, comfort, easy intuitive operation and excellent visibility are absolute essentials. It's in the cab that the Case CX210C really begins to score some points. Visibility is better than average due to the innovative design of the cab - one window runs the length of the cab on the right-hand side, giving a good, unrestricted view of the tracks and arm. This helps operators to steer accurately, using the intuitively positioned joysticks. The joysticks are shorter than standard, leading to an easier operation and enabling operators to work for longer without feeling fatigued. Other advantages of the Case CX 210 include a fully adjustable seat, which ensures that operators of different shapes and sizes can work safely and comfortably.

Impressive fuel efficient cuts running costs
On-going running costs are always a concern for operators, as over time they can make a machine that was, at first sight, a good investment, become increasingly costly as time goes on. The Case CX210C has an exceptional level of fuel efficiency, due in part to the sophisticated hydraulic controls. These ensure that the correct amount of power is supplied, adjusting requirements minutely to ensure as little energy is wasted as possible. Another great feature is the option to choose from one of three different power modes to provide the fine adjustment needed to ensure optimal power use throughout the operation. If energy efficiency is of particular interest to your operation, why not invest in one of our green economy gauges for your CX210C? This handy gadget lets you know which settings and activities are being conducted in the most fuel-efficient way, enabling operators to make conscious decisions regarding environmentally responsible driving.

Maintenance for the Case CX210C excavator is straight-forward and extremely cost-effective
When it comes to the Case CX 210C, considerable efforts have been made to keep maintenance as fast, simple and minimal as possible. Daily service checks are performed at ground level, cutting the time required to make sure that these essential inspections take place. The excavator benefits from a tough construction and the excellent engineering and workmanship which is a hallmark of the brand. For on-going servicing and routine scheduled maintenance, attention has been given to lengthening the times between maintenance checks. This not only enables the Case CX210C to be operational for longer, it also reduces the cost of oil changes and similar tasks, as they don't need to be done so frequently.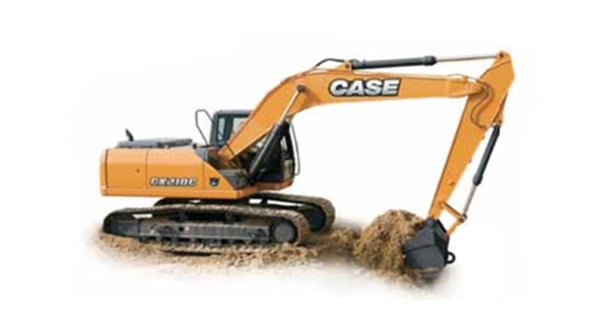 Is the CX210C right for you?
Case benefits from a formidable reputation for dependable, powerful machines and in this, the CX210C doesn't disappoint. It really does have a significant amount of power for its size, making it a superb choice for a wide range of different applications. Another advantage of this model is its energy efficiency. Case have put considerable effort into making sure the machine can do more for less - a powerful incentive to purchase given that fuel prices are unlikely to fall anytime soon, and the green agenda continues to be at the forefront of many companies' strategic objectives.
The Case 210 excavator is comfortable enough, but perhaps more attention could have been given to making the parts requiring daily checks easier and faster to access. That said, access for routine maintenance is good. Overall, the Case CX210C excavator is a good investment which is designed and created to take on the challenges and constraints which are typical of 21st Century working when it comes to construction, demolition, excavation and similar activities. If you'd like to try before you buy, you can search through iSeekplant's excavator hire suppliers and rent a Case CX 210 excavator!
Case CX210C Specs
General Dimensions
Overall length (without attachment):

4960 mm

Overall length (with attachment):

9380 mm

Overall height (with attachment):

3000 mm

Cab height:

3070 mm

Upper structure overall width:

2770 mm

Swing (rear end) radius):

2750 mm

Clearance height under upper structure:

1040 mm

Minimum ground clearance:

440 mm

Wheel base (Center to center of wheels):

3660 mm

Crawler overall length:

4470 mm

Track gauge:

2390 mm

Undercarriage overall width (with 600 mm shoes):

2990 mm

Crawler tracks height:

920 mm
Engine
Model: ISUZU AM-4HK1X
Type:

Water-cooled, 4-cycle diesel, 4-cylinder in line,

Electronically controlled, high pressure common rail system, variable

geometry turbocharger, air cooled intercooler, dual exhaust gas recirculation,

DPD system with auto-regeneration. Tier 4 interim certified.

Number of cylinders/displacement

: 4/5.19 L

Bore/Stroke

: 115 x 125 mm

Horsepower ISO 9249

: 119 kW/160 hp at 1800 min -1

Maximum torque ISO 9249

: 621 Nm at 1500 min-1
Hydraulic System
Max oil flow

: 2 x 211 l/min @ 1800 min-1,

2 variable displacement axial piston pumps with regulating system,

Working circuit pressure

Boom/Arm/Bucket:

34.3 MPa

Boom/Arm/Bucket (with auto power up):

36.8 MPa

Swing circuit

: 29.4 MPa

Travel

: 34.3 Mpa
Swing
Maximum swing speed

: 11.5 min-1
Travel
Travel motor:

Variable displacement axial piston motor

Max travel speed:

5.6 km/h (Automatic travel speed shifting)

Low travel speed:

3.4 km/h

Gradeability:

70% (35°)

Drawbar pull:

188 kN
Electrical System
Circuit

: 24V

Alternator

: 50 Amp
Undercarriage
Number of carriers rollers (each side)

: 2

Number of track rollers (each side)

: 8

Number of shoes (each side)

: 49

Type of shoe

: Triple grouser shoe
Capacities
Fuel tank:

410 L

Hydraulic system:

240 L

Cooling system:

30.8 L
How to Hire an Excavator Today
iSeekplant has reputable and quality excavator suppliers across the nation who are waiting to get in contact with you, including Sydney, Brisbane, Melbourne, Adelaide, Perth, Canberra, Darwin and everywhere else in between. Reach out to us today using iSeekplant's get a quote tool to get the ball rolling on your next project!
Check Out Some More Machine Reviews Here
John Deere 670G Grader
Volvo A30D Articulated Dump Truck
Cat 140M Grader
Bobcat s650 Skid Steer
Cat 740 Articulated Dump Truck
Kubota SVL75 Compact Track Loader
Cat 308E2 Mini Excavator
Sources: Case, Trade Earthmovers, Construction Equipment, Earthmoving Equipment Australia