At first glance, the job of a concrete contractor might not seem entirely special or difficult. In fact, this rather 'straightforward' profession, while calling for special equipment, seems like it's one that's easily mastered — right?
The reality is that it takes a professional with experience and skills to get a concrete pour exactly right. It takes time and a keen eye to be able to master all the different uses of concrete today.
That's because the applications of concrete are not what they used to be. In other words, it's not just pedestrian walkways or industrial buildings that use concrete. The methods, materials, and equipment within the concreting industry have changed to such an extent that homeowners can now rely on everything from decorative paved driveways to the bricks that protect their homes.
Concrete is not just making a comeback — it's evolving to a new degree of use. And if you plan to take advantage of concrete construction for your landscape or commercial project, you'll need to know what to look for in a concrete contractor, average concrete prices, and what a concrete project involves.
What is a concrete contractor?
Put simply; a concrete contractor is an expert professional trained in mixing, working with, laying, and repairing concrete. Their job is essential and calls for attention to detail. What they mix, how they pour, and even prefabrication methods they use will determine the safety of individuals who live in a building, walk across a bridge, or even rely on concrete retaining walls because their home is situated on a slope.
Concrete begins as unmixed material, but it's concrete contractors who go through the process of getting it to its hard-finished form. They'll also perform associated tasks such as land or site preparation, formwork (related to crafting concrete in special shapes and designs), and concrete placement into these forms before finishing compaction and curing methods.
What does a concrete contractor do?
Australia is in the midst of a massive growth spurt when it comes to construction and development. In 2017 alone, more than 30 million cubic metres of concrete were produced across the country, which puts the industry at record growth. Besides this, 30,000 people are directly employed by the industry, and 80,000 people are in positions related to concrete construction.
And it's not just Australia — people worldwide rely more than ever on concrete for their building needs. Seventy per cent of the world's population lives in structures that use concrete.
Concrete contractors are in demand because concrete is an incredibly flexible building material. Contractors work with the material according to the project's needs.
For example, their expertise would help them mix the right materials to create a type of concrete that works for a bridge — which would be vastly different than mixes required for landscape masonry, concrete foundations, concrete driveways, and more.
So a concrete contractor will excavate a path (if, for example, they're laying a driveway) and clear the land of debris like tree stumps, rocks, and other organic and inorganic matter.
They'll also grade the land, which means it will be level enough when the concrete gets laid on the surface. Depending on the drainage needs of the soil and land, concrete contractors may also install a sub-base of compacted gravel.
That's why a concrete contractor needs expert knowledge in related niches like geology, equipment operation, understanding and reading architectural plans, and project management. They also need to understand workplace health and safety to avoid common hazards in the construction industry.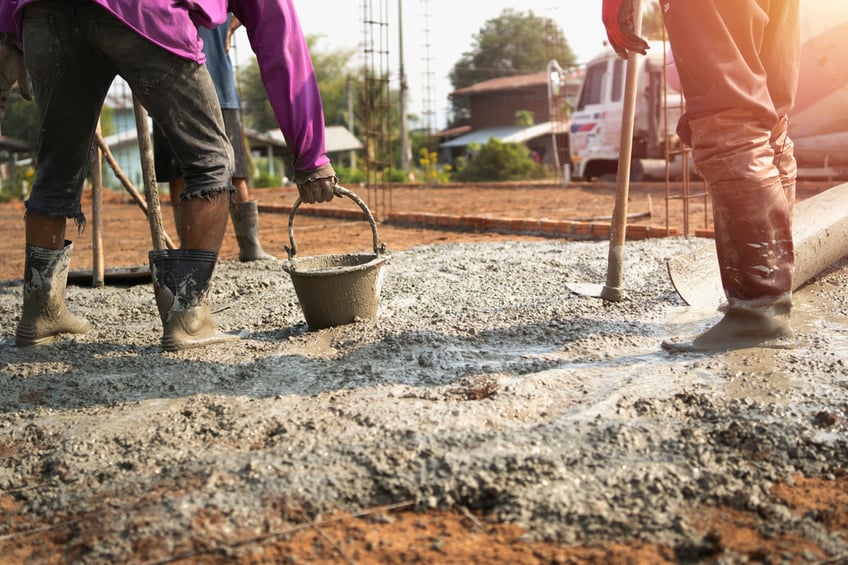 What to look for in a concrete contractor?
Concreting cost is what most commercial and residential property owners look at and consider first. However, that's only one of the factors that count. Concreter construction requires expertise and experience in real-world applications.
There should be a clear structure in place when it comes to starting and finishing your project successfully. And any high-quality concrete contractor will be able to walk you through what it will take to execute your vision.
When you're looking for a concrete contractor, use the following information to compare quotes and select the best one for your project:
Education and experience
Past customer reviews
Company reviews (contractors are only as good as the company that supports them)
Suppliers — this is a big one because a shaky relationship with suppliers could mean that they're unreliable with project costs or that your project may stall because of a lack of materials.
Licences — Some Australian states call for concrete contractor licencing, so ensure that your concrete contractor can provide proof of these requirements. Additionally, confirm that the contractor will cover the minutiae of your project, like securing the necessary permits.
How much does concreting cost?
Concreting prices are quite affordable, but a lot depends on the quality of materials, your concrete contractor's expertise, and the service used.
For example, a concrete contractor working on a driveway will charge differently from creating and installing a polished concrete floor or a slab for a shed.
Across Australia, concreting costs will run you anywhere between $25 to $60 per square metre on a concreting project. There's also some variation between Australian states, so you're likely to encounter a range of concrete prices depending on where you're located.
ACT: $20 to $35 per square metre
VIC: $25 to $40 per square metre
SA: $30 to $45 per square metre
QLD: $30 to $45 per square metre
NSW: $35 to $50 per square metre
WA: $40 to $55 per square metre

How much does a concrete slab cost?
One of the most common projects, especially for concrete construction needs, is creating and laying concrete slabs. Slabs are usually created for housing or building foundations, so property owners must look for experience and quality when hiring concrete contractors for these projects.
Concreting costs for a slab depend on a few factors, like the thickness of the slab itself and the type of slab formed.
Variations include one-way slabs on beams, waffle slabs used for reinforcements in buildings, flat plates supported by columns and walls, and even hollow-core slabs to increase structural strength and act as service ducts.
In Australia, the concrete slab prices can vary in range from $64 to $150.
How long does concreting take?
The curing process for concrete varies. While it's true that poured concrete is solid enough to walk on without leaving any indentations or footprints after about 48 hours, the curing process takes a full four weeks to complete.
That's because concrete continues to cure and harden as it's exposed to the environment around it. While you may be able to lift the forms that surround poured concrete after about 3 to 5 days, this phase of concrete is still considered "green" or "young." In reality, it takes around 28 to 30 days for concrete to come to full industrial strength.
Find the right Concrete Contractor on iseekplant
If you're struggling to find the right concrete contractor for your next project, then your search is over. At iseekplant, we're Australia's largest construction hire marketplace. This means you can search our large directory for suppliers, including concrete contractors, to compare companies, reviews and quotes for your next project. Do a quick search today and find a concrete contractor near you now!