Concreting is defined as the process of covering an area with concrete. In construction, it is the activity followed by reinforcement and formwork.

Concrete is the second most used material in the world, after water. An estimated 70% of the world's population lives in a structure that contains the material.

The cost of concrete may seem high, but it is actually a cheap way to construct sturdy structures – so much so that it is now one of the most frequently used materials worldwide.

But how much does concrete cost in Australia? How much will you spend to have it poured, coloured, removed, reinforced, ground, sealed, or pumped? To give you a better idea, we've put together a guide.
How much does concreting cost in Australia?
The average cost of concrete services, in general, can range from $20 to $55 per square metre.

However, concreting covers a range of services so that concrete prices can vary depending on the service, the extent of the service, and several other variables.

Factors that affect concreting cost
Because the requirements for each concreting project are different, the price varies from job to job. Let's go over the different variables that can affect your concreting cost.
Project duration
Because labour costs are usually charged per hour, the project's duration will directly affect how much you spend overall. Always ask your prospective concreters how long they expect a project will take.

Type of concrete
Your expense is also affected by the kind of concrete you use in your project. Here are some of the most common types:
Coloured concrete – Regular concrete with colour added to it as decoration. Coloured concrete is typically used in outdoor areas like paving stones and garden tables. Expect to spend around $75 to $90 per square metre.
Exposed aggregate concrete – A type of concrete where the top layer is removed to expose its crushed stone, sand, and gravel. These are normally used outdoors for its durability. Expect to spend $100 to $150 per square metre.
Stamped concrete – Concrete that is textured or embossed to look like stone, tile, wood, and various other patterns. These are used mainly for interior floors but can also be used for pools and patios. Expect to spend upwards of $120 per m2.
Stencilled concrete – Concrete with a stencilled pattern on its surface. Considered a convenient alternative to stamped concrete as stencils are simpler to apply. Expect to spend $100 to $150 per square metre.


Equipment used
While mixing concrete can be done by hand, certain jobs may require the use of special machinery like concrete saws (for cutting), cement mixers, or even pump trucks. Rental of this equipment will certainly increase your expenses.

Type of concreting job
The main variable that will affect your concreting cost is the type of concreting job you need to carry out. There are several different kinds, and here are some of the most common ones:


Concrete cutting- The process of controlled sawing, drilling, and removing concrete. Depending on the depth of the cut, this service can cost from around $15 for 100mm depth to $40 for $300mm depth.
Concrete grinding – The process of removing a concrete surface's irregularities by grinding. On average, this service costs around $10 to $60 per square metre.
Concrete pool construction – The average cost of building a concrete pool is around $50,000 to $75,000 but may vary depending on the pool's size.
Concrete pumping – The process of transporting freshly mixed concrete to a specific location. Typical hire rates for concrete pumps cost at least $165 to $182 + GST per hour for line pumps and $155 to $182 + GST per hour for boom pumps.
Concrete removal – The process of removing damaged concrete walls or floors. Costs vary, depending on what is being removed. For example, the concrete driveway cost for removal is from $35 and $50 per square metre.
Concrete sealing – The process of applying sealers on a concrete surface to protect it from stains and wear. Price depends on the type of sealer, but it usually ranges from $149 to $220 for 20L sealers.
Concrete slabs - The most affordable concrete slabs usually cost from $50 to $75, while the most expensive ones are worth around $100 to $150.
Driveway construction - An average-sized concrete driveway to a residential property should cost between $65 to $150 per square metre.

Location
Concreting cost may also differ in terms of location.


| | |
| --- | --- |
| State/Territory | Concreting cost per square metre |
| Australian Capital Territory | $20 to $35 |
| New South Wales | $35 to $50 |
| Queensland | $30 to $45 |
| South Australia | $30 to $45 |
| Victoria | $25 to $40 |
| Western Australia | $40 to $55 |


How much is concrete per m2?
Below are common concrete prices based on type:


| | |
| --- | --- |
| Concrete type | Concrete cost per m2 |
| Plain concrete | $60 to $85 |
| Polished concrete | $50 to $60 |
| Spray-on concrete | $50 to $75 |
| Reinforced concrete | $65 to $90 |
| Coloured concrete | $75 to $90 |
| Exposed aggregate finish | $100 to $150 |
| Stamped concrete | Upwards of $120 |
| Stencilled concrete | $100 to $150 |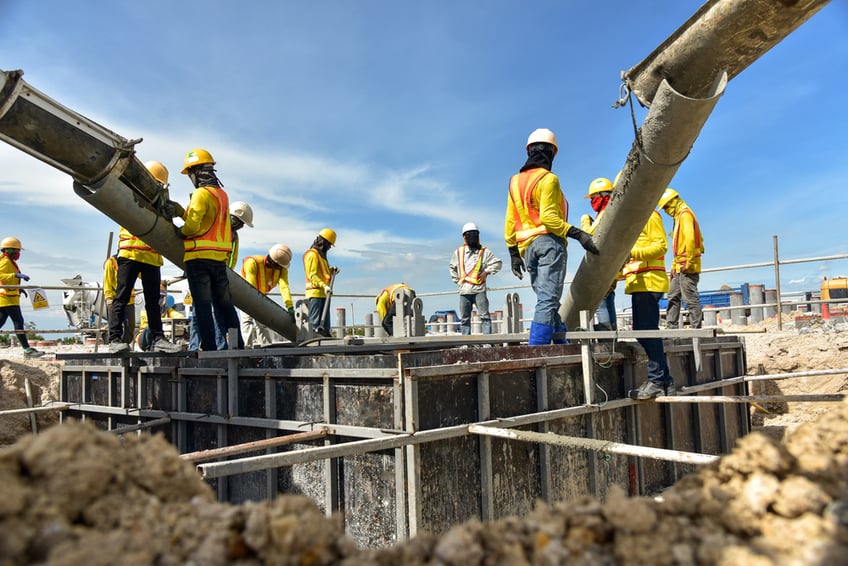 How much is a cubic metre of concrete?
On average, concrete cost per m3 in Australia ranges from $200 to $300. The cheapest variants are priced around $160 per cubic metre, while the most expensive ones can cost up to $550 per cubic metre plus GST. Note that concrete cost per m3 typically costs more when purchased in smaller quantities. In fact, suppliers may charge extra.
How much does it cost to pour a 20x20 concrete slab?
A standard 20x20 slab would cost around $1,340 to $2,400. This, however, may vary, depending on the type of concrete you want to use and how thick the slab is going to be, among other factors.
How much does it cost to pour a 12x12 concrete slab?
On average, a 12 square feet concrete slab would cost around $185 to $865 to be laid by a concreter. A 12 square metre concrete slab would cost around $600 to $1,800.
How can I find the best concreting cost possible?
That's easy. Simply visit iSeekplant. We're Australia's largest online construction hire marketplace, with over 14,000+ suppliers listed on our platform and over 380,000+ assets available for hire. You can find and compare many concreters in just a few clicks through our website's large database.
Bonus tips:
When you visit iSeekplant, get quotes from at least three concreters near you, then compare their rates to get competitive concreter cost estimates.
Found your prospective concreters? It's not enough to know how to contact them; look into their previous work. Since their websites will likely have positive comments, search through Google or Facebook to find out what people are saying about them.
It's important that you ask prospects if they're licensed and insured.
An unlicensed concreter might not do the extra work needed to meet local codes.
Concreters should have adequate insurance to protect you and your property from liabilities in case an accident occurs on your project site.

If you don't have the time to find a licensed concrete contractor, you have two other options.
You can call our expert team on 1300 691 912 or email our Projects Team with your job specifications. We will then search for concrete contractors in your area and get them to contact you with their best rates.