Landscaping is defined as the process of making a garden or other piece of land more attractive by altering its existing design, adding ornamental features, and planting trees and shrubs.
Having a landscaped outdoor space around your home is beneficial not only for aesthetic reasons. You'll experience several other advantages, including the following:
Landscaping increases your home's value and makes it more attractive to potential buyers (should you decide to sell it).
Your lawn and plants serve as a filter that absorbs smoke and carbon dioxide, replacing it with oxygen.
Your lawn and shrubs help reduce erosion and storm water runoff, which can help reduce local flooding.
Landscaping helps control extremes in temperature. You'll stay warmer when it's cold and cooler when it's hot.
Note, however, that landscaping involves spending money. Today, we go over the average landscaping prices you can expect and various other factors associated with it.
What does a landscaper do?
It's the job of the landscaper to carry out those planned changes to your garden or piece of land. They design, plan, and maintain gardens and parks – ensuring that your plants are growing well, your hedges stay in shape, and your weeds don't go out of control.
Landscapers are usually tasked with the following:
Drawing out plans for outdoor spaces.
Ordering materials and plants for landscaping projects.
Installing structures like sprinkler systems, fountains, gazebos, playground equipment, and retaining walls.
Planting shrubs, flowers, and/or trees.
Maintaining lawns.
They usually work for landscaping companies or local councils, or can be hired as independent contractors.
How much does landscaping cost?
When it comes to the average cost of landscaping a new house in Australia, you're looking at a range of $4,800 to upwards of $50,000. These are common for new homes with no landscaping.
But how much does landscaping cost per hour? The standard rate is typically from $40 to $55. Bear in mind that landscaping prices vary due to several variables (more on this later).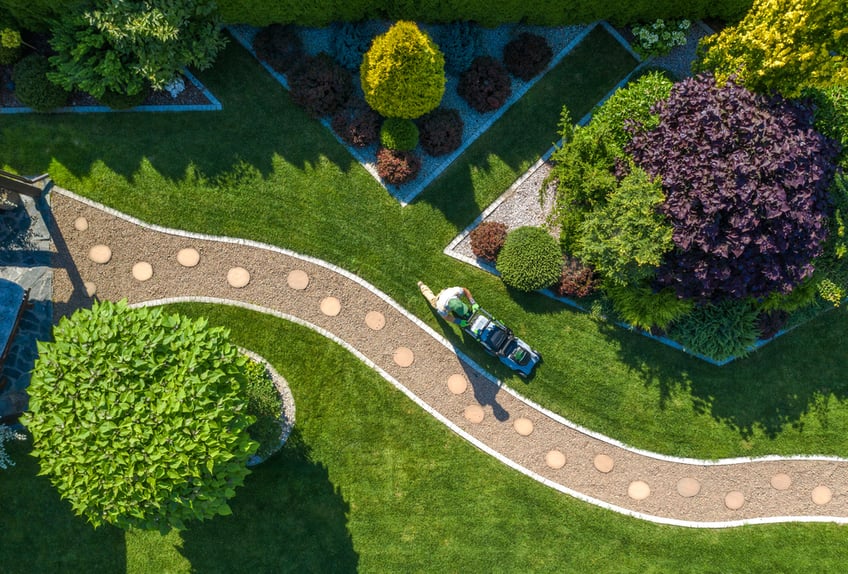 What are the costs of common landscaping jobs?
Landscaping covers a range of activities. The most common ones are as follows:
Task

Common Price Estimate

Landscape designing

$850 to over $6,000

Lawn installation

$10 to $100 per square metre

Retaining walls

$150 to $250 per square metre

Decking

$3,400 to $6,500

Paving

$40 to $65 per square metre

$45 to $75 per square metre (Limestone)

Gardening (Maintenance/Pruning/Hedging)

$50 to $150

Softscaping

$55 to $70 per hour

Hardscaping

Up to 10% of your home's value

Water features (e.g. pond, fountain)

$9,000 to $25,000
What factors affect landscaping cost?
Every yard, garden, or property is different, and so is each homeowner's preferences. Several variables will come into play, and each will influence landscaping prices. Below are some of the most common factors.
Design
The design of your home's landscape encompasses several details. This includes:
The size of your garden
The scope of the landscaping project (e.g. you want to focus on your backyard)
The design's complexity
Your yard's condition (This will affect preparation)
Your climate (Certain plants thrive in specific climates)
Your personal design preferences
All of these will affect how much you'll spend – including your backyard landscaping cost.
Soil
How fertile is your property's soil? If you're landscaping a newly constructed property, your soil might not be suitable for growing plants and shrubs. Thus, you may have to test the soil and add nutrients to it before landscaping.
Softscaping
The term "softscaping" refers to vegetation (e.g. trees, flowers, lawns) as an element of your landscape's design. The types and number of plants you add to your landscape will directly affect how much you spend.
Hardscaping
Hardscaping, on the other hand, refers to the man-made features used in your landscape. This includes anything that's made of hard materials (e.g. wood, stone, concrete). Examples of hardscapes include driveways, retainer walls, and fences.
Location
Landscaping cost will vary depending on where you live. Below is a list of prices across various states and territories.
| | |
| --- | --- |
| State or Territory | Average Landscaping Prices |
| Australian Capital Territory | $20,000 to $40,000 |
| New South Wales | $20,000 to $44,550 |
| Northern Territory | $15,000 to $30,000 |
| Queensland | $17,000 to $34,000 |
| South Australia | $15,500 to $30,000 |
| Tasmania | $12,500 to $30,000 |
| Victoria | $20,000 to $40,000 |
| Western Australia | $17,000 to $35,000 |
How much do landscapers charge?
Like other tradespeople in Australia, landscapers charge by the hour. But what do landscapers charge in terms of rate?
| | |
| --- | --- |
| Location | Landscaping Cost Per Hour |
| Australian Capital Territory | $50 |
| New South Wales | $50 |
| Queensland | $45 |
| South Australia | $45 |
| Victoria | $50 |
| Western Australia | $50 |
What is the difference between hardscape and softscape?
As mentioned earlier, softscapes are the soft parts of your landscape. This refers mainly to vegetation like flowers, trees, and shrubs. Hardscapes are the hard, man-made parts of your landscape.
Softscapes are living, growing, and changeable, but require more maintenance. Hardscapes are permanent.
A good landscape design is one that balances these two elements.
How can I find the best landscaping cost possible?
Just visit iseekplant, Australia's trusted search site for hire equipment and contracting services. Through iseekplant's powerful search capabilities, and compare many landscaping contractors in the least amount of clicks.
Bonus tips:
Improving your home's landscape is an major decision that will affect its value – for better or for worse. Because of this, you need to choose your landscaper wisely. Here are a few suggestions on how to go about it.
Landscaping doesn't require formal qualifications, but working with a professional with a vocational qualification (like a TAFE certificate) can be an advantage.
Make sure that you hire an insured landscaping contractor. Avoid tradies who say they have insurance but can't provide you the necessary documentation.
Ask for a free quotation from at least three businesses as to how much your project will cost, then compare their rates to get competitive landscape cost estimates. Don't forget to ask for a detailed breakdown of the materials and labour.
To get an accurate landscaping prices estimate, everything needs to be clear. Refrain from pricing materials and plants ahead of time, and changing landscape requirements. A quote is only as correct as the information you provide the landscaping contractor.
It's smart to avoid cutting corners in your landscaping, but there are certain details that can help minimise your expenses. For example: You can look for landscaping materials during warehouse sales, and check if your estimate includes excavation.
But if you're busy and don't have the time to find a qualified landscaping contractor by yourself, you still have a couple of options:
Give our expert team a call at 1300 691 912; or
Email our Projects Team with your specifications. They will then find you landscaping contractors who are ready to meet your needs.