*Last Updated: June 2020
What is the Melbourne to Brisbane Inland Rail?
The $10 billion Melbourne to Brisbane Inland Rail has been flagged as a once in a generation infrastructure project that will see a 1,700km freight rail line between Melbourne and Brisbane installed through regional Australia. This rail line will allow freight to be transported from the major cities in less than 24 hours, vastly increasing Australia's freight capacity.
Melbourne to Brisbane Inland Rail Project Plan
Inland Rail Cost: $9.89 billion
Federal Funding: $9.3 billion
QLD to VIC State Government Funding: TBD
Project Type: Rail - Inland Rail
Length of Job: 1700 km
Inland Rail Jobs & Community Plan
Projected Jobs For Inland Rail: 16000 during construction
Estimates indicate that demand for freight services between Melbourne and Brisbane will increase 165% over the coming decades (from 4.9 million tonnes in 2016 to 13 million tonnes in 2050 - based on 20 foot equivalents units or TEUs). Current freight capacity is incapable of supporting this significant increase. Currently, the Melbourne to Brisbane freight route runs via Sydney is unreliable and incapable of meeting the transit times that industry requires. This is due to a number of factors, such as:
capacity constraints
incompatible rail gauge alignments (particularly between Brisbane and Sydney)
inefficiencies created through the freight transiting through the Sydney metropolitan area
Faster transit times exist via road between Melbourne and Brisbane (via inland New South Wales) than by rail. Limited overtaking lanes and sections of two-lane single carriageway, however, create inefficiencies on the existing road route. Therefore, rail upgrades are required to combat the potential for increased transit times on-road due to increased usage.
What route will the Inland Rail take?
The Inland Rail's 1,700km route will link Melbourne to Brisbane via regional Victoria, New South Wales, and Queensland. 70% of the Inland Rail's route is made up of already existing rail corridors, though these corridors will be upgraded to handle the increased capacity. 500km of new rail will be built from Illabo to Stockinbingal, Narromine to Narrabri and North Star to the New South Wales/Queensland Border. The majority of the Queensland rail line will also be constructed.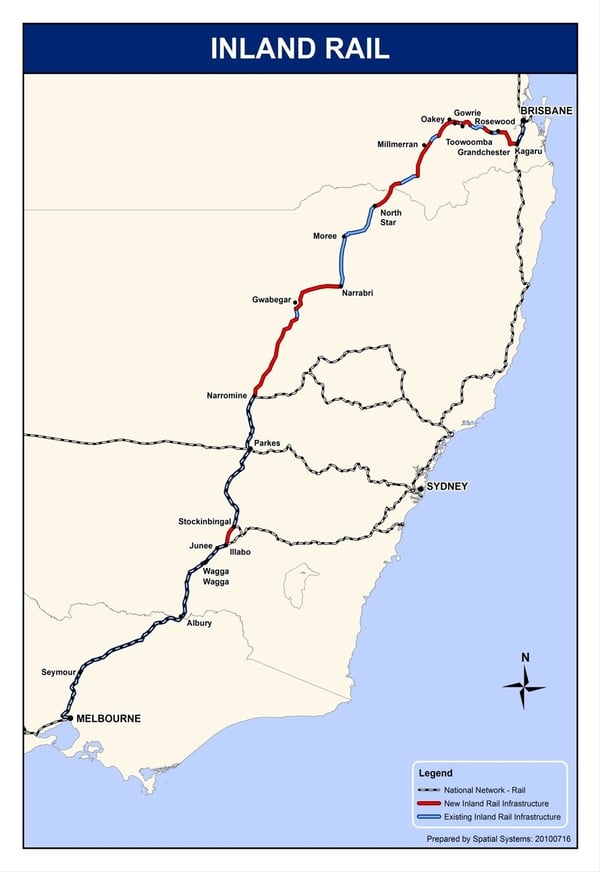 What towns will the Inland Rail pass through?
Melbourne, Victoria
Tottenham, Victoria
Seymour, Victoria
Albury, New South Wales
Wagga Wagga, New South Wales
Junee, New South Wales
Illabo, New South Wales
Stockinbingal, New South Wales
Parkes, New South Wales
Narromine, New South Wales
Gwabegar, New South Wales
Narrabri, New South Wales
Moree, New South Wales
North Star, New South Wales
Yelarbon, Queensland
Inglewood, Queensland
Gowrie, Queensland
Toowoomba, Queensland
Grandchester, Queensland
Calvert, Queensland
Bromelton, Queensland
Kagaru, Queensland
Brisbane, Queensland
In any of these towns and want a chance of working on the rail construction? Create a free iseekplant profile and list your machines today!
How has the Inland Rail been funded?
In the 2017 Federal Budget, the Federal Government committed $8.4 billion to build the Inland Rail. In total, the Federal Government has now committed $9.3 billion to the project. Any further required funds are expected to come from a partnership with the Private Sector.
How will the Inland Rail be delivered?
The Australian Rail Track Corporation (ARTC) are responsible for delivering the Inland Rail project. They have divided the route into 13 individual projects across Victoria, New South Wales and Queensland. Contracts have been awarded for these sections and construction began this year. It is expected the project will be fully delivered by 2024/25.
What are the benefits of the Inland Rail?
The long term benefits of the Melbourne to Brisbane Inland Rail are related to the efficiency and capacity of Australia's freight infrastructure. It is expected that the Inland Rail will result in a $16 billion boost to Australia's GDP over the next 50 years. Furthermore, during construction the Inland Rail is expected to create 10,000 jobs in regional and metro Australia.
Want a chance of working on the rail construction? Create a free iseekplant profile and list your machines today!