What are Tracked Scissor Lift hire rates?
6m working height tracked scissor lift hire rates: $250 - $370 per day
8m working height tracked scissor lift hire rates: $290 - $450 per day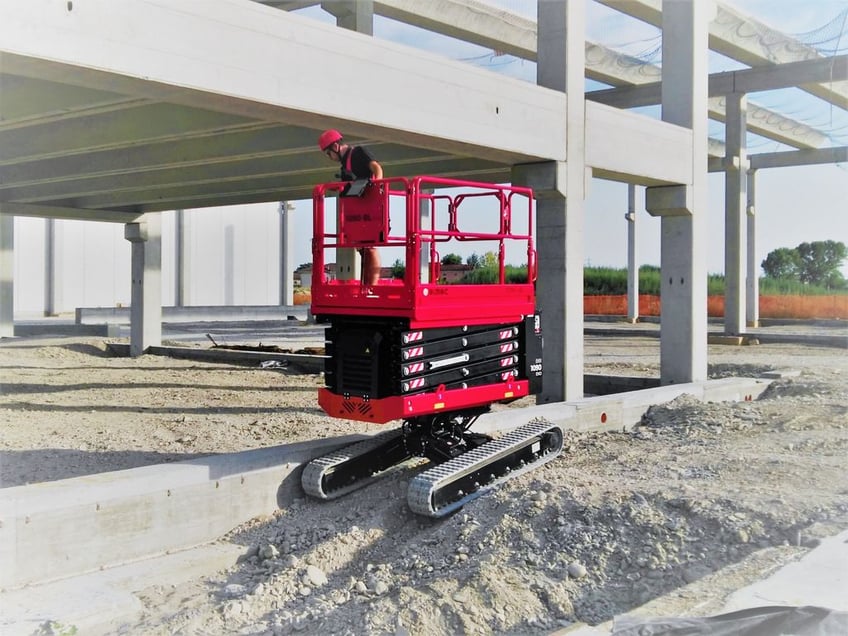 Tracked scissor lifts aren't easy to find, but most specialist access equipment or lift and shift companies will have one in their fleet. They are tracked to be able to traverse difficult, soft or undulated terrain. The tracks provide a really sturdy base to move the machine slowly across different ground.
What are Scissor Lift transport and travel costs (metro areas)?
Scissor lifts less than 12m: $100 - $120 each way
Scissor lifts between 12m and 15m: $150 - $180 each way
Scissor lifts over 18m: $200 - $250 each way
Scissor lifts can easily be driven up via remote onto the back of a tilt tray and transported around town. They are often used on a daily basis and returned to the depot - it is uncommon that they are hired on long term contracts (as they are relatively cheap to buy). That said, you will always be required to pay transportation, and in the case of diesel scissor lifts there may be a small fuel surcharge or duel charges on an as-used basis. But all-in-all, hiring a scissor lift isn't very complicated and there aren't usually many extra costs or charges outside of the hire rate.
Do I need a license or ticket to operate a Scissor Lift?
The short answer is yes, 'working at heights' using any boom lift, EWP, telehandler, man lift or scissor lift requires a working at heights competency, or ticket, once you are operating a machine over a 11m boom height. Because it is considered high-risk work, we encourage everyone who ires a scissor lift, of any height or size, to understand the risk and be harnessed into the machine. The working at heights law only is applied to heights at over 11m, so you can operate scissor lifts below this height without a ticket. When hiring a scissor lift over 11m the plant hire company will ask to see the ticket of the operator before hiring out the machine.
How do I get the best Scissor Lift
hire rates?

iSeekplant specialises in getting quotes for people looking for construction gear. So whether you need a scissor lift in Brisbane, Sydney, Melbourne, Canberra, Perth, Darwin, Adelaide or any where else. Use iSeekplant's Get Rates tool and we will get you the best quote for your job, completely free of charge!
Subscribe to the iSeekplant Flapping Mouth blog below to keep up to date with all the latest industry news and projects!