What is a scissor lift?
Scissor lifts are generally used for accessing areas with ease and safety, heights which are not accessible by ladders such as warehouse shelving, overhead power lines and large trees. When using a diesel scissor lift, you want to be certain you are working with a quality brand that has a reputation for safety and durability. There is quite a difference in usage for an electric scissor lift. Generally, these are used on indoor requirements such as warehousing and ceiling maintenance.
How much does a scissor lift weigh?
19-25ft high = approx. one ton 26ft+ high = approx 4,700lb Here are our top 6 diesel scissor lift and electric scissor lift brands available across Australia for hire and sale.
1) Manitou
Enabling operators to work comfortably at a height of up to 12m and the ability to squeeze into tighter spaces due to its smaller frame width the Manitou diesel scissor lift is a great choice for productivity and safety. For all indoor height requirements such as warehousing and roof maintenance, look no further than the SEC range of electric scissor lifts from Manitou. They are smooth on flooring ensuring there is no damage, compact and safe with easy maintenance should it be required.
2) Skyjack
Proudly providing quality engineered diesel scissor lifts, Skyjack are primed and ready to tackle any rough terrain height access your project may require. Their no-fuss machines are simple and reliable so that companies can maximise their use. Driveable at full height, variable speeds, solid rubber tyres and a large work platform make for great features in the Skyjack electric scissor lift. Increase your work efficiency and production with an electric scissor lift from Skyjack that can ensure safety while at height.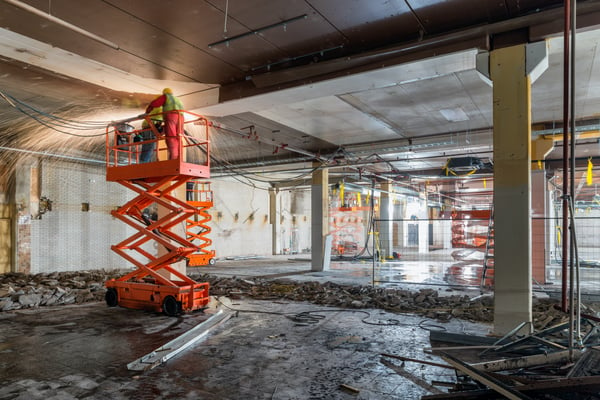 3) JLG
Providing more workspace and lifting capacity, a JLG diesel scissor lift delivers an exceptional ability to transform and perform on rough terrain making manoeuvrability a breeze. For one of the industry's best on-the-job performance machines, the JLG electric scissor lift has the capability to run for twice as long with double the duty cycles of other electric scissor lifts on the market.
4) Genie
The Genie diesel scissor lift is the perfect machine for large outdoor jobs that require a large work platform and a higher lifting capacity. The diesel scissor lifts are designed for easy operation, convenient service, high safety and reliability. The Genie electric scissor lift has a reputation for being exceptionally mobile which enables you to manoeuvre in tight spaces getting the job done quicker. Add more workers to the large work platform and increase your efficiency and work output. Genie also makes all-terrain scissor lifts. Their all-terrain lifts allow easy traversing in all environments.
5) Haulotte
The extensive diesel scissor lift range provided by Haulotte ranges from 6 metres to 18.5-metre machines and can be used for many projects including construction, warehousing, cleaning and events. With their compact and narrow design, the Haulotte diesel scissor lift machines can fit into places most other brands cannot. When you have indoor construction or cleaning requirements, look no further than the Haulotte electric scissor lift. With this electric scissor lift you can, whizz around your project in silence and access tight areas with the narrow access platform built to hold multiple workers.
6) Snorkel
For when the going gets tough, use a Snorkel diesel scissor lift. Fitted with large work platforms, a bi-energy power source, strong and sturdy safety rails and low weight means it can be easily manoeuvred around your work site and is adaptable to any situation that is required. For an electric scissor lift that boasts a robust steel frame and durability for a long working life, take a look at Snorkel electric scissor lifts. Their reliable and high-quality components make it a great choice when looking at hiring or buying an electric scissor lift. Snorkel also makes all-terrain scissor lifts. Their all-terrain lifts allow easy traversing in all environments.
Who makes the best work platform?
Of these scissor lifts, Skyjack, Snorkel, Haulotte and Genie make the best work platforms. Snorkel, Genie and Skyjack make the biggest work platforms without decreasing the weight capacity of the lift, which is best for getting more people on them. Haulotte specialises in narrow access platforms to access tight areas.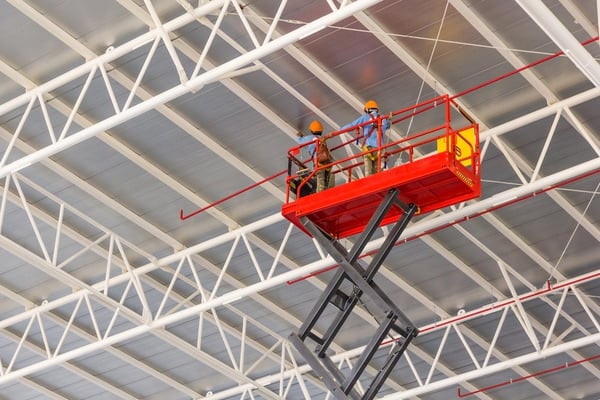 For all your rough terrain and outdoor projects that require sturdy and safe equipment and your indoor cleaning and access needs, these top 6 diesel scissor lift and electric scissor lift brands can provide the reliability, durability and functionality you are looking for.
Hire a Scissor Lift through iseekplant
If you are feeling ready to hire a scissor lift of your own here at iseekplant we are sure we will find the right fit for you. For those projects needing hire in Brisbane, Sydney, Melbourne, Canberra, Perth, Darwin, Adelaide, or anywhere else across the nation, our extensive network will be able to bring your project to life. To stay up to date with the latest industry news, subscribe to the iseekplant Constructionsht blog. We release daily content from scissor lift licence guides to the latest news!