In most Australian states, it is a legal requirement to obtain a scissor lift licence prior to operating an electric scissor lift, diesel scissor lift or any other EWP (elevated work platform) machine.
The EWP licence is a statement for your employer and yourself to show you have successfully achieved the required level of competence to operate diesel scissor lifts, electric scissor lifts and other EWPs.
Quick Links:
Along with your Scissor lift ticket, you will need to successfully complete your High Risk Work licence. This licence is required when you are operating certain types of cranes, hoists, forklifts, rigging, scaffolding, and pressure equipment.
To acquire the appropriate licences to be able to work on electric scissor lifts or diesel scissor lifts, you must register, attend and submit your final assessments from a registered training organisation that delivers the appropriate learning.
What are the scissor lift ticket requirements?
Here is a list of what is required to obtain your scissor lift ticket:
Adequate training of the scissor lift
In most states you must be 18 years of age to obtain a licence
Receive training from an appropriate Registered Training Organisation (RTO)
Organise "on the job" training with a supervisor who holds a current EWP licence and receive instructions on how to safely operate the scissor lift
In all situations, the training must be supervised
Obtain relevant OHS (occupational health & safety) training and accreditation
Keep a training record or log book which can be used by the RTO as evidence of your "on the job" training component of your assessment
Obtain your High Risk Work licence
What can you expect to learn in a Scissor Lift Operator course?
During your time spent conducting further learning in a scissor lift operator course, you can expect to learn:
Operator safety checks
Reporting Machine Faults
General operating procedure
Workcover standards for operator competence
How to avoid bad operating habits
Practical driving tests
Battery handling, maintenance and charging
Do scissor lift tickets expire?
Yes, after a certain period of time, scissor lift tickets will expire generally every 5 years. However, depending on your governing state body, this time frame can differ. Something to also consider is the expiry time of your High Risk Work Licence, these also expire every 5 years.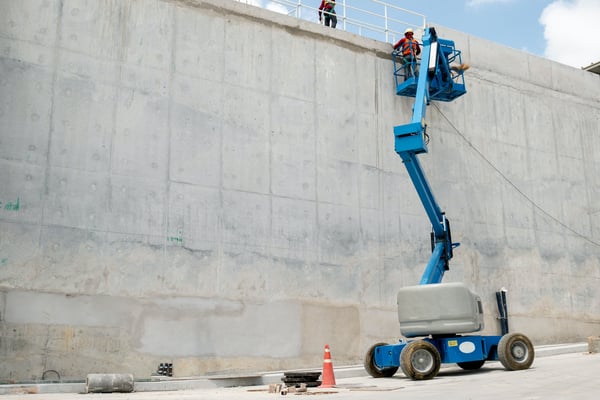 How much does it cost for a Scissor Lift licence?
Firstly, you must complete a scissor lift education course conducted by an RTO (Registered Training Organisation). These scissor lift training courses provide you with the necessary education and knowledge required to obtain your High Risk Work licence.
You can expect to pay anywhere between $175 - $700 for a scissor lift training course which includes all the components required by state law to obtain your High Risk Work licence.
In terms of the High Risk Work licence fees, these differ from state to state. See below a table of full fees per state.
| | | | |
| --- | --- | --- | --- |
| | New Application | Licence Renewal | Valid |
| Queensland | $96.80 per licence class | $87.85 per licence class | 5 Years |
| New South Wales | $74 per licence class | $68 per licence class | 5 Years |
| Victoria | $66.60 per licence class | $50.35 per licence class | 5 Years |
| South Australia | $83.50 per licence class | $83.50 per licence class | 5 Years |
| Perth | $100 per licence class | $53 per licence class | 5 Years |
| Tasmania | $71.28 (1-3 classes) $84.24 (3+ classes) | $58.32 per licence class | 5 Years |
| Northern Territory | $76 per licence class | $63 per licence class | 5 Years |
| ACT | $100 per licence class | $100 per licence class | 5 Years |
Looking to Hire a Scissor Lift?
iseekplant is home to thousands of plant hire suppliers located across Australia. Use the iseekplant get a quote tool for scissor lift hire in locations such as Brisbane, Sydney, Melbourne, Canberra, Perth, Darwin, Adelaide, and many more. We also offer valuable insights including our scissor lift hire rates guide.
To keep up to date with all of the latest industry and project news, subscribe to iseekplant's Constructionsht blog below!