Conducting projects at heights is difficult when you don't have the right equipment. Therefore, hiring a scissor lift may be the best option to achieve your next project safely and efficiently. As with any plant hire, there are some common questions faced with obtaining and operating them.
1. What is a scissor lift?
Scissor lifts are carts propelled in the air by lengthened crisscrossing metal. Scissor lifts are invaluable machines that provide reach to areas that were previously inaccessible. A wide range of scissor lift types exist that are all practical and functional with their different sizes and terrain types, ease of operation, sturdiness and flexibility. Far superior to regular ladders when it comes to operational safety, these free-standing scissor lifts can be a great money saver when conducting projects.
2. Where are scissor lifts used?
Scissor lifts are versatile pieces of plant that can be used to perform several different tasks. They are most frequently used for temporary maintenance works, surveying, painting and more. While it may seem that scissor lifts are somewhat vertically constricted, the wheels provide easy access when moving from place to place and making intricate adjustments.
Scissor lifts are often used as a safer alternative to ladders, scaffolding and towers. Obvious scissor lift advantages include the reduced time it takes to manoeuvre and minimised risk of injury as operators are attached with a harness or cable. You can trust that a scissor lift will complete your aerial tasks with ease.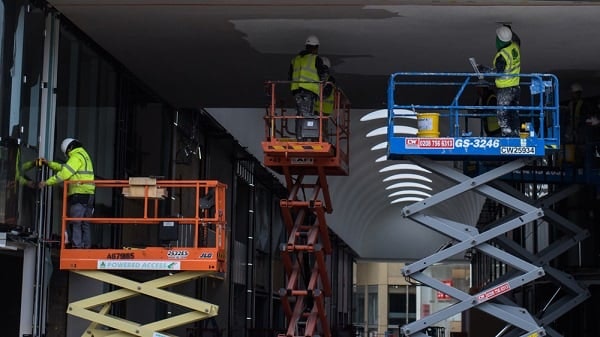 3. What are the capabilities of scissor lifts?
It is important to understand the capabilities and performance capacities of scissor lifts before hiring. There are different scissor lifts available for performing work inside or outside. Traditional diesel scissor lifts are used to perform projects outside as they can leave tyre marks when used indoors. Likewise, these scissor lifts are traditionally battery-powered and emit harmful fumes which can have serious health consequences if used in locations with poor airflow.
On the other hand, electric scissor lifts are designed for indoor spaces as they do not leave tyre marks. The electric scissor lift rolls out of the site as clean as it was when it arrived. Depending on the model selection, scissor lifts can reach upwards of 18 metres. Some common accessories that enhance the already robust adaptability of scissor lifts include:
Horn
Lights on the work platform
Amber flashing lights
All-wheel drive
The capabilities are far and wide for these machines, but it is equally important to select the right scissor lift for the right environment.
Need to hire a Scissor Lift for your next project? iseekplant can get you quotes from suppliers across Australia!
4. What site considerations should I make for a scissor lift?
While scissor lifts have far greater perceived safety than other machinery, it is important to recognise the safety risks and how to maximise performance on site. High winds, power lines, imbalanced ground and overload are just some of the dangers of operating scissor lifts. When deciding which scissor lift to hire and how to prepare your site, consider the following:
Site location – will the lift be outside or inside?
Emissions – what will be the impact of airflow on the release/constriction of emissions?
Terrain – is a rough terrain lift needed?
Height – what is the height that needs to be reached?
Frequency of use – how often will the lift be used?
Weight of load – how many people and/or equipment need to be lifted?
Once these questions are answered, the scissor lift profile will be easily obtained.
5. What types of scissor lifts are available?
There are five primary types of scissor lifts available for hire - hydraulic, diesel, electric, rough terrain and pneumatic. For more insight on each of these models, check out our hire guide outlining the 5 types of scissor lifts and their uses in construction.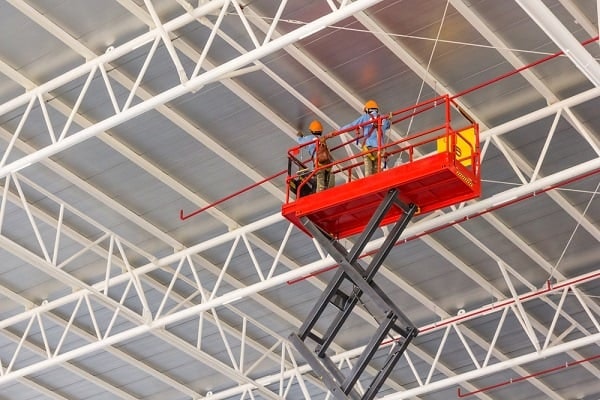 \
Before operating a scissor lift, you will need to obtain either an EWP Operator Ticket (Yellow Card) or a High-Risk Work Licence. The former covers you for heights below 11 metres while the latter covers you during instances where you require to work above 11 metres. Obtaining a Yellow Card is relatively easy, taking just a day or two to complete. Obtaining a High-Risk Work Licence is also straightforward.
Are you ready to hire a scissor lift for your next aerial project? iSeekplant has a wide range of scissor lifts available for hire across Australia. Our nationwide network of scissor lift suppliers is located in Brisbane, Sydney, Melbourne Adelaide, Darwin, Canberra and Perth.
Contact the iSeekplant team on 1300 691 912 or projects@iseekplant.com.au, otherwise use our get a quote tool. Subscribe to iseekplant's Constructionsht Blog below to keep up to date with the current industry projects and news!