Quick Links
Your Confidence
The Greatest Impacts
Impacts to Business Growth
Annual Revenue
Government Spending
The Pain Points
Business Activities in 2021
Get to Know Our Respondents
In our last article, "How COVID-19 Impacted Construction Businesses in 2020", we asked respondents to fill out our Industrial Services Happiness Index Survey to get real data on how construction businesses were surviving 2020.
In that survey, we also asked respondents to think ahead and predict how their businesses will perform this year. Some respondents felt positive about their prospects for 2021, whereas others were feeling worried.
Check out all the nitty-gritty data-points below and see if you agree with our respondents!
Your Confidence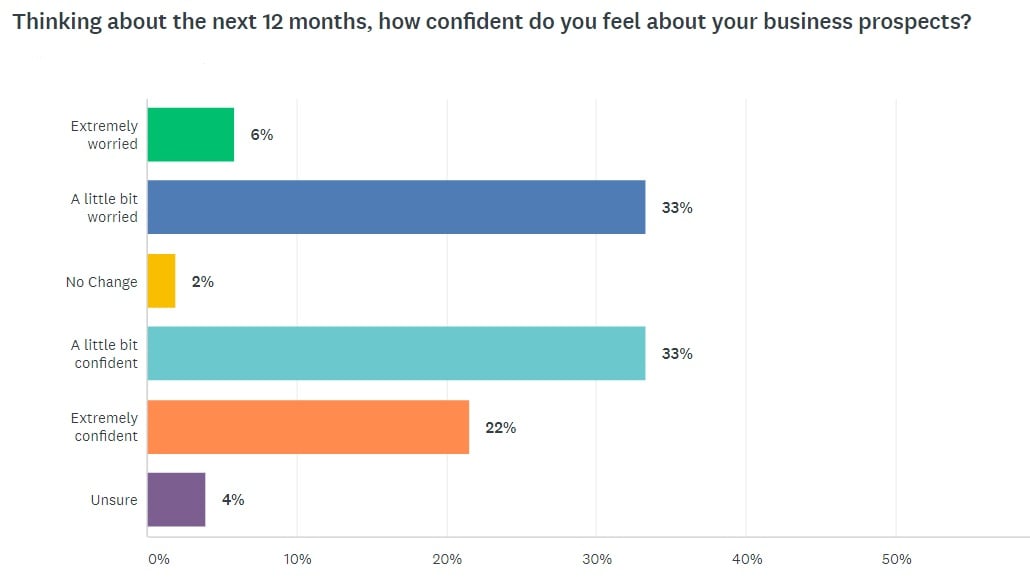 We first asked our respondents how confident they were feeling about their business prospects in 2021. With the impact of COVID-19, we expected most respondents to be feeling a bit worried about their businesses going into the next 12 months; however, the results surprised us.
Only 6% of respondents are extremely worried about their business prospects, 33% are a little bit worried, and 2% feel no change. The great news is that 33% of survey-takers feel a little bit confident about 2021 and 22% feel extremely confident. 4% are feeling unsure, which makes sense considering the trials and tribulations the last year brought us.
The Greatest Impacts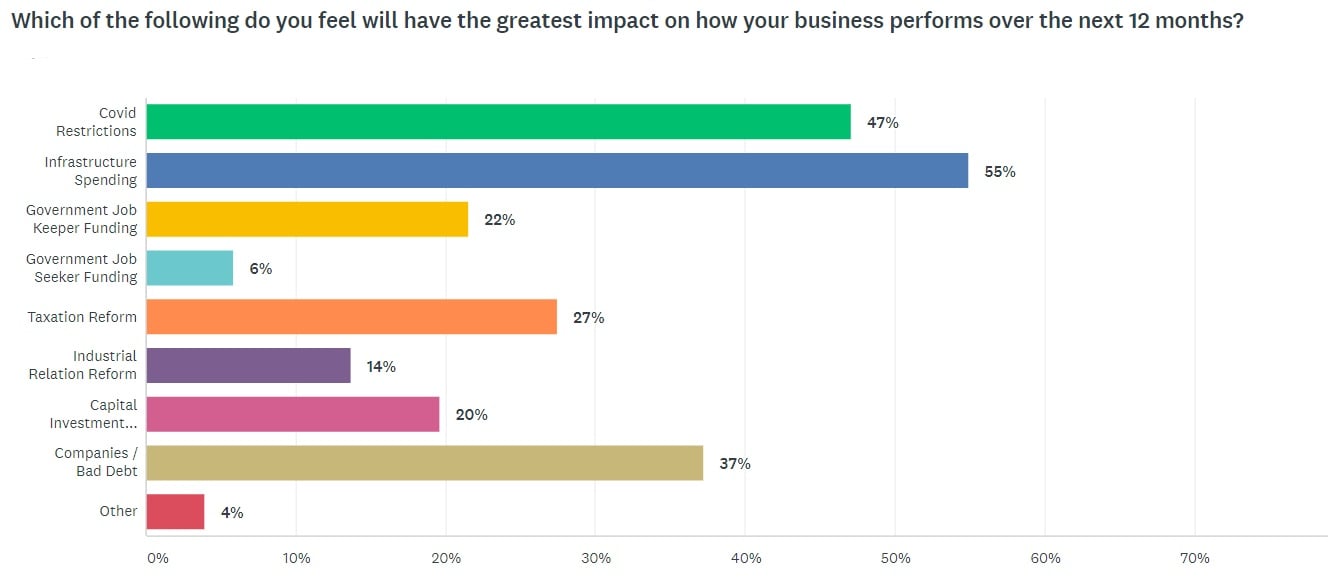 Next up, we asked our survey-takers what they think will significantly impact how their business performs over the next year. An overwhelming number of respondents agreed that the government's spending and funding will have the biggest impact on their business. In fact, 55% cited infrastructure spending as their biggest impact. 22% said the government's JobKeeper program will impact them most, 6% said the JobSeeker will affect them most.
The next big factor impacting construction businesses are reforms. 27% said taxation reform will be the number one thing to impact their business. 14% said it will be the Industrial Relation Reform, and 20% said it will be the Capital Investment Reform. Unfortunately, 37% said that their biggest problem in 2021 for their business will be debt.
Unsurprisingly, the final big contender impacting businesses in 2021 is border closures and movement limitations. A massive 47% said that COVID restrictions will be the most significant thing to impact their business over the next 12 months.
Impacts to Business Growth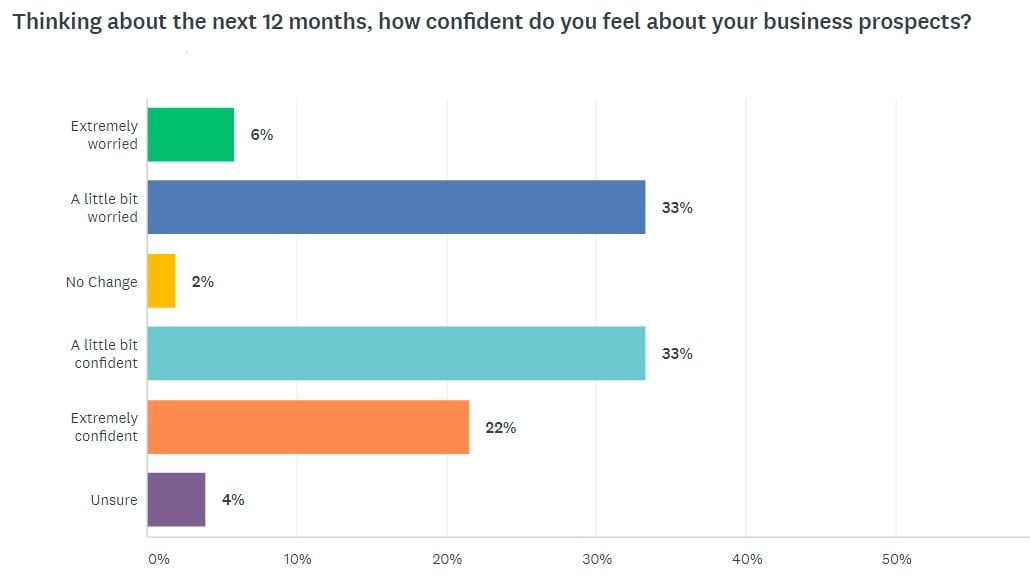 We also asked construction businesses about what they think the greatest impact on their business's growth will be in 2021. Naturally, the biggest factor cited was limited, or no work available, with 55% of survey-takers listing this as their top one. The second biggest factor was having undertrained staff (35%), followed closely by a lack of capital (25%). 14% of respondents also listed equipment mobilisation, and 8% again noted debt.
Annual Revenue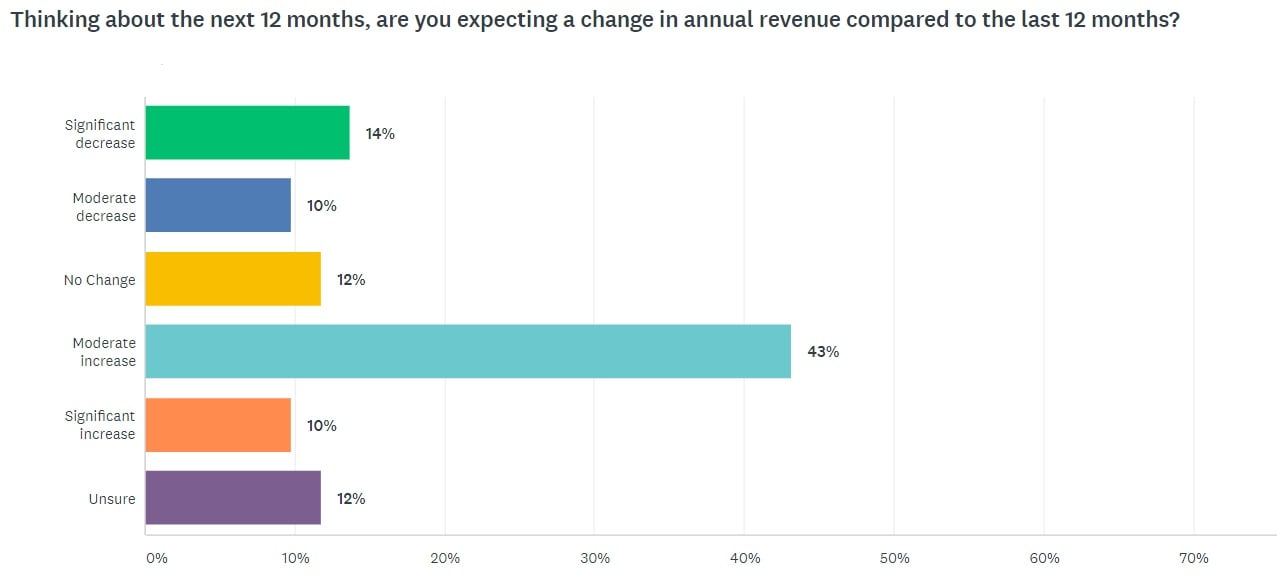 Our Industrial Services Happiness Index Survey also asked survey-takers how they think their annual revenue will change over the coming months. In a positive light, 10% of construction businesses feel they will significantly increase in annual revenue. A massive 43% said they believe they'll have a moderate increase to annual revenue and 12% was unsure. 12% felt they would have no change, 10% cited a moderate decrease, and 14% expected a significant decrease.
Government Spending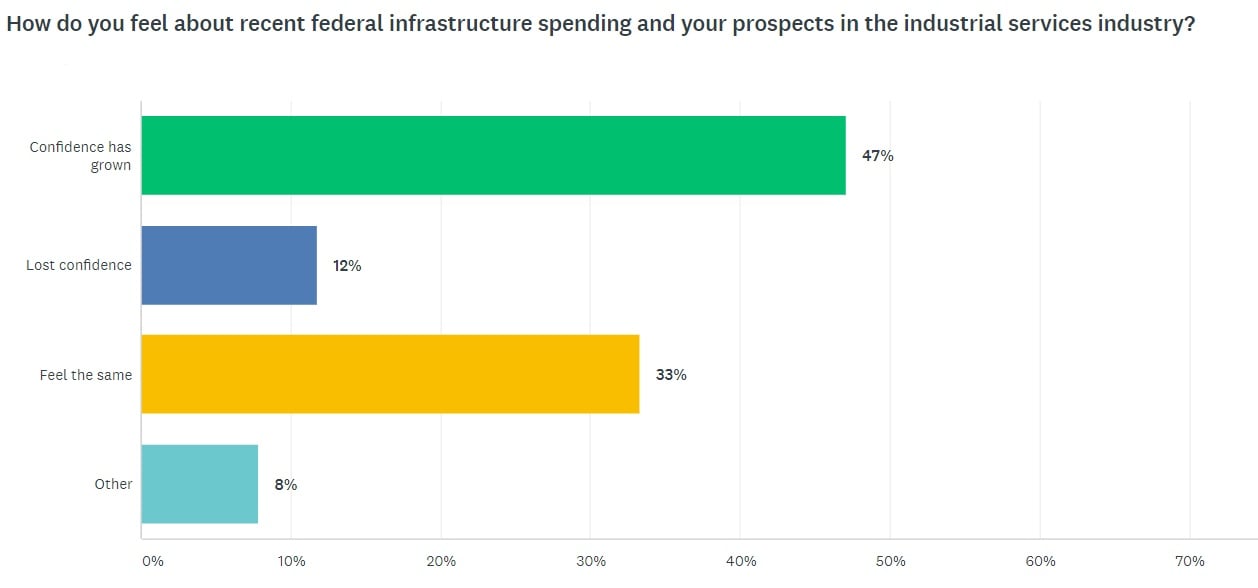 We also felt it was important to ask construction businesses how they felt about recent federal spending with Premier Scott Morrison committing $205 billion in stimulus into the economy. 47% said their confidence has grown due to government spending, 33% feel the same and 12% had lost confidence.
The Pain Points
Finally, we asked our survey-takers what they think will impact them the most over the next 12 months. Some respondents felt optimistic about government spending and projects trying to support local by using local contractors and equipment. However, a lot of responses showed that many businesses are still concerned about a lot of factors.
Here are the top 7 factors impacting construction businesses in 2021:
Lack of work
COVID and border restrictions
Cashflow issues
Retaining staff
Lowering their rates
Untrained staff
Competition in the market
Business Activities in 2021
So, over the next 12 months, you can expect construction businesses to be doing a lot of things to grow their business or to just keep their businesses afloat.
Check out these fast facts from our respondents concerning business activity over the next 12 months:
59% said they're going to hire employees.
51% said they will purchase more equipment.
29% will sell equipment.
25% will get a contract reviewed.
16% will lease out equipment.
16% plan to invest in a marketing plan.
16% will buy software.
10% want to automate parts of their business.
8% will lay off or stand down staff.
8% want to buy another business.
6% will merge with another business.
6% will extend business credit.
4% want to expand internationally.
4% will wind-up their business.
4% will reduce their marketing spend.
2% will purchase a franchise.
Get to Know Our Respondents
Location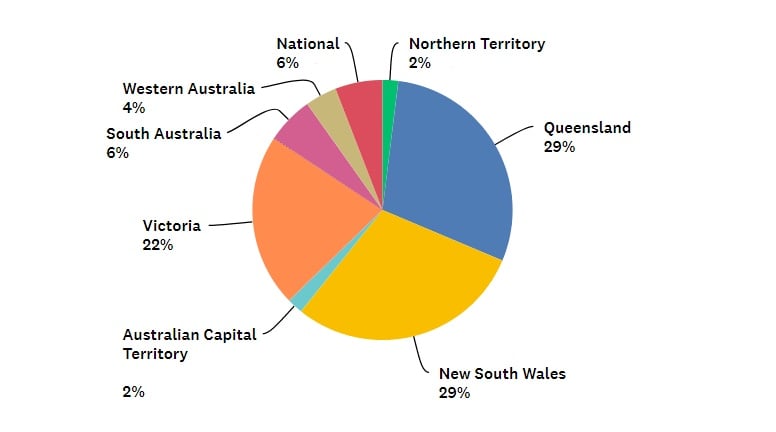 Area of Work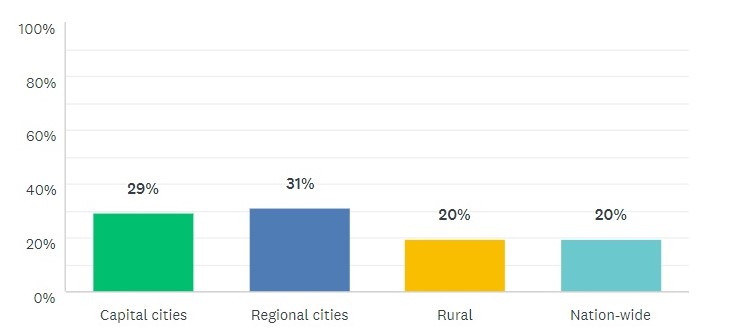 Business Size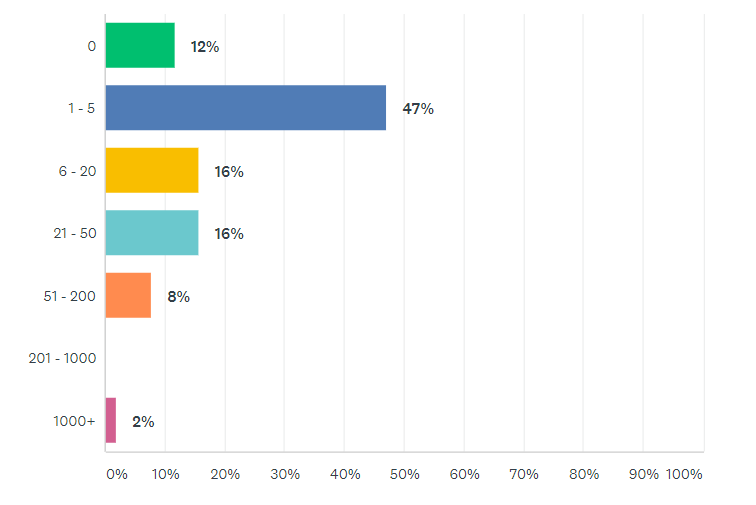 Business Duration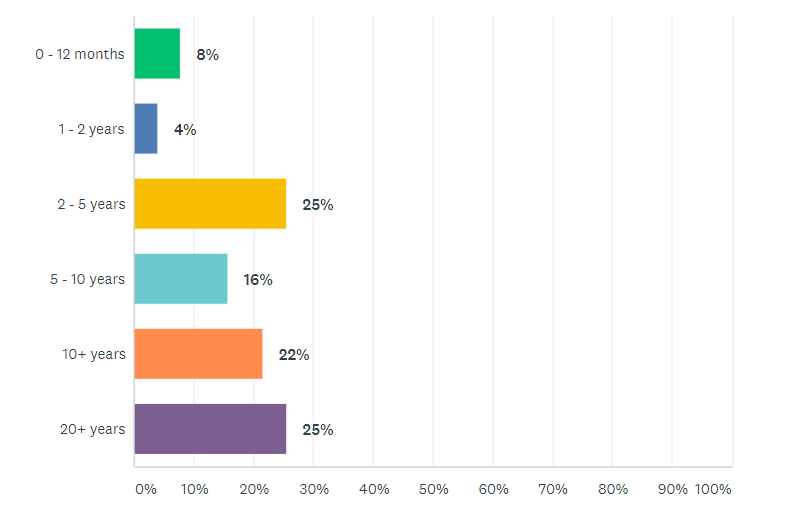 If you're interested in learning more about the data we gathered from our Industrial Services Happiness Index Survey, read our last article, 'How COVID-19 Impacted Construction Businesses in 2020.' If you're looking for a way to take your business online, contact iSeekplant today.
Make sure to sign up to The Flapping Mouth below and be on the lookout for other surveys we run in the future.