Operating a trencher takes skill and experience, but not a licence. Now that's a top level answer, but if you're seriously looking to operate a trencher, whether it's a tracked trencher, ride on trencher or walk behind trencher, you need to undergo training before you start working.

If you're a private citizen looking to dry hire a trencher - not a business - the training you need to undergo is normally more casual, but at the same time you are more likely to hire a smaller machine like a walk behind trencher. The training you generally receive would be a quick demonstration from the trencher hire company. Keep in mind though some hire companies will refuse to dry hire to inexperienced operators, which is why it's always a good idea to wet hire.

To be able to operate a trencher on a work site, you need to be able to prove your competence on the machine, especially on the bigger tracked trenchers. Below we discuss the various factors that contribute to approving a trencher operator to work on site.
How to be an approved trencher operator
Since the Work Health and Safety Act 2011 the need for a license to operate a trencher or other earthmoving machinery, such as an Earthmoving or Particular Crane license has been revoked. This was to help skilled and experienced earthmoving operators move more freely across job sites and machines.

To get onto a job site you first have to go through the project manager or the person conducting a business or undertaking (PCBU). They have a checklist of all the important things you need to qualify for to be approved to operate a trencher. An important factor that is taken into consideration is your experience. Keeping a log of the projects you have done, the hours you have worked and specific machines you have worked on if a great way to prove your competency. You can also take verification of competency assessments at most earthmoving training providers.

You also need to be able to prove, with evidence, that you are a safe operator and have experience on worksites. This becomes more and more important the bigger the project gets. If you're working on a major civil infrastructure project that has hundreds of workers working at any point, the project manager or PBCU will be extra diligent with who they let on site.

If you want to be a trencher operator your best way is to gather experience wherever you can. Find a company that operates trenchers and reach out to see if you're able to gain experience through them. Formal trencher operator courses are hard to come by so when you get an opportunity to have an experienced trencher operator pass on skills, take it.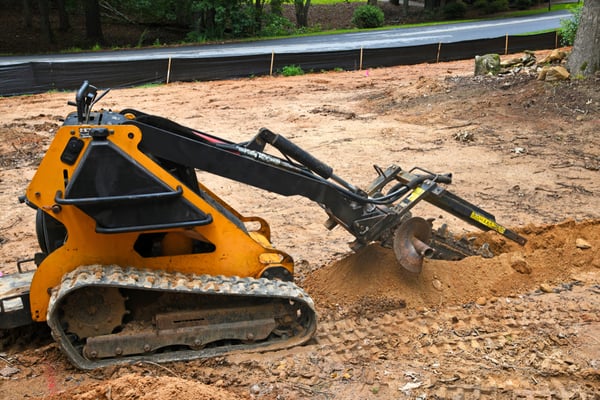 How to hire a trencher operator
If you need to hire a trencher and operator, whether you're a project manager or a private resident you need to ensure they have the skills necessary to safely and effectively operate a trencher. You need to ensure they have experience in the work you are hiring them to do, so ask them about the work they have completed in the past, and records if you deem it necessary. Ensure that they understand the safety protocols suounding excavation and take the necessary steps to identify underground utilities before digging. If they can tick these two boxes you've found yourself a reliable trencher operator.
Ready to hire a trencher?
Now you know the license rules and how to hire a trencher operator, what are you waiting for? ISeekplant has a range of trenching machines and equipment for hire across Australia. If you need a tracked trencher, ride on trencher attachment, rock wheel trencher or walk behind trencher we have a supplier near you. Search our listings now or give us a call on 1300 691 912 to arrange a trencher hire.