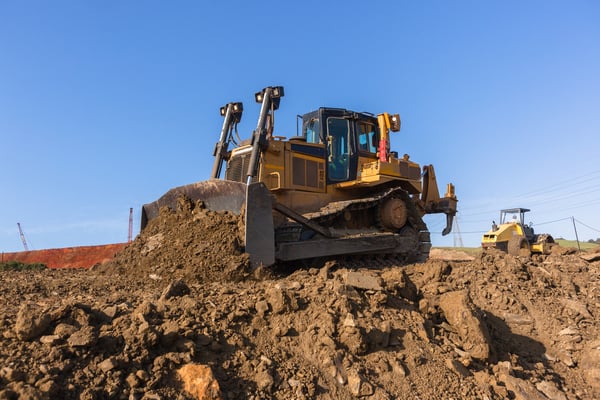 Which dozer attachment should I use?
But which of these dozer attachments for hire are useful to you? A good place to start working that out is looking at what each of the attachment's capabilities are, and checking if you need that functionality for your next dozer hire job.
How does a blade attachment on a dozer help?
Blades are crucial attachments of dozers, and there are so many blade options available that it can be tricky to pinpoint a typical 'standard' blade for a particular piece of equipment. Commonly, though, there are a handful of blades used in most dozer hire projects.
S Blades (straight blade) Hire

The straight blade, or the 'S blade', is the most common type of dozer blade. Essentially, the S blade is a short, horizontally straight blade with no side wings to prevent material from spilling off the edges of the blade. The S blade is not ideal for gathering and pushing higher quantities of material, and is better equipped for dozing compacted surface material, backfilling and ditching. Most dozers available for hire are newer models and allow for blade angling.
Also known as 'push plate' blades, cushion blades are reinforced to push other pieces of equipment as opposed to typical earthmoving materials. They're used to push load scrapers and track-type tractors, and their heavy duty design typically includes a wear-resistant center liner plate and a reinforced cutting edge section.
Sidewall blade hire is engineered for pushing large amounts of wood chips or similar materials to minimise material spilling. They're fantastic over long distances without leaving windrows, and many sidewall blade hire options include dual cutting edges for increased loading speed and sidewall rigidity.
These blades can be rotated outward to disperse material on each side, or turned inward to scoop material inwards. These versatile blades are great for a range of applications, and worth asking about when you go to hire a dozer.
These blades allow your grader plant hire to cut and clean ditches. Sloping blades are designed for grading in dirt and gravel, as well as light dozing. These blades are great to use for finishing grade work in construction and landscaping applications.
PAT blades are able to be angled and tilted from the comfort of the driver's seat. These blade types are typically used in grading, backfilling, land-clearing and spreading operations. They're powered to lift, angle and tilt in essentially every desired direction. The shape of an individual blade determines its best working purpose, and most PAT blades operate by use of a joystick located within the dozer cab.
How does a Winch attachment on a Dozer help?
Winches can be a great way to handle tough towing challenges your dozer hire project may face. There are a range of winches for hire, and they range in their towing capabilities, as well as maximum line speed and overall weight. Typically used in mining, railroad wreck recovery, large pipeline construction and conveyer relocation, winches are great for working under sustained loads for long periods of time without adding excess heat to the dozer hydraulic system.
How does a boom attachment on a Dozer help?
In certain applications, booms are used to allow the equipment to maneuver in different ways. A great example of a boom being utilised on a dozer is a mounted side boom, which is commonly used for pipe-laying applications, however is also useful for railroad work and other dozer hire applications.
Where do I get the best dozer attachment hire prices?
If you're looking for expert advice about the best dozer attachment hire options for your next project, get in touch with iSeekplant or check out the dozer hire listings on our website. You can browse through many different dozer hire suppliers and find the best dozer attachment hire rates available. We have thousands of dozers for hire across Australia. Whether you need a machine in Brisbane, Sydney, Melbourne, Canberra, Perth, Darwin, Adelaide or more rurally, our network of suppliers are here to help you.
Be sure to subscribe to the Flapping Mouth Blog to make sure you never miss our daily content including reviews, licence guides, hire rates guides and leading industry insight.