If bigger truly is better, then meet the best in the industry – the Komatsu 575A-3SD Super Dozer! With an operating weight of 152 tonnes, blade capacity of 69m3 and exerting ground pressure of 159 kPa, it is the largest and most productive dozer in the world by a considerable margin. Beyond the bragging rights, however, what is the real appeal of such a large machine? Simply put, it comes down to efficiency – bigger dozers push more material per hour, per shift, for a lower overall cost per cubic metre.
The Komatsu 575A-3SD engine is up to the test
Powering a machine of this size is no mean feat, but the SA12V170E engine is up to the task. Delivering 858 kW at 1800 rpm, Komatsu have mounted it to the main frame with rubber cushioning to minimise vibration and noise. To enhance fuel efficiency, it features a turbocharger, direct fuel injection and an aftercooler. Komatsu are proud to engineer and manufacture the power train, frame, hydraulics and other major componentry, resulting in machines that are designed to seamlessly integrate for superior production, reliability and operator comfort.
Need more work? Register your plant hire company on iSeekplant for free.
Efficiency was in Komatsu's mind when they designed the 575A-3SD
To increase efficiency during long pushes, the 575A-3 features an Automatic Torque Converter System. This mode allows automatic engaging of the torque converter lockup clutch, which transmits all engine power to the transmission. This in turn increases ground speed, reduces fuel consumption and creates faster cycle times. The Super Dozer blade features an innovative design which Komatsu claim is 15% more productive in level dozing. This is achieved through the full range of movement the blade can achieve with its three basic positions of Dig, Carry and Dump. So, in addition to the significant blade holding capacity, it pushes larger volumes of material against the same soil resistance.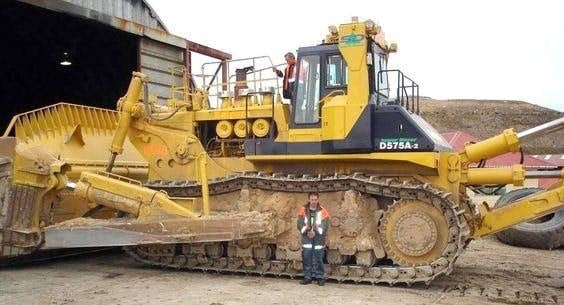 The 575A-3 is also equipped with a power train electronic control system. This optimises machine performance by sensing the amount of operator control (lever movements and operation of switches) and machine sensor signals to calculate and accurately control the transmission, torque converter, steering clutches and brakes. The Electronic Controlled Modulation Valve (ECMV) automatically evaluates and adjusts clutch engagements and considers various operating conditions such as gear speed, shifting pattern and revolutions. The result is smoother clutch interactions, enhanced reliability and lifespan of its components and superior riding comfort for operators.
Comfort is key for the Komatsu 575A-3SD
Komatsu have ensured the cab is a comfortable and safe operator environment in the 575A-3. A panoramic view of the working environment is delivered through the pentagonal cab, which has an air filter and higher internal air pressure to avoid dust from entering. The Palm Command Control System (PCCS) is an ergonomically designed joystick system for both travel and blade operation. The intuitive joysticks allow for outstanding fine control motions in more delicate situations. The easy-to-read monitor with continuous self-diagnostic functions will keep the operator updated on any potential machine issues while they enjoy their shift from the comfort of their suspension seat.
Conveniently located maintenance points are a key inclusion of the 575A-3, so inspections and "preventative maintenance" can be carried out with ease. A centralised service station houses all the primary filters and is located on the right side of the cab. Power train components have been cleverly sealed in a modular design to allow dismantling without oil spillage and the hydraulic piping for tilting the blade is housed in the push arm to protect it from the elements.
Need more work? Register your plant hire company on iSeekplant for free.
Komatsu 575A-3 Dozer Specs
Engine
Model: Komatsu SA12V170E
Type: 4-stroke, water-cooled, direct injection
Aspiration: Turbocharged, aftercooled
Number of cylinders: 12
Bore: 170 mm
Stroke: 170 mm
Piston displacement: 46.3 ltr
Horsepower rating @ 1800 rpm
Net power SAE J1349 1,150 HP / 858 kW
Governor: All-speed, electrical
Lubrication system
Method: Gear pump, force lubrication
Filter: Full-flow and bypass combined
Weights
Tractor weight: 114,580 kg (including rated capacity of lubricant, coolant, full fuel tank, operator, and standard equipment)
Operating weight: 152,600 kg (including Super Dozer blade, counterweight, steel cab, ROPS, operator, standard equipment, rated capacity of lubricant, coolant, and full fuel tank)
TORQFLOW Transmission
Komatsu TORQFLOW transmission consists of an air-cooled, 3-element, 1-stage, 1-phase torque converter with lock-up clutch and a planetary gear, multiple-disc clutch transmission which is actuated by ECMV (Electronic Control Modulation Valve) and force-lubricated for optimum heat dissipation.
Travel Speed
1st Forward: 3.7 km/h
1st Reverse: 4.3 km/h
2nd Forward: 6.6 km/h
2nd Reverse: 7.7 km/h
3rd Forward: 11.6 km/h
3rd Reverse: 13.3 km/h
Final Drive
Triple-reduction final drive uses two-stage spur and single-stage planetary gears (five) to minimize transmission of shock to power train components. Segmented sprocket rims are bolt-on type for easy in-the-field replacement.
Steering System
PCCS lever, joystick-controlled, wet multiple-disc steering clutches are spring-loaded and hydraulically released. Wet, multiple-disc, pedal/lever-controlled steering brakes are spring-actuated, and hydraulically released, and require no adjustment. Steering clutches and brakes are interconnected for easy, responsive steering.
Looking to hire a machine? iSeekplant will find you the best free competitive quotes.
Undercarriage
Suspension: Oscillating equalizer bar and pivot shaft
Track roller frame: Box-section, high-tensile-strength steel construction
Rollers and idlers: Lubricated track rollers
Resilient equalized undercarriage: Lubricated track rollers are resiliently mounted to the roller frame with a series of X-type bogies whose oscillating motion is cushioned by rubber pads.
Extreme service track shoes: Lubricated tracks. Unique seals prevent entry of foreign abrasives into pin to bushing clearances to provide extended service life. Track tension is easily adjusted with grease gun.
Number of shoes: 49 each side
Grouser height (single grouser): 105 mm
Shoe width (standard) : 860 mm
Ground contact area: 94342 cm²
Ground pressure: 23.0 psi / 1.62 kg/cm² / 159 kPa
Number of track rollers: 8 (each side)
Number of carrier rollers: 2 (each side)
Extreme service shoes: 910 mm
Additional weight: 570 kg
Ground contact area: 99827 cm²
Ground pressure: 21.8 psi / 1.53 kg/cm² / 150 kPa
Coolant and Lubricant Capacity (refill)
Fuel tank: 2100 ltr
Coolant: 298 ltr
Engine: 195 ltr
Torque converter, transmission, bevel gear, and steering system: 345 ltr
Final drive (each side): 160 ltr
Hydraulic System
Hydraulic control unit
Maximum flow: 1258 ltr/min
Relief valve setting: 2,990 psi / 210 kg/cm² / 20.6 MPa
All spool control valves
Multi-chamber gear hydraulic pump
Control valves: Two control valves [Super Dozer]
Positions
Blade lift: Raise, hold, and lower
Blade tilt: Right, hold and left
Blade pitch: Forward, hold, and rearward
Hydraulic cylinders: Double-acting, piston type
Hydraulic cylinders: Bore
Blade lift (2 cylinders): 225 mm
Blade tilt and pitch (cylinders): 300 mm
Hydraulic oil capacity (refill): Super Dozer - 300 ltr
Where can you hire a dozer?
One word. iseekplant. We are the one stop shop for all your plant hire needs no matter your requirements. Having the nations largest network of dozer suppliers available for hire, whether you are in Brisbane, Sydney, Melbourne, Canberra, Perth, Darwin or Adelaide, we are here to help. You can get the ball rolling with us in just a few quick clicks by getting rates with us today!
To keep up to date with all of the latest industry and project news, subscribe to iseekplant's Constructionsht blog today! We publish great daily content primed for the construction industry including licence and hire rates guides .