The 260E John Deere dump truck features a redesigned cab with upgraded chassis and axles which makes work much more comfortable for the operator while minimising maintenance costs.
John Deere is perhaps better known for its range of tractors, with the famous green and yellow liveried machines a popular choice for farmers across Australia and the world. But the company also engineers a range of Articulated Dump Trucks (ADTs). The question is, how well does the John Deere articulated dump truck range stack up against the competition? We took a closer look at John Deere's new 260E ADT to find out.
John Deere 260E Dump Truck Specs (overview)
Net Power:

239 kW (321 hp) at 1,900 rpm
Rated Payload:

24 192 kg (53,334 lb.)
Heaped Capacity: 15.0 m3 (19.6 cu. yd.)
Engine Model: PowerTech PSS 6090
For full specs - see below
Need more work? Register your plant hire company on iSeekplant for free:

Drew's Review
The new John Deere dump truck E-series features a number of useful upgrades over the previous generation D-Series articulated dump truck. The new models feature a redesigned cab with upgraded chassis and axles which make life much more comfortable for the operator while reducing maintenance costs.
The 260E ADT is a new entry model for the E-Series, but it comes with a more than adequate 321 horsepower engine and the latest generation ZF transmission. While this is enough for most mid-size applications, those in need of more power might want to consider the updated 310E which comes with a juiced up 354 horsepower engine and ZF transmission.

But one of the best things about the new John Deere ADT range is ZFs new automatic differential lock which provides both cross-axle and inter-axle locking options. This allows operators to make short work of steep or soft terrain and improve stability on rough sections such as quarry paths and access roads.

Reliability was also a major consideration when designing the new articulated dump truck models, John Deere has installed heavy-duty axles which can be fitted with optional cooling allowing them to operate reliably in extreme operating environments, while hydraulically actuated disc brakes are provided on all three axles to improve safety and stability.

The range of standard features on the new John Deere ADT models is also impressive with auto dump, automatic descent control, hill hold, shuttle shift and load assist all coming as standard. All of this means the 260E ADT is easy to control, even for inexperienced users which should make this model popular with plant hire companies.
Machinery Owners Australia
Closed group · 1,088 members
This group is for machinery owners across Australia to share news, advice and stories!
Four reasons why the 260E John Deere articulated dump truck should feature on your fleet list:
1. Balanced weight distribution and adaptive front suspension provide excellent stability in all conditions.
2. The super quiet interior makes long days in the cab a breeze.
3. Excellent range of standard equipment and ease of use ensures the model will be popular with plant hire companies.
4. Easy maintenance from colour coded service points which can be accessed from ground level.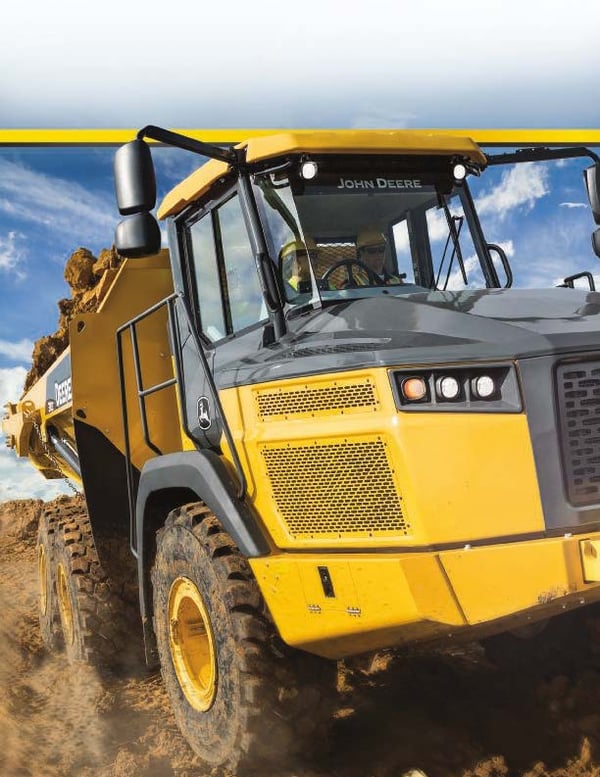 Key Features of the John Deere 260E ADT
Updated cab designed for comfort
One feature of the old D-Series articulated dump trucks that was not liked by operators was the noisy and uncomfortable cab. Thankfully John Deere has addressed these issues with the updated cab design of the new E-Series which has improved access and comfort levels.

The new cab is a pressurised design which helps to keep noise and dust outside where they belong. In tests, the new cab recorded just 69db a significant improvement of the previous generation. The new design also has improved access with a wider entryway and steps. And once inside there is a new fully adjustable, air-ride seat which makes for easy riding over any terrain.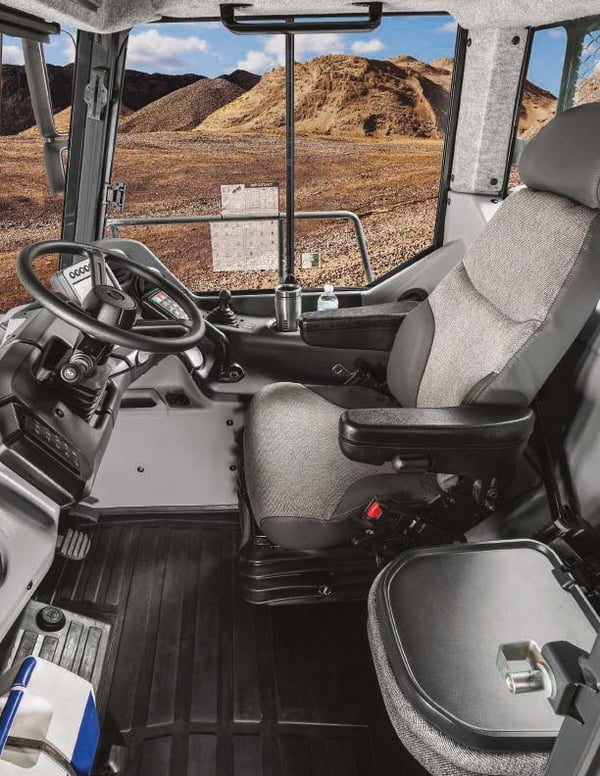 Need more work? Register your plant hire company on iSeekplant for free:
New John Deere articulated dump truck features help keep operators safe

No matter if you're working down a mine, in a quarry or on a construction site, the safety of workers is a top priority. To help protect workers the 260E ADT comes with a range of features that enhance safety both inside and outside the cab.
Standard safety features include:

Automatic shutdown – The engine can be programmed to shut down after a defined period of inactivity. This helps to reduce noise on-site while also contributing to reduced fuel and maintenance costs for the operator.
Auto-horn alerts – Auto-horn helps operators comply with MSHA regulations by sounding an alert when the vehicle is started, moves forward, in reverse, or changes direction.
Ground-level service – Unique to John Deere ADT's and plant equipment, colour coded ground level service points allows operators to carry out daily checks from the safety and convenience of the ground. Operators can not only check fuel and diesel exhaust fluids they can refill them without having to mount the vehicle.
LED work lights – Lighting has been improved by fitting LED work lights on both the front and rear of the unit. A collection of stairway lights has also been installed which can be operated from inside or outside the cab allowing for safe alighting and mounting of the vehicle at all times.
Remote parking brake release – This feature allows the parking brake to be released without having to climb under the vehicle. This important safety feature reduces the risk of injury should a tow be necessary.
Rollover protection – An important safety feature on any articulated dump truck, automatic rollover protection prevents the dump body from toppling over when it detects the rear chassis is off-balance. Once safe operating levels have been exceeded the system will prevent the dump body from raising further and display a warning message in the cab.
Reversing camera – Most ADT accidents happen when the vehicle is in reverse, a reversing camera is a great way to reduce such accidents. The camera image can be displayed via a range of in-cab monitors ensuring obstacles are clearly visible to the operator when backing up.

Improved operator efficiency
The new E-260E John Deere dump truck also provides improved power-to-weight ratios and hauling efficiencies compared to the previous generation D-Series. In-field weight calibrations can also be carried out quickly and accurately which ensures the vehicle is operating at its maximum payload for each pass. This data can then be transmitted live to the site office to help planners set accurate daily production levels providing further efficiency gains.
Need more work? Register your plant hire company on iSeekplant for free:
Increased uptime with John Deere WorkSight

The 260E ADT also comes with John Deere WorkSight telematics software which helps operators improve productivity, increase uptime and lower operating costs. The software monitors real-time data which can be relayed to the site office or directly to the dealer to help monitor usage and diagnose faults.

A customisable support system is also available via John Deere dealers to help maximise equipment availability. By accessing data from WorkSight dealers can identify faults, plan maintenance intervals and provide preventative maintenance services to reduce vehicle downtime. The system can also be customized to suit operators specific needs, such as keeping parts onsite and providing fluid sampling services.
John Deere 260E ADT Dump Truck Specs
Dimensions
Overall Length:

32 ft in/9740 mm
Driveline
Engine Model: PowerTech PSS 6090
Displacement: 549.2 cu in9 L
Engine Manufacturer: John Deere
Emission Rating: Tier 4
Rated Speed:

1900 rpm

Parking Brake Type:

Disc – Driveline

Transmission Type: Countershaft
Differential lock:

F: 100 / R: 100

Service Brake Actuation: Hydraulic
Tire size – Standard:

23.5 R25

Rear Suspension – Type:

Pivoting Walking Beam

Final drive:

Planetary

Retarder – Type:

Transmission

Transmission Manufacturer:

John Deere

Secondary Steering Type: Ground Driven Pump
Rear Suspension: Rubber Suspension Blocks
Front Suspension – Type: A-Frame
Front Suspension: Nitrogen/Oil-Filled Struts - Auto Levelling
Steering Type: Articulated
Capacities
Fuel Tank: 131 gal/496 L
Struck Capacity: 15.3 yd3/11.7 m3
Heaped Capacity: 19.6 yd3/15 m3
Description
Fleet Management: Yes
Steering wheel adjustment:

Fully Adjustable

Telematics Available:

Yes

Air Conditioner:

Yes
Performance
Gears - Forward / Reverse: 8F - 4R
Weights
Payload: 53334.2 lb/24192 kg
Gross Weight:102925 lb/46686 kg
Net Weight:49590.8 lb/22494 kg
Dimensions
Max height: 12 ft in/3660 mm
Articulation Angle:45
Hoist – Type: Twin, 1-Stage
Approach Angle:

24

Turns lock to lock:

4.2

Power Down:

Yes

Turning Radius – Inside:14 ft in/4270 mm
Turning Radius – Outside:26.3 ft in/8020 mm
Width Over Tires:9.4 ft in/2870 mm
Overall Length: 32 ft in/9740 mm
Interested in Hiring an Articulated Dump Truck?
Brisbane, Sydney, Melbourne, Canberra, Perth, Darwin, Adelaide and regional centres across the nation are all serviced by iSeekplant's extensive network of quality articulated dump truck suppliers. Reach out today to get the ball rolling for your project with a few simple clicks to get rates.
Check out some more Dump Truck machine reviews here:
Sources: John Deere