One of the most popular AC drive trucks within the Komatsu electric mining truck portfolio, the 830E-1AC started as a DC drive back in 1989 when it was first released. While packed with both standard and optional features which we will explore, perhaps the most compelling is the dedication to simplicity that Komatsu have exacted in their design of the 830E. From the hydraulic system (which uses less parts than other major manufacturers), to the layout and overall maintainability of the machine, it is built to be a no-fuss, trusted site workhorse for owners and operators alike.
By using a single-tank configuration, Komatsu have ensured a straightforward source of braking, steering and hoist activation fluid. When coupled with replaceable filtration elements in-line, contamination from the hydraulic system has been negated, which makes servicing the 830E a breeze.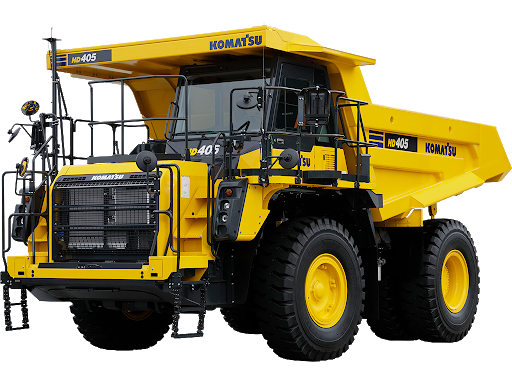 The 16-cylinder Komatsu SDA16V160 engine with 1865 kW power offers a lot more than simply grunt. It achieves superior fuel efficiency and a smooth power curve through its single stage turbocharging and is easily maintained. The Cummins CENSE monitoring system gives visibility to a raft of machine diagnostics to evaluate performance and the modular configuration of the power module means that the engine, radiator and alternator can be easily removed and replaced.
Need more work? Register your plant hire company on iSeekplant for free:
Electric drive and top-class safety features
The electric drive and dynamic retarder are outstanding features for both safety and performance. Operators can enjoy the peace-of-mind that the Invertex II AC control system offers, as the rear wheel motors are independently controlled, which provides class-leading control in the wet and reduces tyre wear. To negotiate the most challenging hairpins and steep descents that mining sites present, the 2983 kW 4000 HP retarding system provides braking capacity that is second-to-none. The 830E also comes standard with four-wheel, oil cooled service brakes which will be automatically activated if the hydraulic system falls below an acceptable level, to bring the truck to a complete stop.
To further assist with the demands of the modern mining site, the 830E benefits from double acting hydraulic steering cylinders in the power steering system. The result is a very impressive turning radius of 14.2 metres, which maximises manoeuvrability for loading and dumping in restricted conditions.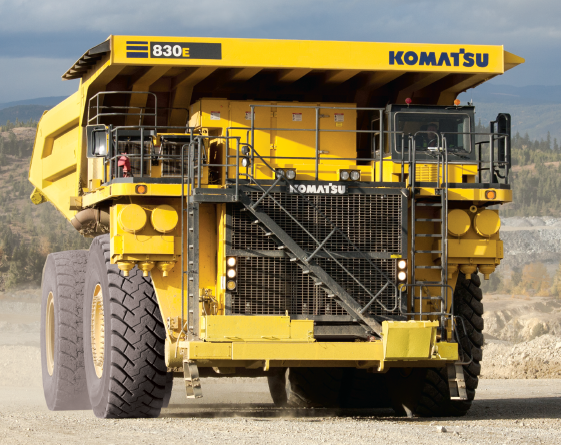 Automatic speed control and exciting tech
Operators will also love the automatic speed control, which manages wheel-speed independently to allow for any sudden adjustments required on unpredictable surfaces. They also have the ability to select a suitable travel speed when in either propel or retard.
As we know, time is money, which is where the Komatsu "KOMTRAX Plus" proprietary monitoring technology is so valuable. Using Telemetry Technology (satellites), the health of the machines major components, fuel usage, machine hours and production data can be viewed over the internet, with a view to enhancing safety and reducing maintenance and overall operating costs.
Need more work? Register your plant hire company on iSeekplant for free:
Operator fatigue is minimised in the Komatsu 830E
To reduce operator fatigue and ensure superior working conditions, the fully certified ROPS / FOPS cab is well-appointed. With adjustable air suspension seat with lumbar and arm supports, fully tilting and telescopic steering column, tinted glass and powerful air conditioning, the long shifts behind the wheel just got shorter. The new dash configuration is modelled on an automotive style panel and features lighted switches, gauges and clear instructive messages during operation if any faults are detected. Furthermore, the operator benefits from the Hydrair II Hydropneumatic Suspension, which utilises four nitrogen-over-oil cylinders to create a smoother driving experience over rough terrain.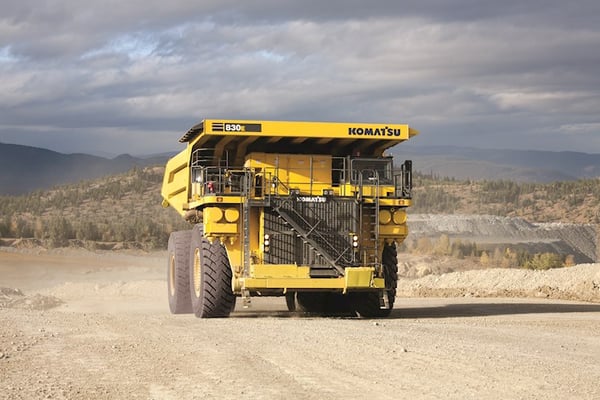 Komatsue 830E Operating Weight
The 830E has an operating weight of around 385 tonnes and an impressive payload rating of up to 221 tonnes. The operating weight may of course vary, pending any of the additional options you might add, of which there are many. The list includes a raft of lighting options, PLM scoreboard display, pressure fuelling remote, radiator shutters and 46/90R57 tyres.
Need to hire a dump truck? Through iSeekplant, you'll get the best competitive quotes:
Komatsu 830E-1AC Dump Truck Specs
Engine
Model: Komatsu SDA16V160
Fuel: Diesel
No. of cylinders: 16
Operating Cycle: 4 cycle
Horsepower, Gross: 1865 kW / 2500 HP
Horsepower, Net: 1761 kW / 2360 HP
Rated RPM: 1900
Weight (wet): 9,608 kg
Operation/Application
Payload capacity: 221,648 kg
Weights
Empty weight: 164,200 kg
Operating weight: 385,848 kg
Weight Distribution
Empty
Front axle: 50%
Rear axle: 50%
Loaded
Front axle: 33%
Rear axle: 67%
Dimensions (based on standard body)
Struck: 117m3
2:1 Heap: 147m3
Loading Height*: 6.71m3
*Exact load may vary due to tyre make, type and inflation pressure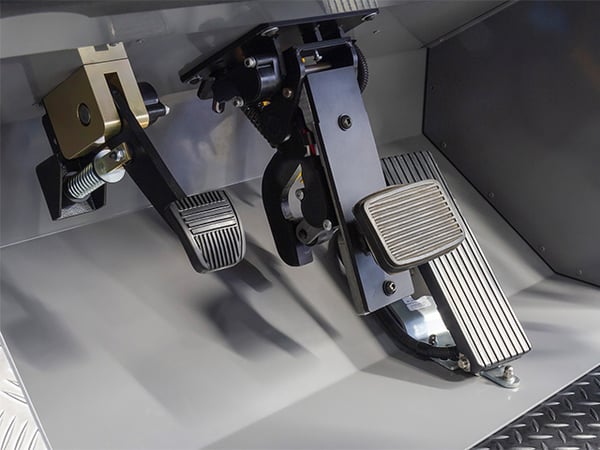 Hydraulic System
Steering: Accumulator assisted with twin double acting cylinders provide constant rate steering. Secondary steering automatically supplied by accumulator
Turning circle diameter: 28.4 m
Reservoir: 901 ltr
Filtration: In-line replaceable elements
Suction: Single, full-flow, 100 mesh
Hoist and steering: Dual, in-line, high-pressure
Brake component cabinet: Above deck, easily accessible with diagnostic test connections
Hoist: Two 3-stage dual-acting outboard cylinders, internal cushion valve, over-centre damping
Hoist times
Power-up loaded: 21 sec
Power-down: 16 sec
Float-down empty: 17 sec
Hoist: Tandem gear pump with output of 851 ltr/min at 1900 rpm and 17240 kPa
Steering and brake: Pressure-compensating piston pump with output of 246 ltr/min at 1900 rpm and 18961 kPa
System relief pressures
Hoist: 17240 kPa
Steering and brake: 27580 kPa
Alternator: G.E. GTA-41
Dual impeller in-line blower: 255 m3/min
Control : AC Torque Control System
Motorised wheels: GEB25
Ratio: 31.875:1
Speed (maximum): 64 km/h
Braking System
Standard: ISO3450/1996
Service brake – front: Hydraulically actuated, wheel speed disc, three calipers on a 1213mm O.D. disc
Service brake – rear: Hydraulically actuated, dual disc armature speed, two 635 mm O.D. discs per side, one caliper per disc
Emergency brakes: Automatically applied prior to hydraulic system pressure dropping below level required to meet secondary stopping requirements
Wheel brake locks: Switch-activated
Parking brakes: Spring-applied, hydraulically released, with speed application protection
Electric retarder (max.): 2983 kW / 4000 HP. Continuously rated high-density blown grids with retard at engine idle and retard in reverse propulsion
Tyres and Rims
Tubeless, standard tyres: 40.00 R57
Standard five piece rim: 737 mm x 1488 mm x 152 mm rim assembly
Typical tyre weight: 21081 kg
Service Capacities
Cooling system: 568 ltr
Crankcase: 280 ltr
Hydraulic system: 946 ltr
Motor gear box (each): 38 ltr
Fuel: 4542 ltr
Interested in hiring a dump truck?
If the answer is yes, you could not be in a better place. Whether you are in Brisbane, Sydney, Melbourne, Canberra, Perth, Darwin or Adelaide or more regional areas, we have your dump truck hire needs sorted. Size, duration of hire, the need of an accompanying operator are all things you need not to worry about with our extensive network of suppliers here to service your needs. Your journey with iSeekplant can start today simply via using our get rates tool with a few quick clicks. If you still need more information why not read our price guide to dump truck hire!
Check out some more Dump Truck machine reviews here:
To keep up to date with all of the latest industry and project news, subscribe to iSeekplant's Flapping Mouth blog today!