Currently, to operate a scraper you don't require a licence. The person conducting or undertaking business on a worksite must determine whether you are competent in operating machinery. This usually means that you should undertake formal training where you will be provided with a competency card. This card in combination with specific training with the relevant scraper by the person undertaking or conducting business will mean that you are certified to use a scraper.
Are you looking to operate a scraper and wondering whether you need a licence or scraper ticket? The answer to this question is NO, you no long need a licence to operate a scraper. The Introduction of the Work Health and Safety Regulations in 2012 removed the mandatory requirement for a licence for earthmoving machinery such as excavators, dozers, skid steer loaders and of course, scrapers.

The introduction of this legislation doesn't mean anyone can just walk up and start operating a scraper. The law requires that the 'person conducting or undertaking business' must determine whether an operator is capable of using a machine correctly. This means that it is the responsibility of the site leader or person in charge of machinery to decide whether someone has had the proper training and experience to operate a scraper.

Can I use my old heavy machinery licence to operate a scraper?
If you have an old paper licence indicating you are certified to operate machinery such as scrapers this may not be valid. The person conducting or undertaking business at your worksite will be in charge of determining whether or not you have sufficient training to operate a scraper. Presenting your paper licence may help in showing the site manager that you have some experience - but usually, they will require more recent evidence of training to prove competency.

Site managers can face huge penalties if they don't check whether or not you have the proper training to operate heavy machinery such as scrapers. Therefore, it might be worthwhile to get more training if you intend to operate a scraper in the near future.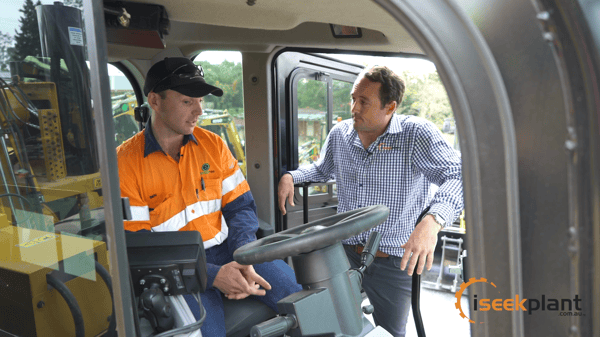 How can I demonstrate that I am competent in operating machinery?
There are many training providers that can train you in the use of scrapers. Once your training is completed, the provider will give you a proof of competency certificate. You can show this to the relevant personnel on-site to help indicate that you are competent and ready to operate scrapers.

The site manager will then provide you with training using the specific machine they intend you to operate to ensure they are compliant with the requirements of the Work Health and Safety Regulations.

Many training providers offer the RIIMPO325E scraper operations course. This is a nationally recognised course that will assist you in proving your competency by providing you with a certificate of completion and a wallet-sized competency card. The time it will take to complete one of these courses will depend on how much previous experience you have, but they typically run for 1 to 5 days. They usually consist of both theoretical and practical assessment.
The course will cover topics such as:
Legal, health and safety requirements
Scraper operation
Machine maintenance
Work area clean up
Emergency procedures

Looking to drive a scraper on the road?
In order to drive a piece of heavy machinery such as a scraper on roads, the machinery must have a permit or be registered to drive on roads. The driver must have a competency card to drive the machine and their driver's licence must be updated to include the specifications of the machine.
How to hire a scraper operator
The ensure you hire the right operator for the job, you should be sure that they are competent in operating the correct type of scraper and various top scraper brands. There are four common types of scrapers:
Single-engine wheeled scraper machine
Dual-engine wheeled scraper machine
The single-engine wheeled scraper is the most common scraper used on basic construction sites. The dual-engine scraper is more suited to tougher and rougher terrains that you might find rurally, such as gravelly dirt. The elevating scraper homogenises and mixes material such as clay, sand and topsoil. Pull type scrapers are commonly used on smaller projects such as farming and are required to be pulled by a tractor or other vehicles to be moved.
Once you choose the right scraper for your project, the next step is finding an operator who specialises in the use of one of these machines. Make sure you check their training certifications and experience as you are required to by law. If they intend to operate their machine, then ensure that it has up to date maintenance.
Looking to hire a Scraper?
Now that you know whether or not you need a licence to hire a scraper, it's time to hire one! iSeekplant has a range of scrapers available for both wet and dry hire located all across the country. Be sure to use the iSeekplant get a quote tool to find competitive prices for scraper hire from thousands of suppliers in Sydney, Brisbane, Canberra, Melbourne, Perth, Adelaide and Darwin. Feel free to contact us for help or with any questions by calling us on 1300 691 912 or emailing us on projects@iseekplant.com.au.
Subscribe to iSeekplant's Flapping Mouth blog below to keep up to date with all of the latest industry and project news, including our scraper hire rates guide!