Is your property on a downward slope? Are you trying to keep soil from falling loose from under your house? Do you need to divert the flow of rainwater runoff from your foundations? If you answered yes to any of these questions, you most likely need a retaining wall.

A retaining wall is a structure that holds back any material – usually soil – and prevents it from eroding. Its most basic function is to push back (i.e. retain) against gravity exerted by the earth behind it.

A retaining wall is no ordinary wall. It:
Makes land usable and livable on slopes.
Prevents water from eroding land.
Provides landscaped seating on properties.
Adds interest to residential spaces.

You may also need a retaining wall in instances where soil has accumulated, or if a slope has been partially excavated and the remaining earth needs support — because of this, constructing a retaining wall for your home is not simple or cheap. Here are the details you need to know about the costs associated in building a retaining wall.

What are the different types of retaining walls?
There are different types of retaining walls, each used for different purposes. The most common ones include the following:
Anchored – This type comes with cables secured in the rock or soil behind the wall. It's effective for dealing with heavy loads, or when the wall needs to be thin.
Bored pile – As its name suggests, this type of retaining wall is made up of piles/shafts drilled into the ground, carried out by digging away the excess soil.
Cantilevered – These are made of concrete, masonry, or steel and shaped like an upside-down T, which is set underground. This gives the wall support against the pressure of the soil behind it.
Diaphragm wall – A diaphragm wall is a reinforced concrete structure built panel by panel onsite. It can be costly but saves on time and space.
Gravity – This type of retaining wall relies on its mass and weight to hold back the pressure of the soil behind it. It's usually made of concrete or stone.
Sheet piling – This wall is made up of sheet piles (of various materials like vinyl, aluminium, steel, wooden planks, or fibreglass) driven 2/3 of its length into the ground.
How much does a retaining wall cost in Australia?
A simple retaining wall can cost as low as $140 per square metre. However, the average cost of retaining wall projects is usually closer to $250 per square metre. This cost can differ depending on several variables. Let's go over that next.

Factors that affect retaining wall cost
While every homeowner's circumstances for building a retaining wall are unique, several common factors will affect your retaining wall cost.
Size
The longer, wider, and thicker, your retaining wall means the following:
The more materials you'll use.
The more time it will take to build the wall.
The use of larger and stronger reinforcement for the structure.
All of these factors combined will result in a higher price tag.
Access
Building a retaining wall requires tools, equipment, and building materials to carry out. If the project site is difficult to get to, your builder will have more difficulty bringing everything they need there. Furthermore, if your builder is forced to bring the gear and materials by hand, your costs will go up as well.
Soil
The ground where the wall will be built can affect how much you'll spend for your retaining wall. Here are a couple of ways:
Having large amounts of soil or bedrock may increase your excavation costs and foundation size.
If the soil is hard, the builders will have more difficulty excavating, which will drive your costs up.
Materials to be used
What materials will you use for your retaining wall? Concrete blocks? Hardwood? Your choice will directly affect how much you spend. Here are some estimated figures:
Treated pine – About $250 to $350 per square metre.
Hardwood – About $300 to $450 per square metre.
Sandstone blocks – About $300 to $550 per square metre.
Reinforced concrete blocks – About $400 to $680 per square metre.
Concrete besser blocks – About $550 to $700 per square metre.
If you're using some sort of stone veneer finish for your retaining wall, you'll spend more for the materials, and the need for a stonemason to install it.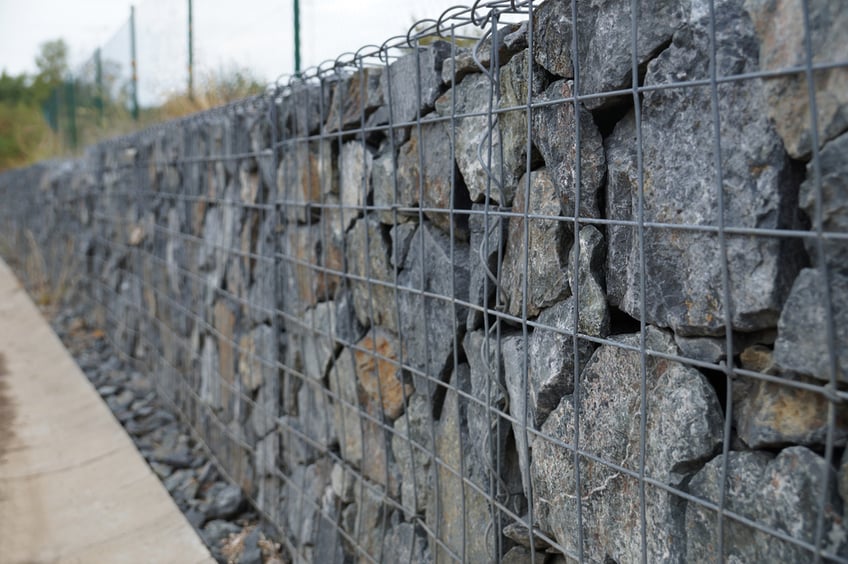 Spoils
Large retaining walls don't just use up more building materials; your builder will have to excavate more terrain (otherwise known as spoils) to create the retaining wall. Having more spoils means more work for your builder, which equates to higher costs.
Fill material
With more spoils due to a larger wall, your builder will need more fill material, placed behind the retaining wall. Fill material is usually made up of topsoil, rock, and other aggregates. Gathering it will involve intensive labour. The quantity of fill material you'll need will affect your retaining wall cost.
Design
Some design features – such as stairs or a drainage system – will influence the price of your retaining wall. Expect the cost of building a retaining wall on a slope to increase as well.
Use of heavy equipment
If your builder needs to move heavy materials, they may need to use heavy equipment like a skid loader, backhoe, or excavator. This will add to your total costs.
Location
Retaining wall costs may vary depending on where you are. Below are the average costs per square metre in several cities across the country:


| | |
| --- | --- |
| City | Average cost per square metre |
| Adelaide | $400 |
| Brisbane | $250 |
| Melbourne | $200 |
| Perth | $70 |
| Sydney | $150 |


In addition to labour expenses, location affects price because of factors like extreme weather or the risk of earthquakes. Places that frequently experience these calamities will require more waterproofing or structural reinforcement, which will naturally cost more money.

What is the cheapest retaining wall?
As mentioned earlier (see "Materials to be used" under "Factors that affect retaining wall cost"), the cheapest retaining wall material tends to be treated pine, which costs around $250 to $350 per square metre. While treated pine doesn't last as long as hardened materials like reinforced concrete blocks, you can reinforce it with steel posts to make it last longer.

How long do retaining walls last?
This depends on several factors, including the following:
The materials used for the wall.
If the wall is reinforced (e.g. steel posts).
The condition of the soil.
The amount of groundwater where the wall is standing.
How much weight the retaining wall is holding back.
The weather where the wall is on.

The most important of these factors is the materials used. For instance, hard timbers can last up to 20 years, while concrete and stone can be around for 50 to 100 years.
How can I find the best retaining wall cost possible?
It's really simple: iseekplant is Australia's go-to site for hiring equipment and contracting services. Through our website's large online directory, you can find and analyse several builders and contractors in mere clicks.

Bonus tips:
When you perform your search, get quotes from at least three builders, then compare their rates to get competitive retaining wall cost estimates.
Consult your local council to find out their requirements for retaining walls, especially since they vary from state to state. You'll need these details when you apply for a permit.

However, if you don't have the time to find a qualified retaining wall builder, you still have a couple of options that you can look into. Get in touch with our expert team at 1300 691 912, or email our Projects Team with your specifications. We will help you find retaining wall builders who will meet the requirements of your next project.