If you're a company that needs to complete sub-surface excavation in order to expose pipes, cables or other infrastructure for repair, replacement or maintenance, you'll understand why non-destructive digging is such a useful option.
A high-quality vacuum truck can remove soil, debris or other sub-surface material as quickly as more traditional methods, but with minimal risk of harm to underlying structures. The Vac-U-Digga vacuum truck has been specifically designed for non-destructive excavation, offering a dependable, fast and versatile solution to a wide range of excavation, clearance and drainage projects. Read on to discover how the Vac-U-Digga could transform the way you work.
Drew's Review

High-quality engine for reliable performance
One of the first things to notice about the Vac-U-Digga is that it's powered by a Kubota engine. With a global reputation and nearly a century of engineering experience to draw on, Kubota is best known for producing engines which are capable of high performance in punishing environments. A firm favourite for industrial engines, Kubota combines excellent fuel efficiency with plenty of power and minimal emissions - an advantage for any company that's eager to keep their activities as environmentally friendly as possible. Designed to run quietly, even when working towards the extremes of its capabilities, this sucker truck has plenty of capacity for speedy operation.
Machinery Owners Australia
Facebook group · 217 members
| | |
| --- | --- |
| | Join Group |
This group is for machinery owners across Australia to share news, advice and stories!
Great range of accessories on this vacuum excavation truck
If you want a vehicle that's got the right tool for every occasion, this vacuum truck ticks all the right boxes. Accessories include a choice of two different digging lances (2.5m and 2.8m), as well as a digging hose, a wash down gun, vacuum hose and a jetter. This gives you all the tools you need to excavate safely to a significant depth, as well as complete debris removal tasks, drainage jobs and surface cleaning activities. Generous tank capacities for both soil and water for jetting ensure that even big jobs can be tackled successfully in one attempt. The hydro evacuation sucker trucks available vary in size from 3000l soil capacity right up to 8000l - large enough to take on almost anything!
A priority for most customers is fast excavation. With many jobs being time-dependent, there is a real need for a sucker truck that can safely remove high volumes of soil, water or other detritus as quickly as possible. The speed of the Vac-U-Digga is impressive too! Estimates suggest it's anything from two to five times faster than the competition - exactly what's needed in today's competitive work environment. A number of innovative features on this hydro evacuation vehicle ensure that it's able to pump faster, harder and for longer than many others. A dependable workhorse, the Vac-U-Digga has the capability to work on tough jobs, as well as more routine tasks. Perhaps as importantly, the vehicle has been designed for easy maintenance, ensuring that performance can be maintained in the longer term with minimal downtime being required.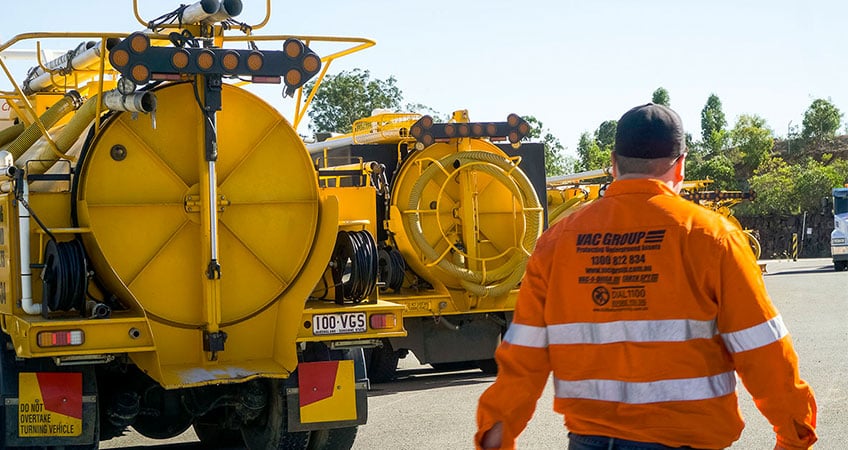 Aussie engineering is world class, which is why the Vac-U-Digga, proudly manufactured in Queensland, stands out from the crowd for all the right reasons. Not only is this sucker truck Australian-made, it's also been designed for domestic use. Australian geography and soil present challenges which are almost unique to our country - the Vac-U-Digga has been created to overcome the extreme conditions and harsh environments which our climate and geology present. This means that when you invest in a Vac-U-Digga vacuum truck, you get a vehicle that's got the technology, robustness and design to cope with heat, dust and mud as well as cold and moisture. An all-purpose workhorse, sucker trucks are a dependable, heavy-duty solution to a wide range of vacuum excavation tasks.
Driver comfort guaranteed!
Everybody wants to be fully licensed and comfortable while they work, which is why the fully adjustable seat and easy-to-use, in-cab hoist controls are always popular choices. Precision positioning and flow control come as standard, ensuring that fine movement is tightly regulated. This allows underground service locating or underground asset and cable locating to be completed successfully, even when a number of different structures are in close proximity to one another. A high degree of regulation also ensures that delicate, fine cables or other less-robust fixtures are protected from damage.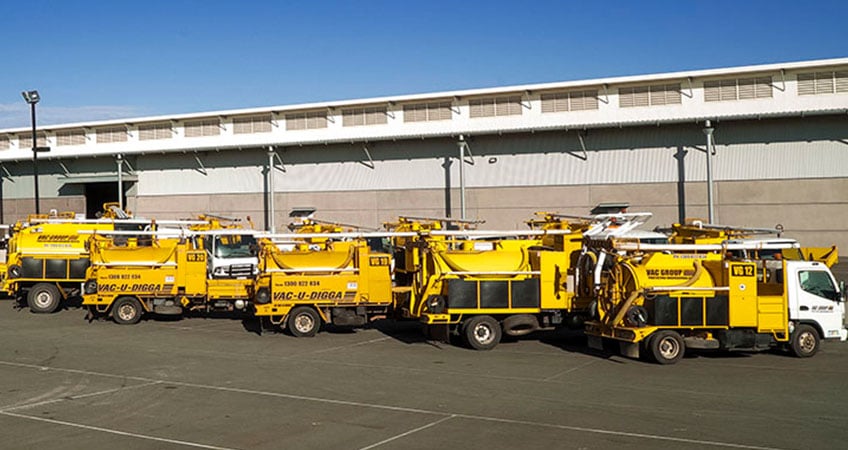 Vac truck rental available or why not consider purchasing a Vac-U-Digga?
The Vac-U-Digga is a dependable, high-performance hydro excavation truck which has been specifically created for the Australian market. Suitable for non-destructive digging, utility location, cable management and the control of flooding, detritus removal and drainage control, it offers an adaptable solution to a wide range of tasks. Ideal for companies working in telecommunications, energy, construction or civil engineering, it can also be a valuable investment for companies where drainage, waste removal or similar applications form a large part of their activities. A good all-rounder, easy to maintain, fuel efficient and built to meet tough environmental standards, we feel that this sucker truck is one of the best on the market. Because it's available in a range of capacities, it's possible to benefit from a vehicle that's exactly right for your requirements.
Buying or renting a hydro excavation truck - which option is going to be best?
Obviously, if you regularly use a sucker truck, investing in a new or used vehicle could ultimately be the most cost-effective solution. What many companies do is to start out by hiring a selection of different vacuum excavation vehicles in order to decide which one works best for them. Hiring vehicles enables thorough testing, helping to inform the purchase process. If you find that hiring is becoming a regular part of your outlay, it may be more cost-effective to purchase. For emergency or occasional jobs, hiring a high-grade, fast, dependable Vac-U-Digga that's capable of delivering what you need could be the best way forward. No matter what option you take, we feel that the Vac-U-Digga range provides the tough, durable performance needed to tackle the challenging tasks which are part and parcel of successful sub-surface working.

In need of a powerful excavation truck that won't let you down? The Vac-U-Digga is available from Vac Group. Enquire today! Alternatively if you think you are in the market for more of a short term trial, iSeekplant's extensive network of suppliers is here to help. Our network of suppliers sprawls nationwide including key areas in Brisbane, Sydney, Melbourne, Canberra, Perth, Darwin and Adelaide. We are just a few clicks away so get cracking and get competitive rates of a vacuum excavation truck in your area today.
Vac-U-Digga 3,000L Vac Truck Specs
Standard Features
60m 1/4inch Jetter
25m 3/4inch digging hose
2.5m digging lance
2.8m digging lance
Wash down gun
8m 100mm vac hose
Remote control
Conduit rack
Amber Beacon
Arrow board
Auto shut off
PVC water tanks
Lockable toolbox
In-cab hoist controls
Seat covers
Side bin(s) for tool storage
Ability to operate up to 100m from the truck
Unit Details
850 CFM blower (15 INHG Regulated to 10 INHG)
3600 PSI Water pump (Regulated to 2000 PSI)(32lt/min on 3000L unit)
Water tank capacity 1700L
Spoil tank capacity 3000L
Kubota V2403-M diesel engine
Total length 7010mm
Width 2300mm (excluding mirrors)
Height 3200mm
Gross legal mass (GLM) 12000 kg
Tare weight 7100 kg
Legal load 4900 kg
If there are any specific questions in relation to the 3,000L Vac-U-Digga please do not hesitate to contact via email craig.taliana@vacgroup.com.au or by phone on 0427 348 711(mobile) or 1300 822 834 (office).
Sources: Vac Group