Why is the brand of a concrete pump important?
The concrete pump has been long-held as one of the most essential machines across Australian construction projects with their distinctive functionality and unmatched performance in the space of liquid concrete transfer. So, whether renovating the home with a new driveway or starting the development of a commercial high-rise building, one thing for certain. A concrete pump will be there leading the way with impeccable reliability, efficiency, and productivity. So, what are concrete pumps used for?

It's no secret that concrete pumps are used for, well… concrete pumping. It's in the name! These machines are designed to quickly transfer liquid concrete to a destined location where it is then poured into concrete forms. From backyard pools and driveways to concrete slabs and high-rises - concrete pump hire will form the base to it all.

So, if concrete pumps all provide access to similar results, why does it matter which brand you choose? Well, why not pour your concrete by hand? Exactly… The answer is capability. Though seemingly straightforward, these machines feature a range of specialised technology that when built well, provide access to greater on-site results. Well-built concrete pumps and concrete pump trucks are simply more capable, reliable, and productive than their low-quality counterparts. So which brand should you choose?
What are the best Concrete Pump Brands in Australia?
The best concrete pump truck brands in Australia feature companies such as Schwing, Putzmeister, Liebherr and JunJin.
Here are the top four concrete pump brands in Australia
Discovering which concrete pump is best suited for your construction project is commonly the first step when looking to hire a machine, however, finding which brands lead the industry will likely always come next. So, are you looking for a 'budding' new line pump? A 'world-class' boom pump perhaps? Strap in! Here are our top four Australian concrete pump brands.

1. Schwing Concrete Pumps
Schwing is a pioneer brand of concrete pumping and placing equipment worldwide, bringing immense quality and outstanding value into the marketplace through a range of leading products. Today, Schwing manufactures in seven countries and are represented in over 100, lifting the benchmark of excellence and innovation.

Schwing concrete pumps are built with reliability, efficiency, and value at the forefront, featuring impeccable design elements which are the product of over three generations of continuous improvement. With a 75 year commitment and a dedication to quality repair and maintenance, you can expect support no matter the location.

When looking to hire a Schwing concrete pump, you are certain to get leading quality machines which well surpass industry standards and personal expectations. In the eyes of many, Schwing concrete pumps are amongst the smoothest, strongest, and best-valued machines on the market. You can rely on hire companies that use Schwing.

2. Putzmeister Concrete Pumps
Putzmeister have been global leaders in the world of construction since 1958, bringing some of the highest quality and most reliable concrete pumping, distributing, and placing machines into the market today. Today, Putzmeister manufacturers all over the globe, combining German engineering, technology, and expertise with high manufacturing standards to deliver innovative machines to international audiences.

Putzmeister concrete pumps are built on the back end of over 60 years worth of research, development, and innovation - bringing to life some of the highest quality and most versatile machines the world has seen. With service locations all over the world, you can be sure to receive local support wherever your project lies.

When looking to hire a 'world-class' concrete pump, you can be sure that Putzmeister will not disappoint. Through the significant investment and continuous dedication to research, development, and innovation - hire companies that go with Putzmeister are winners!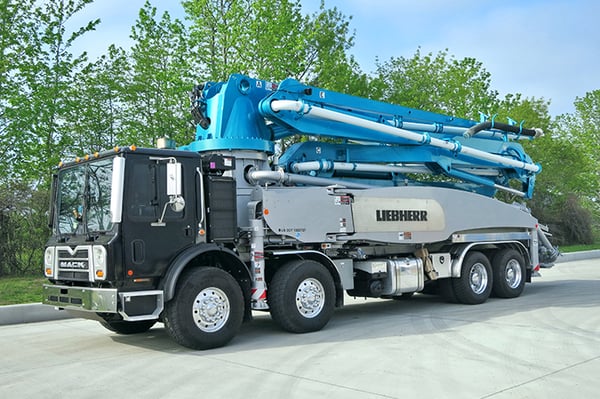 3. Liebherr Concrete Pumps
Liebherr is leading name within the construction, mining, and maritime industries, bringing 'world-class' German manufacturing into the marketplace through their innovative and high-quality products. Based on the concept of practical deployment and continual development, Liebherr has grown into one of the world's largest machine manufacturers.

Liebherr concrete pumps are expert in design, utilising the latest technological advancements to surpass industry standards in the areas of quality, reliability, and productivity. Still operating as a one hundred percent family-owned company, the Liebherr Group is backed by over 70 years of experience remains dedicated to safeguarding the highest level of benefit for all customers.

When looking to hire a concrete pump that's backed by decades of innovation and proven utility, Liebherr won't disappoint. The constant research and redevelopment behind these machines meets the highest demands for quality and service life, making them a no-brainer. You can bet on hire companies that use Liebherr.

4. JUNJIN Concrete Pumps
JUNJIN is one of the world's premiere manufacturers of concrete pumps and concrete pump trucks. With a strong history of excellence, JUNJIN continues to bring leading quality machines into the market, continually redeveloping and innovating what 'world-class' concrete pumps look like.
JUNJIN concrete pumps feature leading technology and a 'world-class' design that have positioned them as a preferred concrete pump manufacturer. Since their humble beginnings in 1979 as a concrete pump maintenance company, JUNJIN has come a long way, now competing with some of the biggest brands across the globe.

When looking to hire a concrete pump backed by decades of constant improval and a commitment to excellence, you can't go wrong with JUNJIN. These machines have a proven reputation of performance so, hire companies that go with JUNJIN are a win.

Hire the best brand concrete pumps at the best prices!
Do you know which brand of concrete pump is right for you? Perhaps you need a little more help…? iseekplant is here for you! With access to concrete pump hire Australia-wide, you can trust us to put you in contact with leading suppliers in Brisbane, Sydney, Melbourne, Canberra, Adelaide, Darwin and Perth.

You can browse our extensive list of concrete pump suppliers or use iseekplant's Get Rates tool for a completely free, no-obligation quote for your project!

Don't miss out on high-quality machines and highly-competitive rates! Regardless of your project, iseekplant is here to help!
Subscribe to the Flapping Mouth Blog below to stay informed about the current industry news and projects in Australia!