Looking to buy or hire a tipper truck but not sure how much material it can carry? Below we break down the safety rules for load capacities, the average carrying capacity of types of tippers, as well as general rules of thumb related to number of wheels and axles.
What types of tippers are there in Australia?
Tippers are prolific machines across Australia, and most mixed fleet plant hire companies & subcontractors have tippers in their yards. On iseekplant , we consider there to be the following types of tipper truck: 2-tonne tippers, bogie tippers (also called tandem tippers or body trucks), truck and dogs, belly dumpers, side tippers, semi-trailers, B-double semi-trailers & road trains. On our marketplace, we have categorised tippers by how their hydraulics tip the truck (and in what direction) and how big their payload capacity is:
What is a 2 Tonne Tipper? Really small rouse-a-bout tipper truck good for carting really small loads. Comes alive with landscaping tasks.

What is a Bogie Tipper? Usually has a capacity of up to 12-14 tonne. These are great for clearing rubbish and other site debris or carrying small payloads.

What is a Tandem Tipper? Is a slightly larger Bogie tipper, also called a Body Truck, and has a payload of about 14 tonnes.

What is a Truck & Dog? A truck and dog is usually a tandem tipper or bogie tipper, towing a dog trailer. A dog trailer has an axle set at both the front and back, plus a drawbar to connect the trailer to a towing vehicle. It has greater flexibility about the angle of the trailer whilst tipping.

What is a Belly Dumper? A belly dumper is a weird and wonderful thing that expunges its contents via an articulated hole in the base of the towing trailer, dumping into a space underneath the truck (rather than behind or in the side).

What is a Side Tipper? Side tippers expunge their material contents on the side, with the towing vehicle lifted via hydraulics to tip precisely on the side of the vehicle.

What is a Semi-Trailer? It is a larger, longer trailer hooked to a prime mover that has almost double or more capacity than a truck and dog, or truck and pig.

What is a B-Double Semi Trailer? It is a semi-trailer hooked to a prime mover, and towing an additional trailer.

What is a Road Train? It is up to 3 trailers hooked to a prime mover, with a massive capacity. Only ever seen on long-haul regional roads.
Click here if you want a rough rates guide to hiring a tipper .
Tipper Truck Capacities by Type of Tipper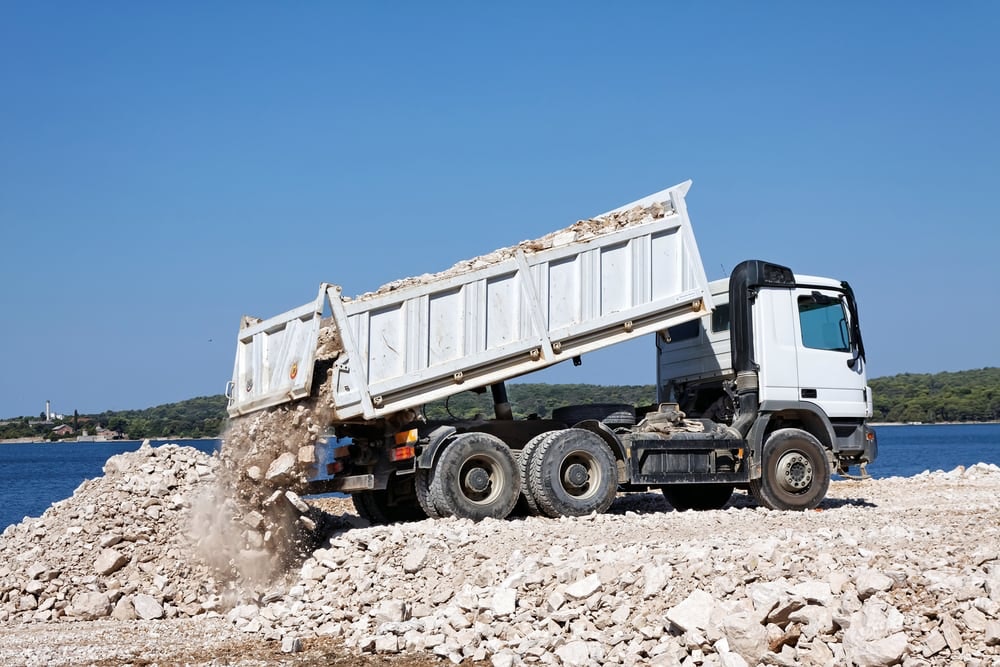 Width, length, wheel-base and trailer size remain the most telling factors when it comes to how much a tipper truck can carry. The distance between axles plays an important role in how much the tipper is allowed to cart on Australian roads. The types and purposes of tippers vary widely, from smaller backyard jobs through to large-scale project use. Some road-registered tippers, have the same capacity as an offroad articulated dump truck, for example. Some road trains carry the same payload as a rigid rear dump truck . You'll want to review width, length, and height, and then compare the previously outlined material volumes to deduce how many cubic meters are allowed in a tipper truck. Most road-registered tippers will have their legal payload limits emblazoned on stickers inside the cabins. Otherwise, the registered owner of the tipper will know how much it's legally allowed to carry. These are very generalist numbers, and really come down to what the tipper is safely registered to carry on Australian roads and the state of registration.
Average Tipper Truck Capacities
| | |
| --- | --- |
| Truck Type | Max Haul or Payload |
| 2 Tonne Tippers | ~2 Tonnes |
| Bogie Tipper | ~12 Tonnes |
| Tandem Tipper / Body Truck Tipper | ~14 Tonnes |
| Truck and Dog Tipper | ~20 - 40 Tonnes |
| Truck & Pig Tipper | ~20 - 40 Tonnes |
| Belly Dumper | ~14 Tonnes |
| Side Tipper | ~43 Tonnes |
| Single Semi Trailer Tipper | ~30 - 70 Tonnes |
| B-Double Semi Tipper | ~55 - 68 Tonnes |
| Road Train Tipper | ~70 - 175 Tonnes |
Tipper Capacity by Wheel Configurations & Axle Length
Wheel configurations & distance between axles decide safe tipper truck load capacities. If you're wondering which tipper can best handle the materials you need to be moved, you'll want to review the wheel configurations and axle length of the tipper to figure out the tipper truckload capacity. Some wheel configurations and their load capacities include (as a general rule of thumb):
| | | |
| --- | --- | --- |
| Number of Wheels | Safe Carrying Capacity | Length of Truck |
| 4 Wheel Tippers | Up to 24.5 Tonnes | ~7.6m |
| 6 Wheel Tippers | Up to 26 Tonnes | ~7.6m |
| 8 Wheel Tippers | Up to 32 Tonnes | ~9.8m |
| Articulated Tippers | Up to 44 Tonnes | ~14.2m |
Are there Fines for Overloading a Tipper?
If you're searching for a tipper truck to cart materials for your site, you're going to need a suitable size that can handle the payload and still operate within the guidelines of the National Heavy Vehicle Regulator . If you overload a tipper, this can cause a damage risk to your transported loads and the operator .
There are also extremely strict load and capacity rules associated with driving a tipper on Australian roads, and these change from state to state, so it's really important you understand your tipper size, axel length and registered maximum weight before loading and driving the tipper anywhere. Make sure you drive your tipper over a weight-measuring road plate before your tipper leaves the site, to ensure you have not legally overloaded your tipper and will not pass inspection. Fines for overloading a truck can exceed $5,000 and cost 6 demerit points on your rigid license. So don't do it if you want to keep your job (or your business).
So, how much can a tipper truck carry?
The short answer is from about 2 tonnes to about 70 tonnes safely and compliantly but this varies greatly depending on the type of truck. Semi-trailers and road trains can have massive payloads, the largest road train in Australia carried 175 tonnes across the Australian desert.
Related Articles:
We recommend you accurately assess all our tippers and then decide which truck you need to hire . If you're looking to hire gear or subcontracted construction services, iseekplant is the largest online database of construction suppliers in the world. You'll find quality verified suppliers with tippers only a click away - you can get accurate quotes in about 5 minutes . Click these links if you're looking for tippers in any of these capital cities: Brisbane , Sydney , Melbourne , Adelaide , Perth , Darwin , Hobart , and Canberra . If you're a supplier to the industry and you have a tipper to hire out, then you should join iseekplant for free.