Construction legends trying to make sh*t happen on their job sites have a variety of different machines to help them with their jobs, two of the most popular of which are undoubtedly the skid steer loader and the backhoe.
Skid steers and backhoes are very different machines, particularly in their size & the variety of earthmoving tasks they can conduct. But which of these two kings of the Australian earthworks industry is better for completing your project requirements with speed, power, and reliability?
In this article, we'll look at the pros and cons of these two different machines to help you decide which is right for your job site or your next big fleet purchase.
Skid Steers vs Backhoe: Similarities & Differences
For starters – both skid steers and backhoes can excavate, remove & lift material, dig trenches, load tippers and haul materials over a small distance. Both also have a variety of attachments (discussed below) making them even more versatile earthmoving machines than how they come out of the box.
Even though they can both undertake similar earthmoving tasks, it doesn't mean they are universally right for the unique circumstances of your job site.
The most obvious difference between a skid steer and a backhoe is… drum roll… the backhoe – or the additional excavation boom arm located at the back of the backhoe that allows it to dig behind itself, as well as excavate using a bucket in the front. This is unique to a backhoe – and it has a variety of applications where it shines. Backhoes are also universally wheeled machines, whereas skid steers come in two main propulsion variations – posi-tracks and wheeled skid steers.
Skid steers are really good at tight spaces – this is because of their acute turning circle which is even smaller in the wheeled version of the machine. They are usually compact to transport and operate, so are used in circumstances to excavate and move materials where space is an issue. Backhoes aren't as good in tight spaces and tend to be much larger machines with much larger turning circles.
Backhoes have a variety of applications and are good at trenching, site clearing and waste management, so they are a staple in the fleet of construction contractors that do electrical or plumbing work, drainage and pipelaying, or work around services.
Skid steers are great at detailed earthworks tasks in tight spaces – with attachments they can excavate, handle materials, grade surfaces with precision, cut concrete, saw, hammer rock, install fence posts, till soil, or move things around your site on forks. Literally, their applications are endless, making them handy machines to have your site, no matter what you are doing.
Skid steer vs. backhoe: which is better for small or big jobs?
If you're working on a construction site that is tight on space, then a skid steer is probably going to be your best bet. A skid steer – also known as a Bobcat, a skid steer loader, or a compact loader, among other monikers – is small and incredibly manoeuvrable thanks to their compact size and four-wheel drive, which makes them perfect for small spaces and earthmoving jobs, such as commercial or landscaping projects.
The tracked models, we call posi-tracks, are less manoeuvrable than their wheeled variants, but shine on softer terrain.
However, a skid steer lacks the power and digging depth of a backhoe, making them less suited for large projects. You can fit big buckets to skid steers and they do range in tonnage and size, but ultimately you can excavate and move more dirt with a backhoe in most situations.
This is why, if you're working on a bigger job site where you'll need more power and excavating capability, then a larger backhoe loader will most likely be the machine for you.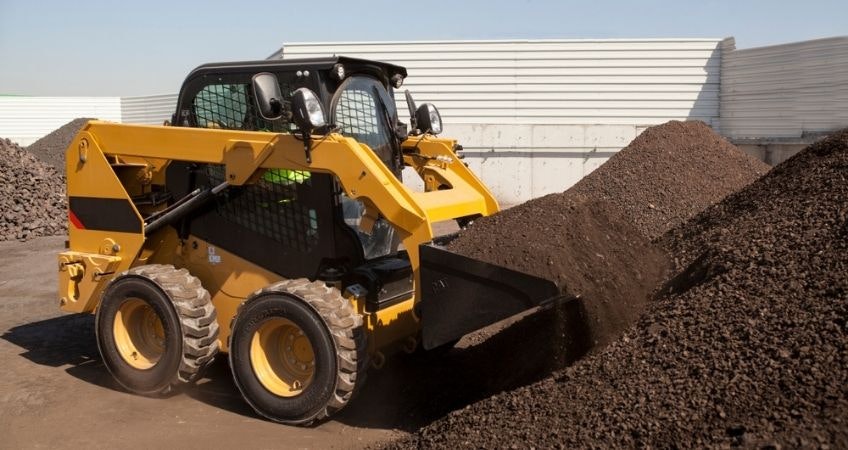 Skid steer vs. backhoe: which is less expensive and easier to operate?
Skid steer rates are generally lower than backhoe rates to both buy and hire, making them a more productive option for a site where the application is suitable for both. Skid steers are also much easier to operate than a backhoe, thanks to their simple controls and lack of a large rear digging arm. This makes choosing a skid steer a great choice for those who are new to operating construction machinery or who are looking for dry hire equipment that they can operate themselves.
For more information on operating your own skid steer, be sure to take a look at skid steer licensing requirements.
On the other hand, while a backhoe loader may be more expensive and more difficult to operate than a skid steer loader (along with requiring more fuel consumption), they offer a lot more power and excavation capability, making them worth the investment for experienced operators who are looking for consistent use, or for those who are engaging in wet hire for their construction site.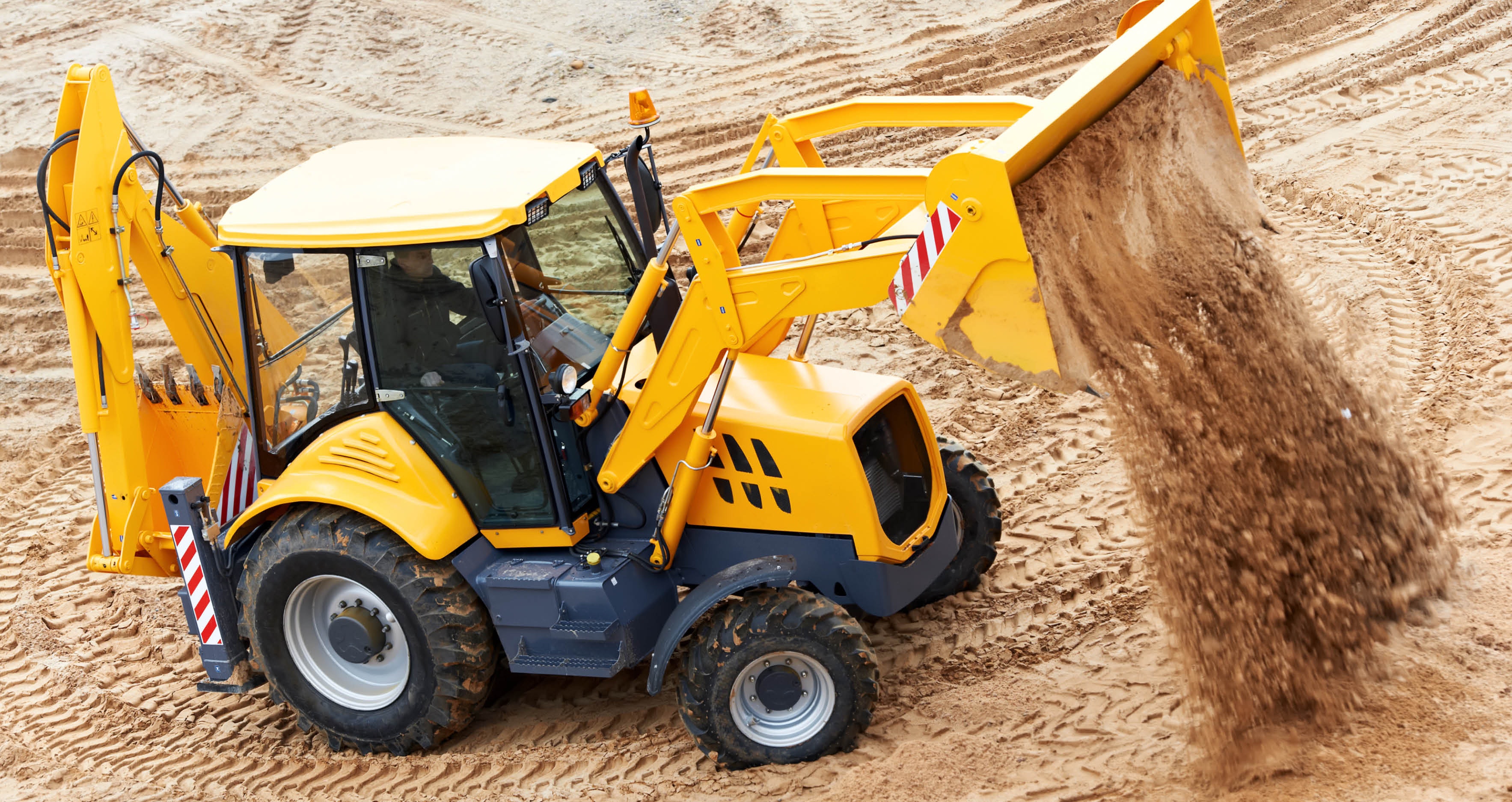 Skid steer vs. backhoe: which has the better attachments?
Both a skid steer and a backhoe have diverse attachment versatility, which means that they can be fitted with many different types of attachments to make them even more versatile and allow them to tackle multiple tasks on one site. But beyond a shadow of a doubt, there are more skid steer attachments available on the market than backhoe attachments, ultimately making the skid steer a better all-round earthmoving machine.
Some of the most common attachments for a skid steer include buckets, augers, breakers, and forks, while a backhoe can be fitted with buckets, thumb kits, excavator ripper teeth, pallet forks, and pile drivers. So, depending on the job at hand, you'll need to make sure you choose the machine that can be fitted with the right attachments.
Skid steer vs. backhoe: It comes down to your site...
So, which is better for your project requirements – a skid steer or a backhoe? The answer ultimately comes down to your specific needs and the size and scope of your job site.
If you're working on a tight construction site where space is limited or requires simpler digging, then a skid steer is probably your best bet. But if you need greater power and excavating capability for a larger job, then a backhoe is the machine you're looking for.
If you want to hire a skid steer in Brisbane, Sydney, Melbourne, Adelaide, Perth, Darwin, or Hobart, click on these links. If you want skid steer hire quotes for anywhere else in Australia quickly, then you can use our Get Quotes feature.
Same if you want to hire a backhoe in Brisbane, Sydney, Melbourne, Adelaide, Perth, Darwin, or Hobart, click on these links. Click here to download our Seeker app. Otherwise, if you own a skid steer loader or a backhoe and want more quality work opportunities, you should join iseekplant.