Recently, iSeekplant has been reviewing the world's largest on site machinery, profiling excavators and dump trucks – now we review the biggest front end loaders in the world.
Loaders are primarily used to scoop, dig and remove rubble, soil, gravel and rocks from one location on site to another, or load various materials required for the site. Oftentimes loaders also deliver materials to other machines. Loaders can be classified into four main types, namely backhoe, skid steer, dozer and wheel loaders (which we are profiling here).
The top five world's largest front end loaders, ranked on payload capacity, are as follows:
1: Komatsu P&H L-2350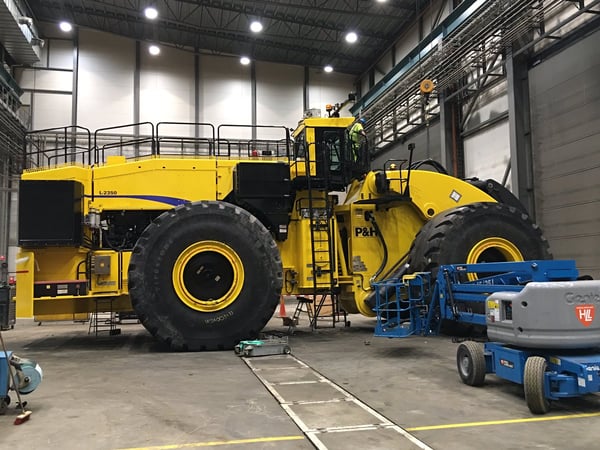 Originally part of the portfolio of Texas-based manufacturer LeTourneau prior to the 2011 acquisition, the L-2350 is the world's largest wheel loader. It has a massive 72.5 tonne payload capacity and stands at an imposing 6.7 metres tall. Its 16-cylinder Detroit Diesel engine has a rating up to 2300 horsepower (hp) and its standard bucket has a 40.5 cubic metre (m3) capacity. This machine has a 272 tonne operating weight and was designed for centre loading ultra-class haul trucks with up to 400 tonne payload capacity during surface mining.
2: Komatsu P&H L-1850
Another machine previously under the LeTourneau banner, the L-1850 has a payload capacity of 54 tonnes. Used for centre loading trucks up to 360 tonnes, it has a 30.58 m3 bucket and an operating weight of 246 tonnes. Despite being the little brother to the L-2350, the 2,000 hp engine means the L-1850 still has plenty of grunt.
3: Komatsu WA1200-6
A Komatsu original machine, the WA1200-6 from 2011 is the upgraded version of the WA1200-3 which entered the market in 1999. Claimed as Komatsu's largest and most productive wheel loader, it has an operating weight of 220.5 tonnes and a bucket capacity up to 35 m3. A major difference between this model and its predecessor is a more fuel-efficient, higher capacity engine with 1892 hp rating.
4: Komatsu P&H L-1350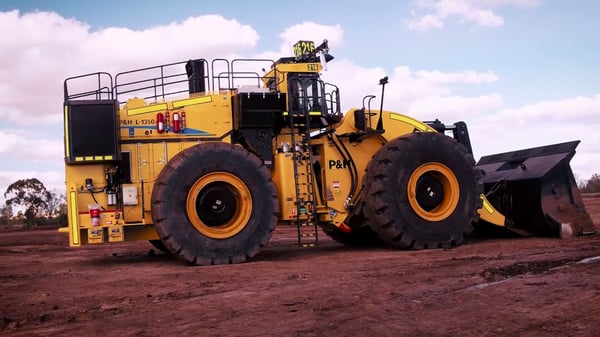 The final entrant by Komatsu P&H in the top 5, the L-1350 has a weight of 194 tonnes and an operating capacity of 40.823 tonnes. Designed for centre loading haulage trucks up to 260 tonnes, the bucket capacity is 22.9 m3 and is powered by a 1676 hp engine. The L-1350 boasts of best-in-class cycle time, lowest possible fuel consumption and reduced emissions through its Kinetic Energy Storage System (KESS).
5: Caterpillar 994K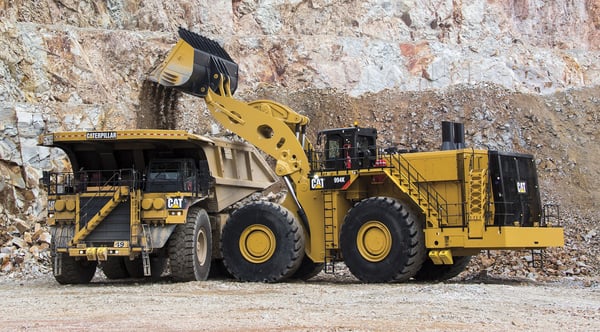 Originally introduced in 1990 and having enjoyed generational improvements, the 994K is Caterpillar's largest wheel loader. It offers a standard payload at 40.8 tonnes (an increase of around 29% from previous models) and a bucket capacity up to 43.6 m3. With a 242 tonne operating weight, it is actually heavier than the Komatsu P&H L-1350, albeit with a slightly smaller payload capacity.
What is the biggest loader in the world?
The world's largest front end wheel loader is the Komatsu P&H L-2350, with a phenomenal 72.5 tonne payload capacity and 272 tonne operating weight.
What is the largest loader that Caterpillar make?
Caterpillar's largest wheel loader is the 994K. It has an operating weight of 242 tonnes and a payload capacity of up to 40.8 tonnes.
How much does a front end loader weigh?
This is largely dependent on which of the many types of loaders are being assessed. The loaders profiled in this article range between 194 tonnes at the low end, right through to 272 tonnes for the L-2350.
Hire a Loader with iSeekplant
iSeekplant offers loader hire across Australia. Our loader hire suppliers are located in Sydney, Darwin, Brisbane, Melbourne, Canberra, Perth, Adelaide and rural areas. We'll provide you with competitive quotes if you use the iSeekplant get a quote tool.
It's never been easier to keep across the latest project and industry news. Subscribe now to iSeekplant's Flapping Mouth Blog below!