Any large piece of machinery can become a hazard when not used correctly. Weighing up to 4,000 kilograms, it's no surprise that a forklift is one of the most dangerous pieces of warehouse and factory equipment. Despite only accounting for 1% of warehouse and factory accidents, forklift accidents result in almost 35,000 serious injuries and 85 deaths every year.
The most common cause of serious incidents in the workplace are caused by speed, incorrect equipment, poor maintenance, or lack of operational understanding, and with many types of forklifts available, it's important to know exactly what hazards to look for when using and choosing the forklift for your job .
Lucky for you, these are all factors that can be prevented to reduce your risk of workplace injury. Take a look at our list below to understand each top cause of forklift accidents and how you can prevent them in your workplace.
1. Forklift Overturning
Overturning is responsible for almost 25% of all forklift-related accidents and causes the most severe injuries. Forklifts are designed with most of their weight in the back of the vehicle to evenly distribute the weight of the load. They also turn with their back wheels, meaning that if the weight is uneven, it can cause the vehicle to spin out and overturn.
An uneven distribution of weight is the most common way a forklift can overturn but there are a number of ways it can happen. Carrying excess or unusual loads, an obstructed view of the operator, and raising heavy loads to considerable heights can also result in forklifts being overturned. Ways to Reduce Risk Overturning can be easily prevented with proper training and the correct certifications.
However, if a forklift overturns, the operator shouldn't try to jump from the vehicle, as this is the leading cause of injury. They should remain seated, hold on tight, and lean in the opposite direction the machine is falling. Doing this should prevent serious injury to the operator.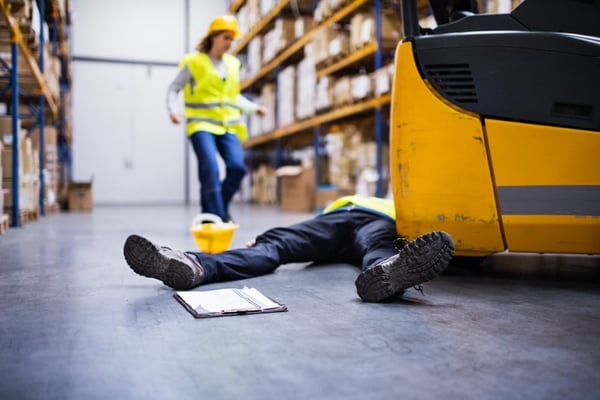 2. Workers being struck, pinned, or crushed by Forklifts
An overturned forklift can not only cause the operator to become trapped, but it can also cause other workers harm. Even common mistakes can mean that a floor worker could be struck, pinned, or even crushed by a forklift, which can result in serious or even fatal injuries. Workers are most commonly struck when they're in the blind spots of the forklift operators.
Other causes are when there is overcrowding on the warehouse floor or a poor warehouse layout that puts both forklift operators and workers in danger. As a result, blind spots, warehouse layout, and speed are most commonly recognised for these serious injuries. Ways to Reduce Risk Having a traffic management plan is essential to ensure the safety of both the operator and pedestrian traffic whenever a forklift is in use.
This should be specific to your warehouse or workplace environment and be designed to separate pedestrians and mobile equipment – in this case forklifts. It is also recommended to use physical barriers such as bollards or railed walkways wherever possible. If a worker is struck by a forklift, take them to a safe place and see if they have sustained any injuries. However, if a worker were to be pinned, trapped or crushed by a forklift, immediately call 000, halt all floor production, and assist them in any way to relieve pain.
3. Loads falling from an extended Forklift
Forklifts are commonly used to transfer or lift loads in warehouses and can also be used by workers to reach these heights. However, without the proper pallet attachments, lifting anything can be fatal or result in serious injury. Forklift hazards often occur when there is a change of balance for the vehicle. Lifting materials up high can cause the machine to overturn or for its load to fall.
Make sure to always secure loads and ensure that it's balanced or stable before lifting the load for the safety of the floor workers and forklift operator. Ways to Reduce Risk If your warehouse forklift has to lift workers at any time, ensure that the correct attachments are used to reduce the risk of a fall or other injuries. Providing relevant safety training to those who are working with or around forklift equipment is vital to the safety of your warehouse.
On top of this ensuring that there is fall protection will reduce any risk of injury on the warehouse floor. Remember to always be extra cautious when lifting dangerous or heavy material as it has the possibility to collide with other materials or cause issues to floor staff. By understanding the risks and knowing how to take preventative measures, almost 70% of all forklift accidents can be prevented.
Understanding each risk and knowing that you have the right forklift equipment can heavily reduce any potential workplace health and safety risk for you and your workers. Here at iseekplant, we have a nationwide network of forklift hire suppliers ranging from Brisbane, Sydney, and Melbourne to Canberra, Adelaide, Darwin and Perth. Check out our range of forklifts for hire today and make sure you have the right forklift machine for your project! Subscribe to the iseekplant's Constructionsht blog to ensure you're up to date with all the latest construction projects and news!