Are you sourcing a tipper truck? From trailer lengths to the number of axles, haulage capacity, and off-road capability, tipper trucks come in a range of different combinations and configurations to suit a broad range of construction applications. Here's a rundown of some common tipper truck configurations and how they might best be utilised.
Tipper truck vs dump truck - is there a difference?
Yep - there are big differences. In Australia, dump trucks are the larger, heavy-duty model varieties that are used for transporting substantial loads and material across off-road terrain. These are driven by machinery operators, that also have heavy rigid licenses (click here to read more about dump truck licensing). Conversely, tipper trucks are trailers attached to road-registered trucks that carry materials on asphalt roads, and are driven by road-licensed drivers. If you want more information about tipper licensing, you should read this article .
Which tipper & trailer configuration best suits your jobsite?
If you're working in an off-road site or construction environment, you'll probably use an articulated dump truck (note; tippers can work off-road if the materials they are driving on is well compacted). If you are heavy hauling materials across any public road, then you're in tipper territory, and the configuration of tipper trailers will depend on the amount of dirt you're shifting, how far you're taking it and how long you have to move it. With large material transport jobs, where you're hauling materials from one location to another location across public roads, the more you can haul in each transport instance, the better. Every load or lap will cost you less incrementally in driver time & consumables, and increase site productivity overall. But the limitations can be the roads you're transporting across, and whether you are actually allowed to drive trucks with certain wheel & axle quantities, or tonnage payloads. A lot of metro roads in dense urban areas don't allow road trucks with certain capacities & lengths to drive on them. We have thousands of verified suppliers who know the legislative & local government rules in their operational locations , so you can call them and talk through your needs and they will help you define the boundaries you're working in. Let's get into the types of tipper combinations & their general payload ranges.
Rigid Tipper Combinations - Bogies, Dogs, Pigs, Tandems
So below are the most common tipper configurations used prolifically in commercial construction, quarrying, and materials handling. This involves a rigid tipper truck, usually called a Bogie Drive , Tandem Tipper or Body Truck , on its own, or with an additional trailer affixed, or sometimes several trailers. Read more about tipper truck sizes.
Bogie Drive, Tandem Tippers & Body Trucks
Rigid Tipper Payload Ranges: 12 tonnes to 14 tonnes rigid trucks are the simplest form of tipper truck available and come configured with anything from 2 to 5 axles. Also known as a standard tipper truck, tandem tippers, body trucks or bogie drive tippers, they are typically made up of a cab unit that is permanently fixed to a dump body. Rigid tipper trucks tend to be used for shorter haul applications as they have a more limited payload capacity. You can also drive these puppies with a light or medium rigid license.
A fine example of a bogie drive tipper with a mini excavator, called a Excavator Combo in the biz.
Truck and Dog Trailer vs Truck and Pig Trailer
Two of the most common tipper combinations, both the dog trailer and pig trailer, serve as additional tipper trailers that can be towed by a rigid tipper truck to increase its payload capacity. But what's the difference between pigs and dogs (in the trucking kingdom, but not the animal kingdom)? Let's take a quick look at what sets them apart.
Truck and Dog Trailer
Truck & Dog Payload Ranges: 20 tonnes to 40.5 tonnes A truck and dog combination is the most popular type of tipper truck configuration in Australia. It usually comprises a rigid tipper towing a trailer with axles at either end. Combinations can include super dogs which are 3-axle trailers (30-tonne payload) and quad dogs (40-tonne payload) which have 4 axles. There is usually more flexibility (than with pig trailers) in how the trailers can be moved and positioned when tipping, due to the pivot capacity in the trailer axles.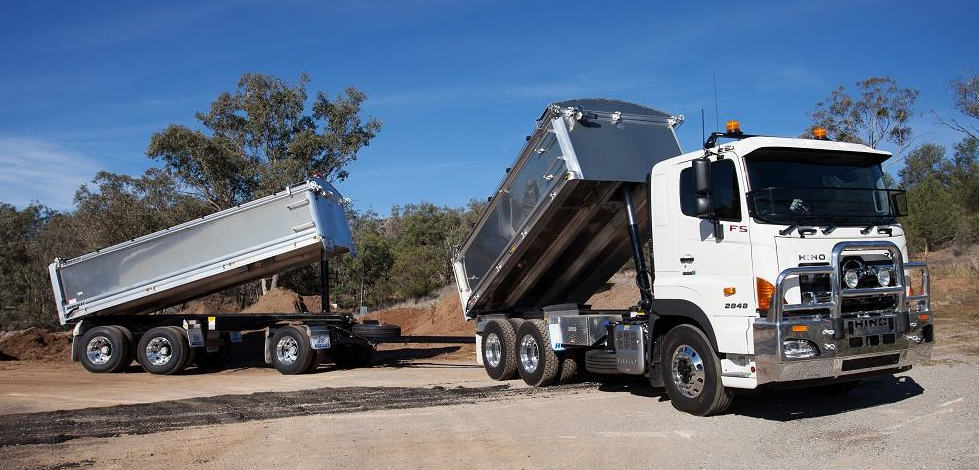 Truck and Pig Trailer
Truck & Pig Payload Ranges : 20 tonnes to 40.5 tonnes. A truck and pig tipper configuration is similar to a truck and dog except that axles are centered or fixed to the front or middle third of the trailer and are connected to the prime mover via a gooseneck coupling. There is also less flexibility in the movement and placement of trailers because of their lack of pivoting capacity. The national heavy vehicle dimensions and guidelines state that you cannot have a truck and pig combination that exceeds total mass of 40.5 tonnes.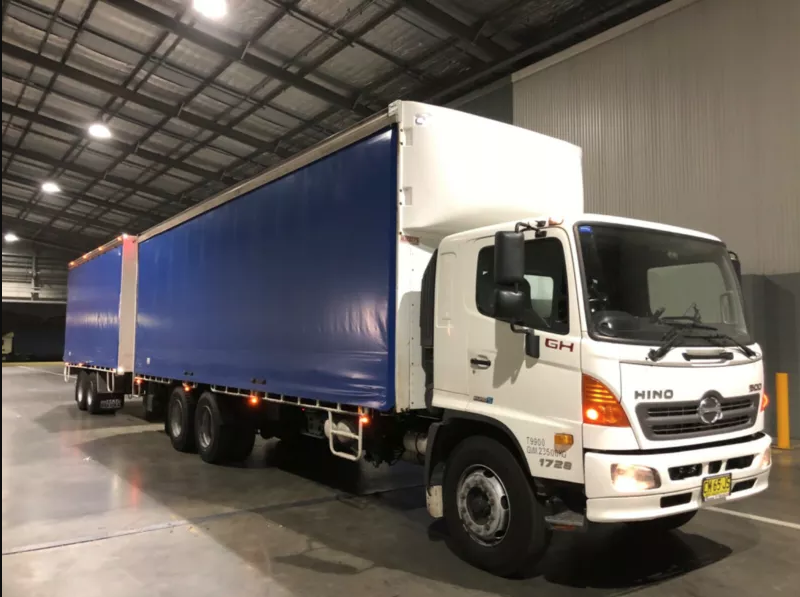 Semi-trailer tipper combinations
Single Semi Trailer
Single Semi Trailer Payload Ranges: 30 tonnes to 70 tonnes. Semi-trailer tipper combinations are made up of a cab unit, or prime mover, that is connected to a dump trailer via a fifth-wheel coupling. The advantage of this type of configuration is that the semi-trailer can be detached from the truck. Semi-trailer tipper trucks tend to have higher payload capacities than rigid tipper trucks but are not as maneuverable. The very large semis (70 tonnes etc) are pretty rare and can sometimes appear in the transport of chemicals or hazardous goods.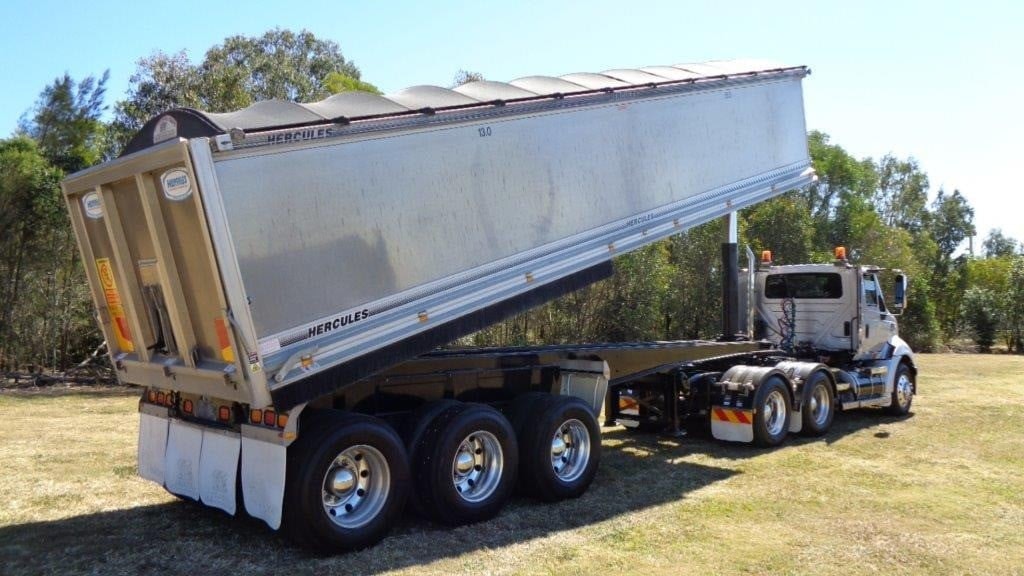 B-Double Semi-Tipper Combinations
B-Double Payload Ranges : 55 tonnes to 68 tonnes B-Double combinations of semi-tippers are some of the largest and most heavy-duty types of tipper trucks available. B-Doubles are made up of two semi-trailers that are connected to one another and then hitched to a prime mover. B-Doubles have a very large payload capacity but are not suitable for use on unsealed roads or in built-up areas. Usually, the second trailer is smaller than the first one. Short B Doubles can carry up to 55 tonnes as per the national transport guidelines. 68 tonnes is the max for long B doubles.

Road Train Tippers
Road Train Payload Ranges: 70 tonnes to 175 tonnes Road trains can be made up of anywhere from three to six trailer attachments and are typically used for very long haul applications on regional highways, and are commonly used in transporting ore from mining operations. With the potential to transport extremely large load capacities, road trains are mostly suited to major large-scale projects and worksites. The most common capacity of a road train is around the 100-tonne capacity. Road trains aren't permitted on many types of public roads, so you should really lean on your verified supplier to help you with the legislative requirements when hiring.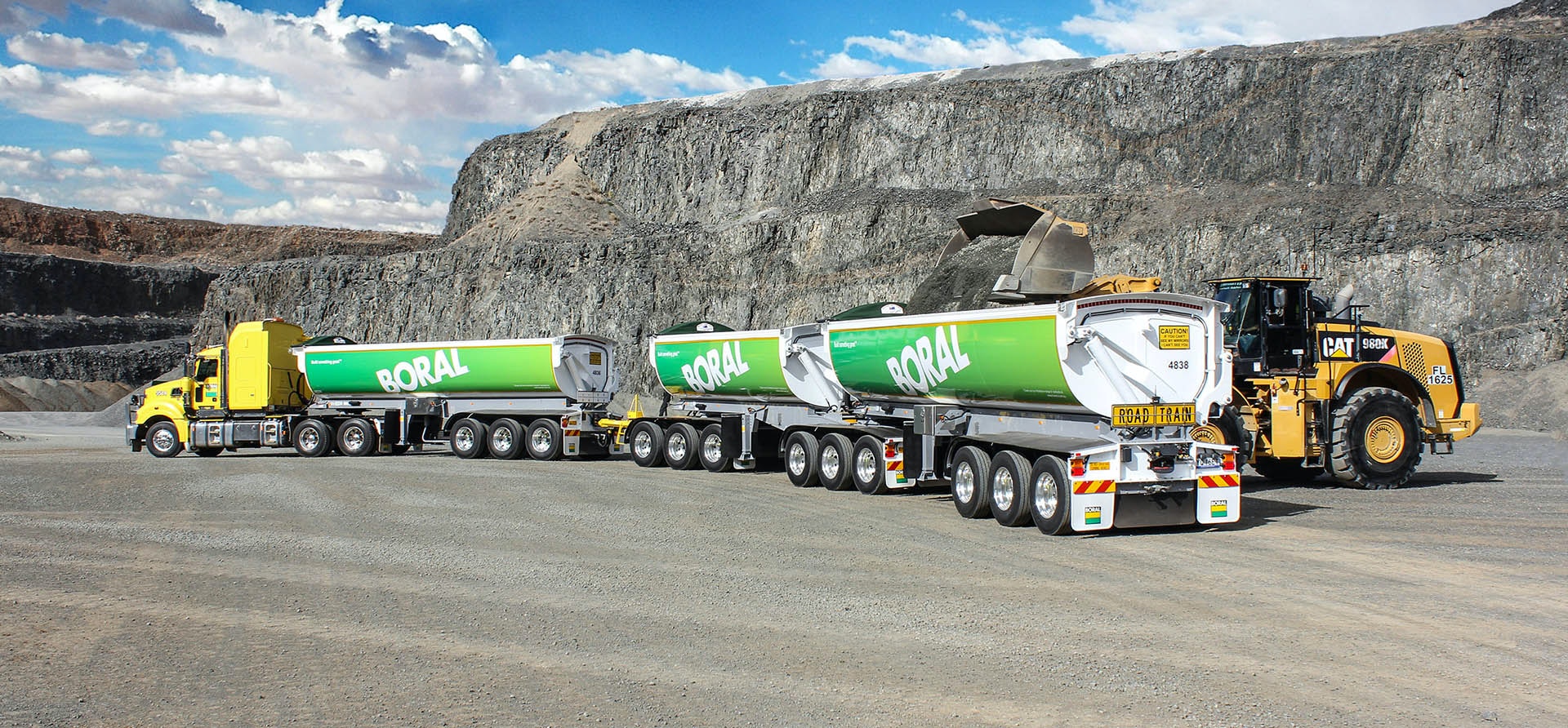 Related Articles:
Looking to hire a tipper? Let's hook you up!
Need a tipper in Brisbane , Sydney , Melbourne , Adelaide , Perth , Darwin or Hobart ? Click and we'll make it happen. We have literally thousands of suppliers offering tippers, so no matter the type of tipper configuration your project requires, you can rely on iseekplant - Australia's leading marketplace for construction plant and hire services - to provide you with exactly what you're looking for. To get started simply give us a call on 1300 691 912 or use our get a quote tool . Or, if you own a Tipper and want more work, or more profitable work, you should join iseekplant for free.